3 Media Web is excited to be named by Clutch.co among Boston's top web & digital agencies, being awarded as not only top in the digital marketing field, but top in web design as well. 3 Media Web was chosen based on their ability to use online marketing strategies to deliver quality results to the customers, as well as how capable they are at staying ahead of digital trends and creating eye-catching and professional looking websites to draw in customers.
Clutch.co measures top firms based on technical expertise and excellent results. "These Boston-based companies vary in skill-set and technology expertise, but what unites them is their ability to deliver reliable results."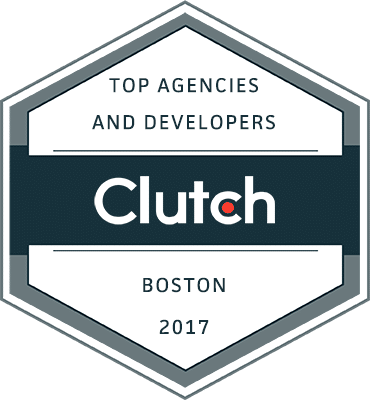 Top Boston Web + Digital Agencies
Clutch's analysts took client reviews and work portfolios from the dozens of IT services, developers, and digital agencies in the Boston area, and 3 Media Web came out sixth for their "ability to deliver."
3 Media Web was one of three companies amongst all of the top contenders to have a minimum score of 8.4/10 on their clients, client reviews and experience, and their market presence.
"They prioritize the needs of their customers and take the time to understand their business objectives before selecting appropriate solutions," says an analyst from the Clutch team.
The Web and Digital Marketing Process
"We promote our company through the success of our web and digital marketing projects," says Partner and VP of Sales and Marketing, Lysa Miller.
"If we are successful on client projects, that leads to reliable referrals that turn into more successful projects. Client success is how we have grown our agency to where we are today."
Consistent Recognition for Successful Projects
In 2017 alone, 3 Media Web has earned the bragging rights for three Interactive Media Awards (IMAs), an award process with one of the most competitive and meticulous judging procedures, including an Outstanding Achievement for Education Web Design and two Best in Class for B2B, or business-to-business, Web Design.
In 2016, 3 Media Web took two WMA Awards (Web Marketing Agency Awards) one for Best Biotech website and the other for Outstanding Legal website.
3 Media Web has been a consistent winner of IMA awards since 2015, with awards ranging from Outstanding Achievement on Employment and Manufacturing, to Best in Class for web design in advertising and, as shown by Clutch, they will continue to grow as a business and perform highly in the media world. In 2015, 3 Media Web also took home 13 Horizon Interactive Awards.
Agency Growth and Expansion
When asked how to continue growth and development as a continually recognized Boston top digital agency, Miller continued, "With award-winning projects, we always have something new to promote on social media, email, content and other marketing efforts."
3 Media Web wasn't just ranked highly by Clutch.co because of their presence in the market and their impressive portfolio of work. Clutch's analysts focus heavily on client reviews because of their ability to provide personal impressions of the company, as well as reports on the quality received for the price, the company's ability to communicate with the client, and their organization of the project.
3 Media Web takes the time to educate their customers on what is possible for the company and what is necessary to produce a quality and high functioning site within the scope and budget of the project.
What Makes 3 Media Web Different from other Agencies?
When asked what differentiates them from other agencies, founder, and leader of 3 Media Web Marc Avila, proudly answered, "Our strong technical team spends a lot of time making sure that our websites pass a top notch quality control process."
3 Media Web is a company that takes pride, not only about the product of their work but the client's experience during the construction of their site and beyond.
Avila concluded, "We take a lot of pride on the outcome of every single project, and we're happy to see them highlighted."
ABOUT 3 MEDIA WEB
3 Media Web is a Boston area website development company. We partner with companies and agencies to build beautiful, responsive websites. Our web skills run deep. HTML5, CSS3, jQuery, Bootstrap, responsive, WordPress: We speak all those languages. Whatever you've got, we can build it. Whether you already know exactly what you want out of your website or you're just starting a new web project, we're the web development team you've been looking for. Contact us to learn more.