A 2018 Silver W3 Award for 3 Media Web
The Academy of Interactive and Visual Arts (AIVA) announced its 2018 W3 Awards which celebrate digital marketing excellence. The W3 Awards honor outstanding Websites, Web Marketing, Video, Mobile Sites/Apps and Social Content created by some of the best interactive agencies, designers, and creators worldwide.
3 Media Web was recognized with a Silver W3 Award for its design and development of the Acacia Communications, Inc. website.
Acacia is a leader in the field of optical communications that empower cloud and content providers to meet rapidly increasing consumer demands for data. The company has leveraged advances in silicon processing to provide their clients with higher data transmission rates, lower power, and higher performance.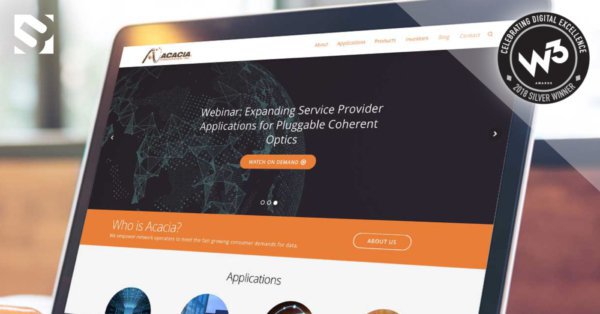 A Website to Support Acacia's Reputation as Leader
3 Media Web redesigned the Acacia Communications website using a new color palette and streamlined layout. The development team clarified the complex content by adding an engaging video which explains the capabilities of the company. All the pages were redesigned to be dynamic, simulating data streaming and supporting the assertion that Acacia Communications is a company on the cutting edge of high-speed integrated optical networks.
Updated to engage high-tech and very specific prospective clients, the new Acacia  Communications' website confirms its reputation as a company whose advancements are matched only by the speed of its optical networking technology.
The W3 Competition
Accessible to big agencies, small firms, and other companies that fit somewhere in between, the W3 is a creative competition between companies of all sizes. The competition is sanctioned and judged by AIVA, an invitation-only body consisting of top-tier professionals from acclaimed media, interactive, advertising, and marketing firms. Winning a W3 is an achievement that recognizes companies whose work is outstanding as the best of the Web.
The AIVA oversees all judging and provides strategic direction for W³ Awards. Website entries are judged based on a standard of excellence and are scored on a ten-point scale on criteria that includes, creativity, usability, navigation, functionality, visual design, and ease of use.
Lysa Miller, Vice President and Co-Founder of 3 Media Web, said, "It is indeed an honor to take home W3 Awards from the Academy of Interactive and Visual Arts two years in a row. We were so proud to have received two W3 Awards in 2017. Being recognized again is a testament to our mission to produce outstanding websites for companies of all sizes."
A Winner in 2017
Last year 3 Media Web was awarded a W3 for Kidsborough, a before- and after-school and summer program that provides enrichment-based curriculum programs to children in grades K-8. A second W3 was given to 3 Media Web for their work on the Onconova Therapeutics website. A Pennsylvania-based biopharmaceutical start-up, Onconova is working to find a cure for a very complex type of blood cancer.
"We are fortunate to work with our talented and dedicated 3 Media Web team who are truly deserving of the AIVA W3 Awards we have received and are so proud to display."