3 Media Web Helps Tri-Star Boost Site Performance With A Web Redesign
A few months ago, if you would have asked Tri-Star Design, Inc how happy they were the way their website was performing, they would have had more than a few concerns to express. But, that was before they contacted us here at 3 Media Web.
The New England based electronic product development company was savvy enough to understand the marketing benefits of a well-designed website. That means they knew exactly what kind of marketing potential they were missing out on with their old website.
The problem was, they needed a little expert help to make it all happen.
Fortunately, they knew 3 Media Web was the perfect web design agency to help. Together, we took action and redesigned the Tri-Star website, helping the company reach their marketing and sales goals more easily.
Analyze and Establish Goals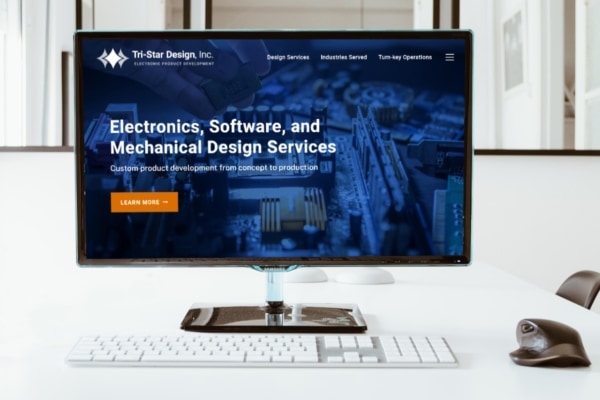 Before you start any web redesign project, there needs to be a set of goals that a company hopes to achieve through the redesign. Theses are broad goals that may include building on any success your company may already be having, improving poor performance, as well as establishing entirely new goals.
For Tri-Star, the bigger issue was to create a more powerful user experience. This was determined based on some of the issues they cited in the initial meetings we had with them. In this case, Tri-Star had a list of issues with the previous site design they wanted to improve upon:

Lackluster SEO performance
Low traffic resulting in fewer leads and clients
The original site design wasn't conveying the Tri-Star team's greatness, professionalism, maturity, and lengthy experience in the industry
Visitors weren't fully understanding the company's offerings based on the design and content of their original site
Did not position themselves as experts in their particular niche
Tri-Star realized that these issues were holding them back in terms of success. By providing customers a better user experience while on the Tri-Star website, they knew they could earn more leads and convert more customers.
Solutions Start At Discovery
Tri-Star made a smart move when they opted to work with a web development agency with demonstrated expertise in bringing new life to industrial and manufacturing websites. Making the informed decision to reach out to us here at 3 Media Web meant Tri-Star was going to get the help they need, and have it done correctly the first time.
Before we start any project, we want to know exactly what problems or issues we need to resolve. This bit of preparation we call the discovery phase makes projects go smoothly with no surprises along the way.
Plain and simple, discovery is the primer that sets the entire project up for success.
Over the course of a month, our team of designers, developers, and marketers, worked closely with Tri-Start to fully understand their needs.
During this time our team performed comprehensive research, including weekly meetings with Tri-Star to keep them informed and allowing us to listen to their feedback.
No stone was left uncovered. We looked at Tri-Star's competitors and aspirational peers. We then looked at similar industry sites. Once we determined what the norm was, we established how we could make the new Tri-Star site more in line with what visitors expect from websites in this industry.
Once we figured out what the competitors were doing right (and wrong!), we complete an audit of the Tri-Star website which familiarized us with their overall site structure and content.
Strategizing and Executing The Web Redesign Plan
Armed with extensive research, the 3 Media Web team developed a complete creative strategy for the Tri-Star website redesign.
First, our design team created some mockups for a new site design. They were careful their new designs hit all the requirements for the new brand. Members of the Tri-Star team were able to offer their input to make sure everyone was happy with the creative direction.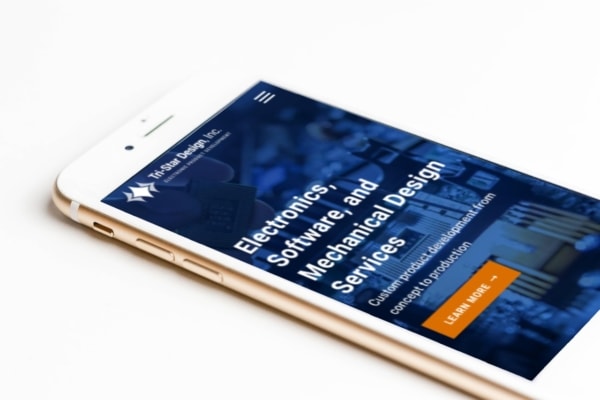 We also suggested Tri-Star reach out to some of their clients for testimonials to add to their new website. We didn't want Tri-Star to let an opportunity to use testimonials slip away from them, they're such powerful marketing tools.
Then, our developers got to work on the nuts and bolts. The team improved Tri-Starts information architecture and corrected issues with the organizational hierarchy on the site. This was a crucial step. It made it much easier for visitors to understand and educate themselves on Tri-Star's offerings–an area their old website especially struggled with.
We also made sure to go through each page on the site, making improvements to the content that filled them. This included copywriting as well as visual imagery.
The Results
While the fresh Tri-Star website only launched a few days ago at the time of posting this article, Tri-Star is already enjoying a few immediate results!
Most notably, the new Tri-Star website features a better, cleaner, and more professional design. Not to mention, a beautifully updated logo thanks to Ryan, our UX/UI designer extraordinaire.
Looking to the future…
3 Media Web is confident the work we've put into the Tri-Star website will pay dividends. Based on the success of our past projects, Tri-Star is set to notice an increase in traffic to their website, translating into more sales for their company. Mission accomplished.
If you'd like to learn more about the ways 3 Media Web can improve your company or brand's website and digital marketing, reach out to us today. We're standing by and ready to help.