Collaborative Web Design: How Designers and Clients Can Work Together to Make Websites that Work
As a business owner, a website is one of the most important investments you can make. Your website is your virtual storefront and therefore must be user-friendly, attractive, and explain your products and services and how you can help your potential customer. It takes a lot of effort from both designers and clients to build a website that looks beautiful, engages visitors, and helps a company reach its goals––all while staying on track and within budget–– through collaborative web design.  
We've established a process with key components that make the process go smoothly.
Here's how it happens.
Establishing Trust
At the beginning of the web design process, the client and designer are still getting to know each other. It's important to establish trust between both parties.  What does the designer need to gain the clients' trust?  A willingness to learn the client's business.  The designer must be curious and ask questions and find answers to determine how best to showcase the company's strengths.
The designer must be willing to learn what makes your business unique. If the designer does the homework to learn about a client's business and their vision for the site, the foundations of a good working relationship are established.
If, for instance, you work in a field that is somewhat unique or specialized, we may need to do a deeper dive into your processes to best be able to represent your products or services on the site.
What willingness to learn looks like:
If the designer asks a lot of questions about their business process, the client may have some misgivings about their ability to turn their vision into a reality. But this is all part of the getting to know each other phase.
This is how we approach establishing trust with our clients.
A Willingness to be Open
How can we work well together?
We've found over the years, that collaborating successfully works best when our clients have a willingness to be open to new ideas or recommendations. We understand that your website is an important piece of real estate and important to every facet of your business. We want to share our expertise with you and work together collaboratively for a successful outcome.
What willingness to be open looks like:
We might suggest ideas that you have not considered based on our experience. You may have certain items that you consider to be an important part of the look and feel of your site. We want to work with you! We have found the best outcomes typically come from a general "willingness to be open" for both we as the designer and you as the client.
This is how we establish an openness with our clients.
Good Communication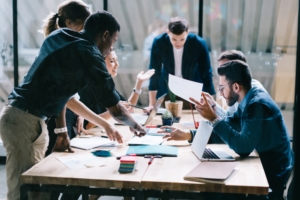 Keeping the lines of communication open is crucial in the web design process.  Trust and passion lead to a great back-and-forth between client and designer.
If the design — any part of it — is off-target, open communication allows the design to be steered in the right direction.
A client who's not afraid to say they don't like or don't understand something is exactly what we love. Being upfront about what you like and don't like as we meet and discuss the project will help guide us as we go.
What good communication looks like:
If, for instance, the designer presents some ideas for a logo and, after discussion, presents some initial concepts, please be open about your true thoughts on the design. Perhaps it doesn't capture exactly what you were looking for or the colors are a bit off. This is your business and you need to be happy with the logo representing you. We understand that design can be more of an art than a science and we will go back to the drawing board to create something you are happy with. We find keeping the line of communication always open creates the best outcome.
Honesty. Honesty is always the foundation of every good relationship, including a business one. In order to provide you with what you are looking for, we will be upfront and honest about what we can deliver to you. We want our clients to feel they can be open and honest about what they truly want, so we can work with that goal in mind.
What we mean by honesty:
We will do everything possible to be open and honest about what we can do for you, so there are no surprises at the end of the process. If you need to discuss ideas with other stakeholders before we move forward on a concept, we totally understand that and want to create the product you want the first time. We want to collaborate with you in the most efficient way possible to save everyone time, energy and money.
That's why honesty is so important in collaborative web design.  
Mutual Respect. We want our clients to understand our own processes and how we can best serve you as a client. There may be times in the web design journey that we will make recommendations based upon what we have seen to be a success in the past. But, ultimately, we want you to be happy with how your website looks and functions. We will approach our new relationship with you with patience and mutual respect.
What fostering mutual respect looks like:
If, for instance, we've experienced certain suggested elements that do not necessarily result in desired outcomes, we will relay this information to you so that it can be factored into the overall design process. You as the client, in turn, may be open to possibilities that you had not thought of before the project began. The journey must truly be a collaborative one.
This is how we establish patience and mutual respect with our clients in web design. 
Understanding Steps in the Collaborative Web Design Process
After the initial meeting between client and designer, a designer will want to create an assessment of client needs, do research on the business, and create a site outline.
Assessment – The designer will usually do this promptly for the client to review and to provide feedback. Once both sides are comfortable with the assessment and agree on it, this milestone is completed.

Research – the designer will do homework on the client's business, including vision, mission, and history. This work provides a solid foundation for how to best present this information on the site. It's an important part of formulating the overall strategy for the site.

Site Outline – Creating the site outline is often a brainstorming collaboration between the designer and the client. This will include determining what information is important to include and ideas for content, visuals, and functionality. What do you want customers to do on the site? Do you want them to call? Maybe schedule a consultation? Purchase a product? Or even just request information. It might be a good idea to schedule milestones for the project during this stage.
Written Strategy
We firmly believe in putting together written goals and objectives for each project as it provides a solid framework for the site. While it may take a bit more time and preparation on the front end, it will save everyone time and energy in the long run. Everyone will be on the same page during the project as it moves along.
Typically, we may work with you to create a site map, wireframes, and overall creative strategy in writing.
Sitemap – A sitemap is a file that stores information about your websites such as pages, videos and other elements of your site. A sitemap tells Google and other search engines which pages and files are important on your site. A sitemap may not be required for every site but is typically helpful for sites that are large or have a lot of rich media content on them.

Wireframe – A wireframe is basically a visual rendering of content in web design. A wireframe is an example or prototype of how the site will look and function visually. It typically shows sections such as header, footer, sidebars, etc.
Creative Strategy – A creative strategy is how you will approach your project including colors, typography, content, visuals and other elements that will affect the look and feel of your site.
While some of these deliverables may change during the process, we find that documenting the goals, strategies, and progress keeps the project focused and efficient.
That's why a written strategy is so important in collaborative web design.
User Experience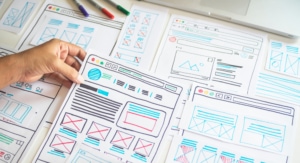 While we journey through the web design process together, we always try to keep the end-user in mind. As these are the visitors and potential customers to your site, a good experience for them is always the end goal. User experience is part of positioning your business in its best possible light and for future success.
What a great user experience looks like:
A great user experience usually includes a clear call to action. Visitors and customers know what they should do next if they want to purchase something or schedule an appointment. Less can be more in web design and sites that look cluttered or busy can be a turnoff. Keeping the design clean keeps the focus on your business and how you can serve your customers. Keeping your layout, content, and visuals attractive and easy to navigate will keep your customers coming back to your site.
This is why user experience is so important in collaborative web design.
Consistency. Designers may be working with a wide variety of internal players, so keeping the messaging consistent and systematic with everyone will ensure that we are working cohesively as a team.
Here's what consistency looks like:
Throughout the project, there may be changes to the visuals, content or functionality of the site. In order to keep things running smoothly, our goal is to all of the parties involved aware of the status of the project.
Building a site often involves working with different specialized partners who perform their own unique roles. Our goal is to keep everyone on the same page to foster consistency and ensure you are building a site we know you will love.  This often involves putting together an overall project plan that everyone is aware of and updating all when changes are made that affect an outcome. We find this approach ensures the project runs efficiently.
This is how we establish consistency with our clients.
Accountability. Doing what you say you will do is how we view accountability. Creating a solid timeline with milestone keeps us accountable and is how we want to do business. By implementing a written project guideline for our clients, they know what to expect during every step of the journey. Mutual accountability is always key to a beautiful end product.
What accountability looks like in collaborative web design:
We provide a guideline for the web development process and strive to meet these goals. We always keep the communication lines open, so that everyone is aware of where we are in the process.  That's why accountability is so important in collaborative web design.
We find that focusing on all these elements in a collaborative effort with our clients creates the best outcomes for all involved. We hope you agree!