End-to-End Digital Experience Optimization Takes a Team
Quick Summary:
Make sure that your digital experience platform is well-supported so your marketing plan can be executed flawlessly.
Combining a complicated network of pages, blog posts, lead generation campaigns, and advertising strategies into one unified strategy, also called digital experience optimization, takes a lot. One person can't do it all. Instead, it takes a big team and many moving parts to make sense of all those moving pieces. All that collaboration comes together to create a website strategy that outperforms the rest.
Whether you're looking to expand your in-house team or hire a team like 3 Media Web to bring your goals across the finish line, this breakdown of what it takes to create a unified digital experience can help you get started.
Looking to start a project today? Reach out to 3 Media Web and get started.
Web Design & Development
You need to build your business a platform before an ad can be clicked or a whitepaper can be downloaded. The tools you use will change how your customers or clients interact with your business, so choose trusted platforms such as WordPress. Open-Source tools like WordPress makes it easier to find help if you end up needing support.
Digital Experience Web Design Trends
Nothing changes faster than the trends in website design. Interactive design elements that engage website visitors as they move around the page are drawing much attention right now. Dynamic features that change as customers shop or search your website make them stay on the page longer, which could help your organic traffic efforts after Google's Page Experience update. Here are some other trends in web design that we're staying on top of:
Accessibility: This is a big one, making sure that your teams are designed for everyone.
UX Storytelling: All of those new interactive, dynamic elements should serve a real purpose, not a gimmick.
UX Copywriting: Solid writing chops are playing a bigger role in UX design.
Brand Voice: Your brand voice should stay consistent and strong through all of your page content.
Information Architecture: How you structure your website dictates how your users interact with your business.
Digital Experience Web Development Trends
As designers create more accessible, interactive web features, your backend server and content management systems, plus your web development teams, need to pull more weight to support them. "AI and machine learning are woven into digital experiences to help people find more relevant content, find it quickly, and find it on their terms," said our new Technical Director, Step Schwarz. "For example, add natural language processing to a standard search box to greatly improve results." Some other trends that are captivating the imaginations of our web development teams are:
Motion Drives Engagement: Developers have more tools than ever to craft immersive digital experiences, everything from interactive charts to full-motion videos.
Dynamic Content: Do you have your computer set to dark mode? We can detect that and adjust your website to match and ensure a smooth flow to the website. Did you click through a particular ad? We can serve up content to match the ad and make the transition less jarring.
WordPress Project Management
These complicated systems and hard-working teams are nothing without a project manager to hold it all together, maintain budgets, and push projects out on time. Our project management teams work alongside our development and design teams to keep things on track and offer a helping hand when someone gets in a bind.
The project management process starts by onboarding new clients. "The client's needs, project timeline, and all of the associated tasks required to complete the project are carefully documented," said one of our project managers, Kelsey Whytock. They also help by keeping track of the technical details, such as integration needs or necessary plugins.
Project managers check in with design teams as they work their magic and get client approval.
Project managers (PMs) also help to QA HTML code for errors and bugs before development.
After development PMs help upload all of the new site content, name custom elements or content modules in the WordPress backend.
After all the checks are completed, project managers give the green light to launch the new website and oversee that the process goes smoothly.
Digital Experience Support & Marketing Optimization
Technology moves quickly, and by the time your tools feel comfortable, there's already a new tool around the corner or a new company sprouting up ready to offer more direct competition to your business. Make sure that your digital experience platform is well-supported so your marketing plan can be executed flawlessly.
Support & Hosting
What if you're halfway through planning––or worse, rolling out––a new marketing strategy on your website and something breaks? Who can you turn to for help? A dedicated support team can turn those problems into solutions with a quick email or phone call. Your hosting partner also dictates a lot of the performance on your website and the experience presented to your potential customers or clients. We trust brands like WPEngine and Pantheon for client websites, as well as our own.
Support: Get problems solved quickly by submitting a support ticket or making a phone call.
Backend Training: Learn the backend of your website with one-on-one training resources.
Digital Experience Optimization
The world of digital marketing is upside down right now with all of the changes happening, from a series of Google Algorithm Updates to the removal of cookie data. Still, the tried and tested methods of attracting website visitors and generating leads work just like they used to. In many ways, it's time to go back to basics and use the most strategies you believe in. One emerging trend that isn't going anywhere soon is digital experience optimization (DEO).
Rather than keeping your digital marketing teams and web development teams in separate silos, DEO aims everyone's efforts towards a single goal: helping the customer solve their problem in the most enjoyable way possible. New marketing trends are constantly changing, but there are a few other standouts, such as:
Dynamic Content: Content marketers are now experimenting with dynamic content and interactive elements to attract customer engagement.
Integrated CRMs: Customer relationship management tools like HubSpot help to integrate all of your marketing campaign efforts onto one dashboard.
Video Marketing: Video ads and sales videos are helping to engage more website visitors and keep their attention longer than ever.
Success Takes a Team, Time, and Talent
This may seem like a whole lot to take in and execute daily, especially if you're creating an online presence for your business for the first time. The past year has shown us, however, that every business can use a web presence. Without one, you may get lost in the dust. 3 Media Web has been delivering client success for the past twenty years, and some of our team members have been with us since near the beginning.
What makes this team so effective is the passion our team brings to their desks every day. We also spend a lot of time learning, sharpening our skills, and staying on top of the latest industry trends. If you're ready to combine your web design, web development, and digital marketing efforts into a unified strategy that inspires action in your customers, start your next project with 3 Media Web today!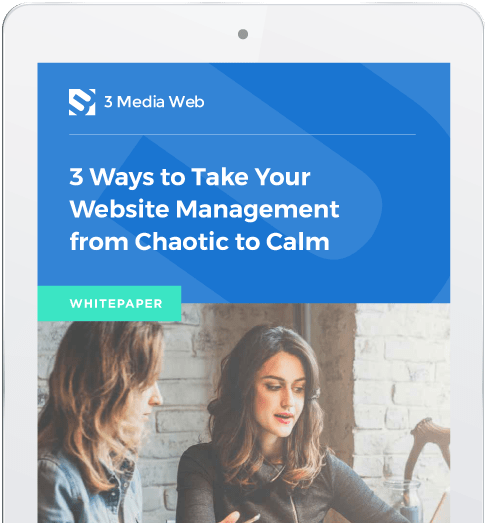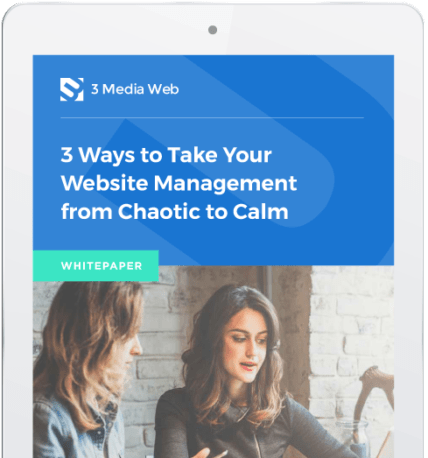 Join Our Email List
Sign up to receive our newsletter