Five "Value Bombs" to Navigate the Fast-paced and Distracting Agency World
There are always going to be distractions when it comes to work, especially if you're a digital agency.
Maybe you're the kind of person that gets hung up in the details. Maybe, when you see something other companies are doing, you feel the urge to change everything up mid-project. Maybe you have a really cute office puppy that needs your attention.
Well, co-founder of 3 Media Web, Lysa Miller, recently sat down with David A. Greenwood from Overcoming Distractions Podcast to talk about just that, as well as how 3 Media Web scaled their agency to make it what it is today.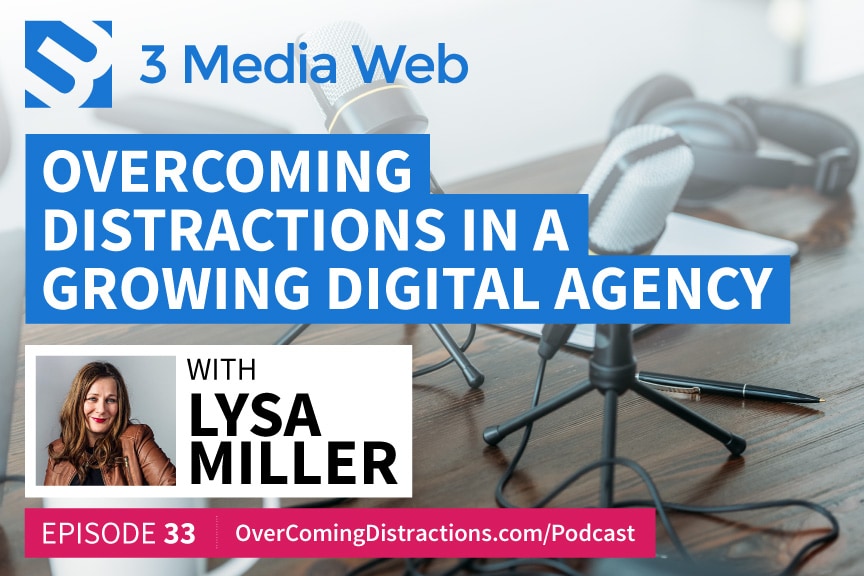 So, what happens when you have a "technical operations guru", an "idea person", and a musically gifted manager of operations? You get the three-headed beast that is 3 Media Web.
And how did this mythical creature become the 3 Media Web we know and love? Well, Lysa told Dave the whole story.
Once upon a time, in the Greater Boston suburbs, there lived two web agencies (and a whole bunch of other web agencies that will not make it into the story). Their names were Ladybugz Interactive and 3 Media Web. Sound familiar?
For many years, these agencies conducted their business alone in their neighboring villages, one specializing in digital marketing and one in web design and development. Of course, for many villagers (clients), both of these services were necessary, but neither agency wanted to build from scratch what the other had. So they remained small, until one day, a darling little blue bird (Twitter) connected them.
Let's jump ahead a few years in our story to the day these two web agencies decided to become one. This was not a one-step sort of deal. In order to effectively and efficiently cater to the villagers (clientele) that they wanted to attract, they knew they needed to grow and fine-tune their craft. 
But, since simply merging their agencies as is would be too much, they redefined the services they hoped to focus on. They chose to focus on web design and development, hosting and support, and digital growth for midsize to enterprise-level err… guilds (B2B companies). 
They filled out their agency with people of unique skill-sets to meet demand and finally, the 3 Media Web that you see today was formed. 
And they all lived happily ever – okay, so maybe that's not exactly how she told the story, but you get it.
Regardless, that is how 3 Media Web scaled and continues to grow their company to meet their client and employee goals.
Now, we'll circle back to the main reason most of you villagers probably clicked on this link to begin with…
How to Manage the Ever-Changing and Distracting World of Digital Agencies.
Well, for starters, if you want to survive, you have to change too:
"It is really important, even if you don't like it, to be open-minded to always be changing, because even if you're not, your customers are. If you're not changing with your customers, [they're] just going to go somewhere else. That's just the bottom line of it. You don't have a choice."
Lysa Miller
You can't ignore that logic.
And with all of that change whizzing about your head, it can be hard to stay on track and focus on the changes and processes that work best for your business.
So, without further ado, here are the five "value bombs" on how to avoid distractions and stay on task:
1. Software, Software, Software
"It doesn't matter what kind of business you have," Miller says, "it doesn't matter what kind of brain you have…you need to keep track of your time and keep track of your clients."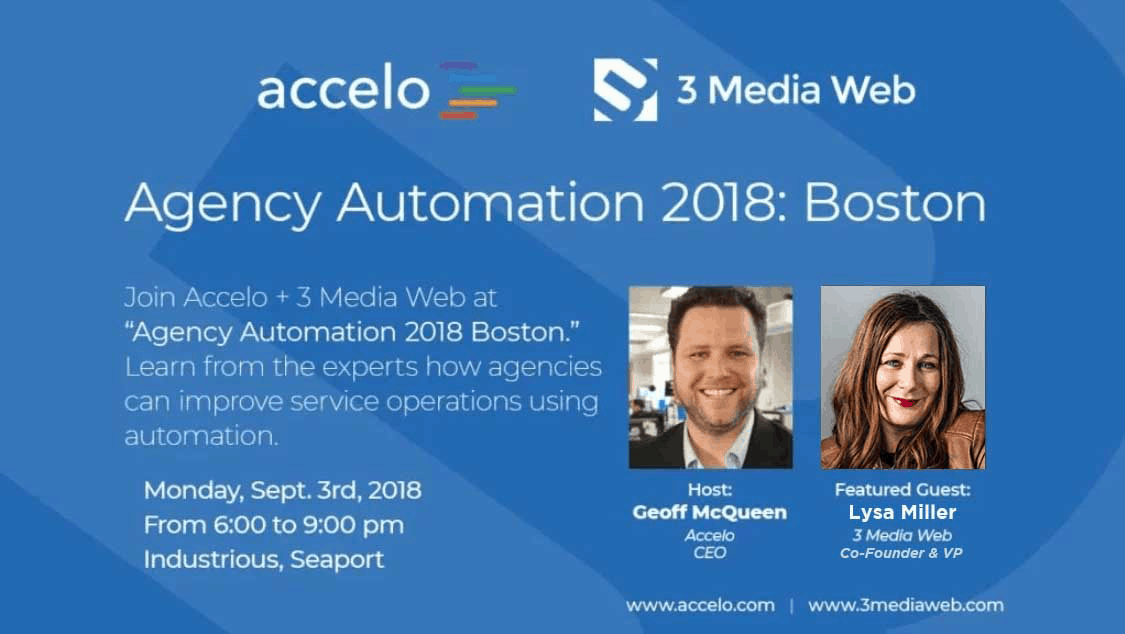 Software tools can help you do that.
At 3 Media Web, we use Accelo to create projects and tasks to help us stay on schedule and track everything that is going on in our company. No matter how big or small your company is, there is a software out there that will work for you, and when you're juggling all of your employees, multiple clients, and several projects at once, you'll be happy to have it.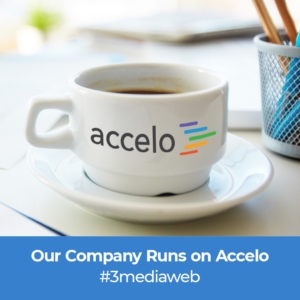 2. Processes
"But I'm spontaneous. Processes just get in my way."
Too bad, because they work.
Processes help keep every project on track and ensure that each member of your company is on the same page. Your process can be two steps, five steps, or twenty steps, and it may look completely different from another company's process for the same service, but as long as you stick to one, there won't be any confusion about what you're doing.
As Miller said, "You might be a process hater, but your processes don't have to be crazy. They can just be processes that work for you."
3. Always be changing…your processes
And when Lysa Miller says change, she obviously means improve. Since the world of digital agencies is always changing, your processes need to keep up. But that doesn't mean that you change just for the sake of change.
It's important to "always look at your process and think about improving your process," Miller says, "because things can always get better."
It may seem like a lot of work, but on the bright side, if the reason you hate processes is because you think you're too "spontaneous," voila! Your process can be spontaneous too.
4. "Ask for help"
You can be the most independent person in the world, but as Miller says, "You can't be an expert in everything".
Luckily, the world is full of experts. When you need something, ask another agency owner for help. Not only will it help improve your business, it will help grow your business, because they may recommend you if they come across a client who needs something that you offer.
"Surround yourself with people who are doing the same job as you," Miller says, "And support and collaborate. Together you're always going to be better."
5. Don't be scared
You need to learn what works and what doesn't, and that may mean going outside of your comfort zone and trying new things. Be adventurous, test things out, figure out what works for you, even if it doesn't work for someone else.
Whether you're trying out new ways to stay focused, testing new processes, or working out ways to be more productive, do it with curiosity and excitement rather than fear, and don't be discouraged if it doesn't work.
"Just try things! You know, test things. There's nothing wrong with failing," Miller says as the podcast comes to a close.
If you remember, Michelle Obama, FDR, and JFK Jr. all failed the Bar the first (or second) time, and things turned out okay for them.
They will for you too.
And there you are. The five "value bombs" to take to heart as you navigate the fast-paced and distracting digital agency world.
To hear the full podcast, check out Episode 33 of Overcoming Distractions, and learn more scaling your business, collaboration, and staying focused!
If you want to connect with 3 Media Web's self-proclaimed "idea person", Lysa Miller, you can find her on LinkedIn, Twitter, Instagram, and here at the 3 Media Web office in Hudson.