Great Manufacturing Websites: Launching Your Sales Machine
What's the current state of your manufacturing company website? Can you honestly say it's full of engaging content, gorgeous photos and visuals? Does it truly convey the usefulness of your products without being too technical or, worse, down-right boring?
We've had manufacturing companies come to us facing similar issues in the past. There's a lot to think about, but fortunately, with a solid vision and a little planning, all the challenges are surmountable.
Common Problems With Manufacturing Websites
Some brands have a hard time putting together exciting content to add to their manufacturing company website, while others find the products themselves look too repetitive and boring when featured in photos. The manufacturing process itself may be proprietary, or too technical to describe on a landing page.
Finally, marketing managers at manufacturing organizations may face challenges associated with working in a traditional, conservative industry. Marketers often have the challenge of convincing company leaders to depart from the status quo by creating a new online presence.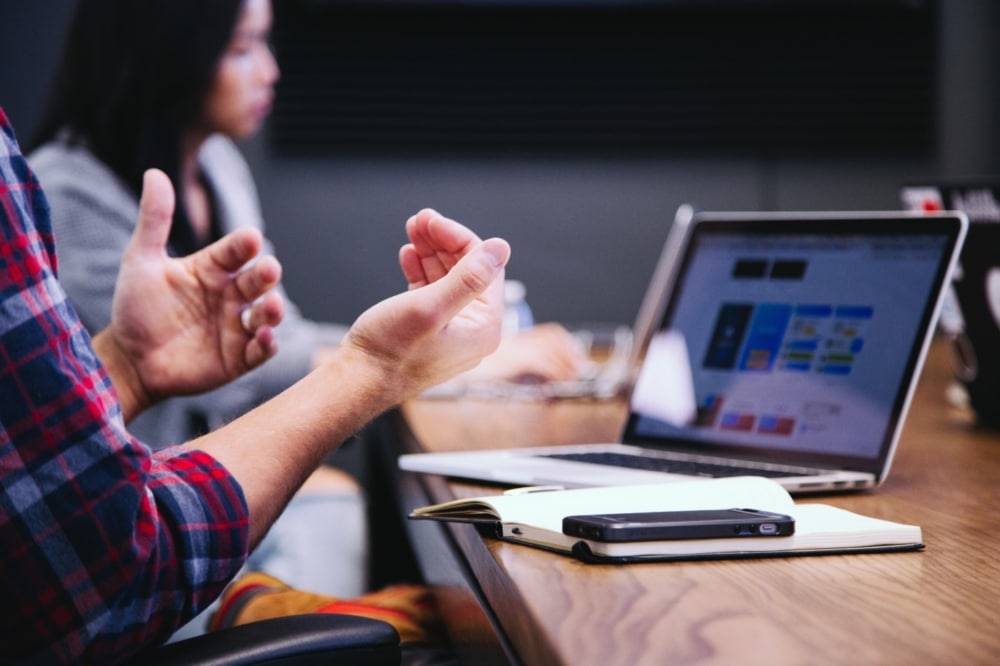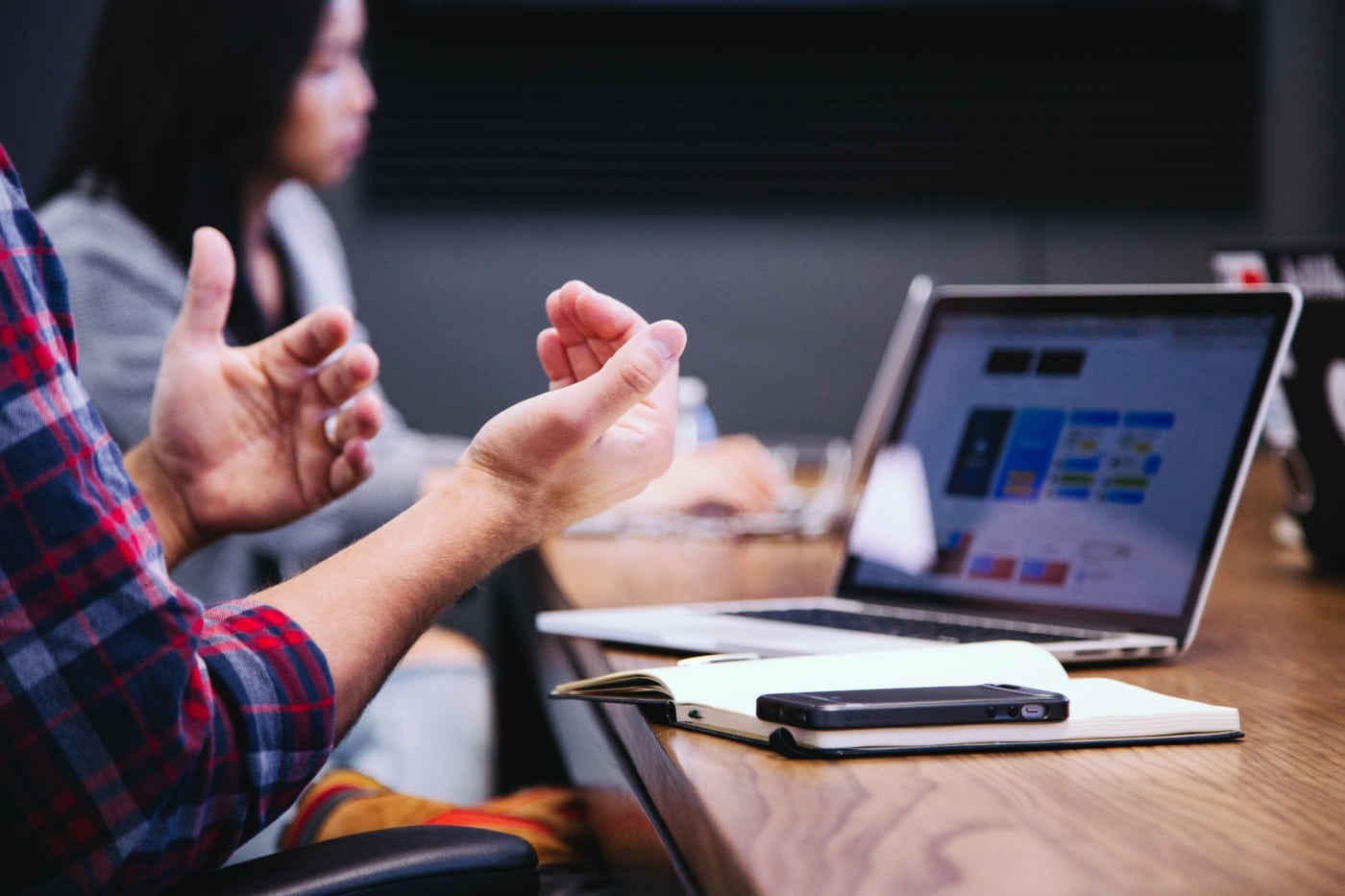 Let's get down to the nuts and bolts of a great manufacturing website. Below, we'll go through some essential design principles you should apply to your website, complete with a real-world example of how great manufacturing company websites pull it off.
5 Outstanding Manufacturing Websites You Can Learn From
Great Manufacturing Websites Speak To The Right Audience
First things first, if the copy and design of your manufacturing website aren't speaking to the right audience, there's little chance it's going to be an effective sales machine. It pays to take the time to learn about your target audience including other sites they visit to get a feel for what appeals to them.
When GMSi Group came to us for a new manufacturing website design, they came equipped with useful information. For example, they knew their customers weren't very tech-savvy. From this, we concluded that the website needed to be simple and instinctive to use.
No complicated jargon.
No distractions.
Just good, clean design that intuitively leads customers to what they're looking for.
The search feature helps users quickly find what they are looking for rather than scrolling through endless pages of content and products. Furthermore, products have their own landing pages which makes it easy to gather important details and specifications without distraction.
Additionally, the site is heavy on beautiful graphics and photos.
2. MicroGroup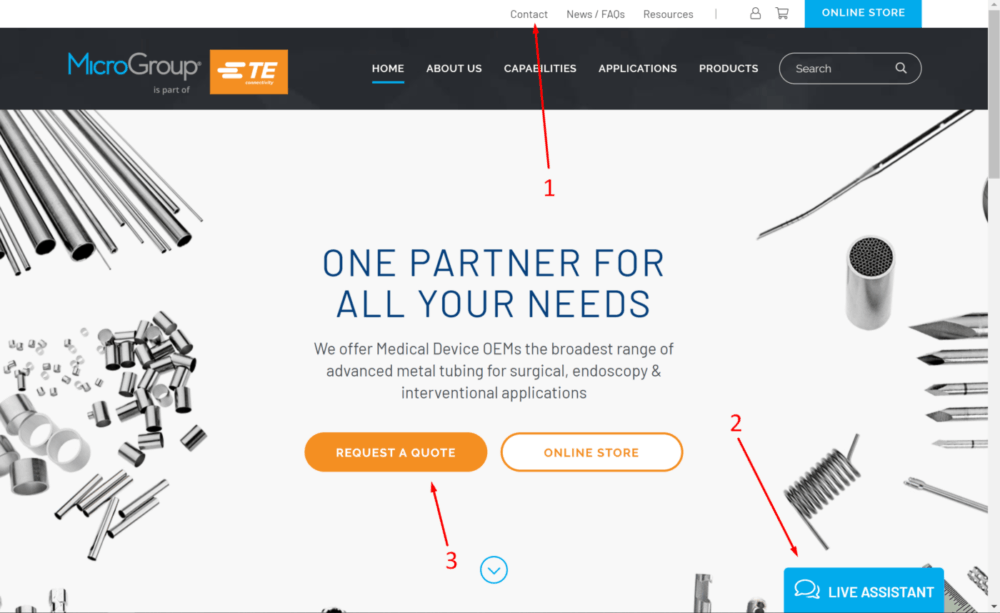 Make the Next Step a No-Brainer
MicroGroup identified one of their main goals for a manufacturing website redesign was to turn into a fine-tuned sales machine. That meant making it easy for visitors to their site to contact the sales team.
In fact…
It wasn't just about making them easy to contact. Once a potential client reached their website, MicroGroup wanted to ensure the customers' next step was initiating contact with questions and/or making a purchase order.
When 3 Media Web redesigned the MicroGroup website we optimized it with those two goals in mind. As soon as the main page loads, visitors are shown three immediate ways to contact MicroGroup, which you can see in the screengrab above.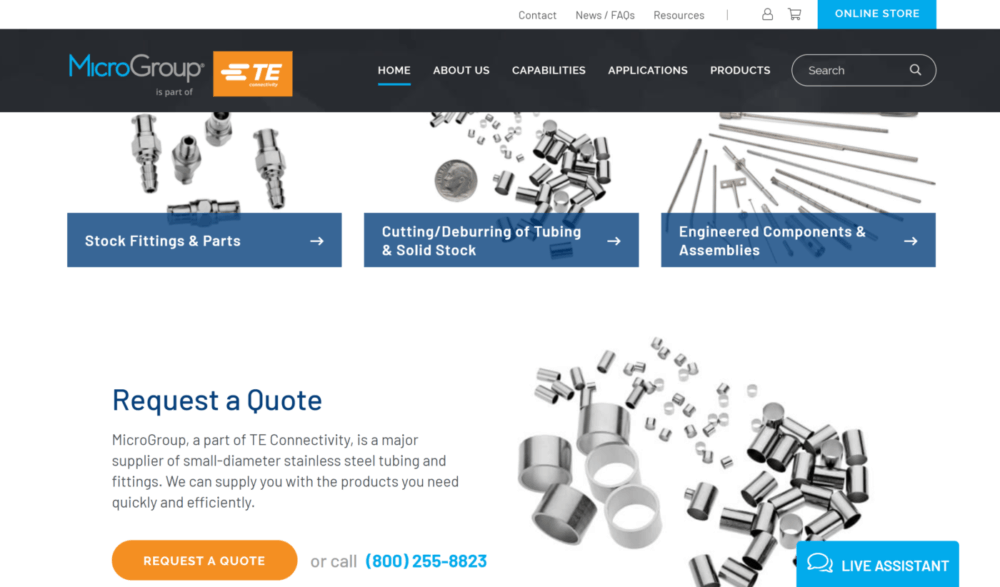 A short scroll down the homepage and visitors are shown a "Request A Quote" box in addition to multiple options to drill down to specific product pages with "Add To Cart" functions.
"The new MicroGroup website has an updated design that supports the company's reputation as a leader in its field. It engages both browsers for information as well as prospects and clients who appreciate its e-commerce capabilities and ease of use. 3 Media Web was able to launch the new website with no downtime or loss of revenue."

READ THE FULL CASE STUDY HERE
3. Pilot Ceramics
One of our favorite examples of a manufacturing website that gets it right is Pilot Ceramics. Its clean design, simple navigation, hard-hitting copy, and dramatic images communicate precision and performance — and make visitors want to learn more.
Another thing they get right is problem-solving…
Solve The Problem
Many visitors are coming to a manufacturing website because they have a technical problem they need to solve — they need to buy or commission an item.
Feature information about your products and services to help you reach those visitors. They want to see proof through data, specs, and drawings that establish the bona fides of your process or product. So include them somewhere on your website!
The Pilot Ceramics manufacturing website has dedicated an entire page on their site to do just that.
Plus, it's easy to find in the main navigation menu at the top of the page.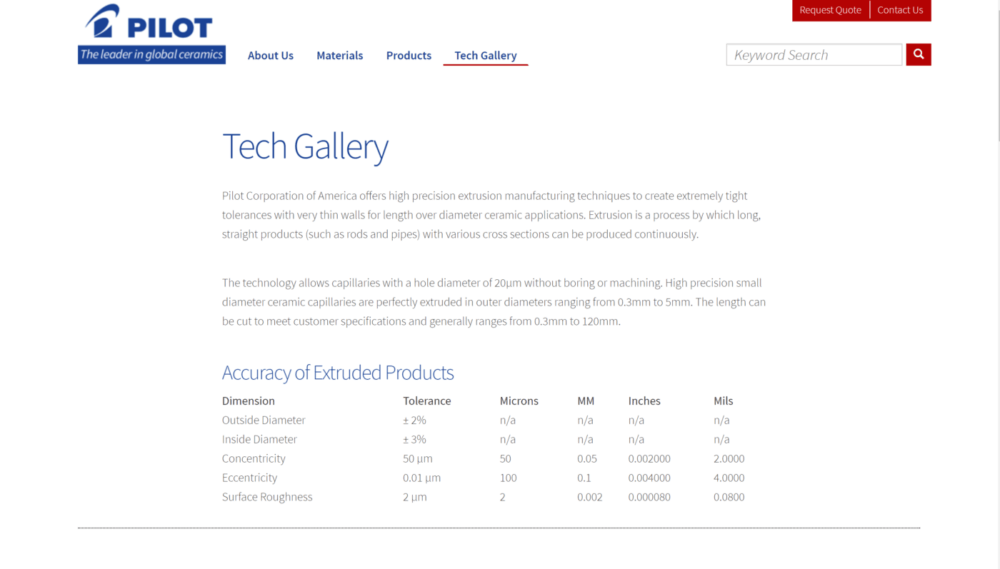 Technical buyers also want to be able to search by product number or feature, so creating a simple search tool can help connect your buyer to exactly what they're looking for.
Again, on the screengrab above you can you see how Pilot has made a search box at the top right-hand corner of the page.
When designing your site, be sure to make it as easy as possible for visitors to find what they're looking for whether it be a specific product, specification, or other bits of information. Be clear and upfront about your offerings.
Speak To The Masses
Don't assume everyone who visits your site will be well-versed in your industry. If they're not, you can solve that problem by communicating with them on a layman's level.
When you're describing complex information, try to use simple, straightforward language that is easy for anyone to understand.
We targeted the messaging to appeal to senior executives who have technical backgrounds and are looking for precision ceramics solutions

READ THE FULL CASE STUDY HERE
That means staying away from jargon whenever possible. You don't want to inadvertently create more problems for your customers by confusing them with unfamiliar lingo.
We'll touch on this more in just a minute, but supplementing your site with images and videos also ensure your customer stays engaged and has a visual description of your products as well. This often takes the guesswork out of figuring out what they're reading about.
4. Bake'n Joy
Tell Your Story
What makes your company special? Identify it and then use your website to tell others about it. Every organization can tell a good story.
Whether your company has been family-owned for many years, serves the community through volunteerism or donations, is growing rapidly or has overcome past challenges, highlighting this story on your website will make your company more relatable to visitors.
A great example of this is the Bake'n Joy website.
Bake'n Joy manufactures a variety of baked goods for retailers and the foodservice industry. They've been operating since 1941 and a priority with their website was to tell their story in a way that makes customers feel like part of the family.
The About Us section of the Bake'n Joy manufacturing website tells the entire story in a heartwarming way–the perfect complement to their products.
The storytelling is supported visually by including photos of the manufacturing process, the founders, and, of course, the delicious products they offer.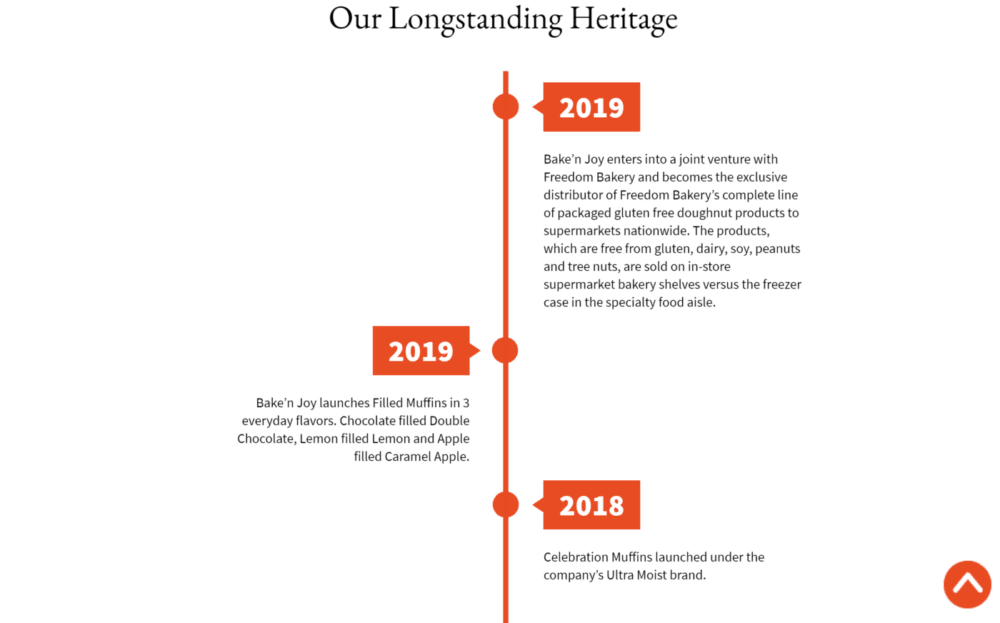 Behind The Scenes Videos Are An Essential Component Of Great Manufacturing Websites
Another thing that pushes the Bake'n Joy website to greatness is the collection of videos that take customers behind the scenes of the operations, again building familiarity with the brand, their goods, and what they're all about.
Did you know? Forty-nine percent of marketers report they grow revenue faster with videos than without? That's probably because videos on landing pages have been shown to increase sales 80 percent.
Putting the spotlight on your people and facility shows visitors to your manufacturing website that the employees at your company are experts in their fields.
Shoot a video of your building and interview employees at different points along the chain. The more you can humanize the manufacturing process, the easier it is to engage website visitors.
5. Acacia Communications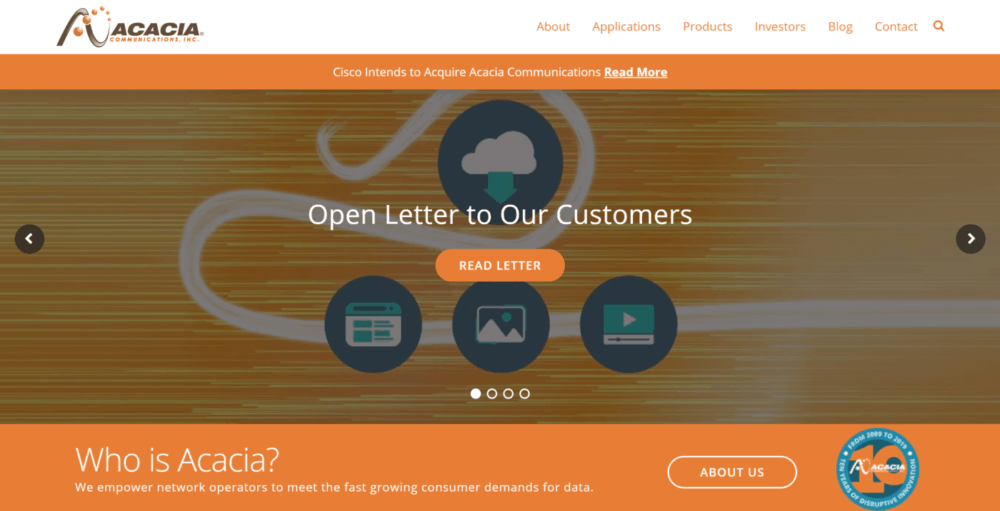 Acacia Communications is a leader in optical communications and wanted their website to clearly communicate their leadership. They've accomplished this in a number of ways including using copy that resonates with key decision-makers while remaining relatable to the general public which may include potential investors.
Looking at the homepage of the Acacia Communications manufacturing website, visitors are introduced to the company's expertise.
First, as you scroll and see photos of the products, the descriptions make mention that they are award-winning–even adding the badge to boast the accomplishment even more.
Here's an example: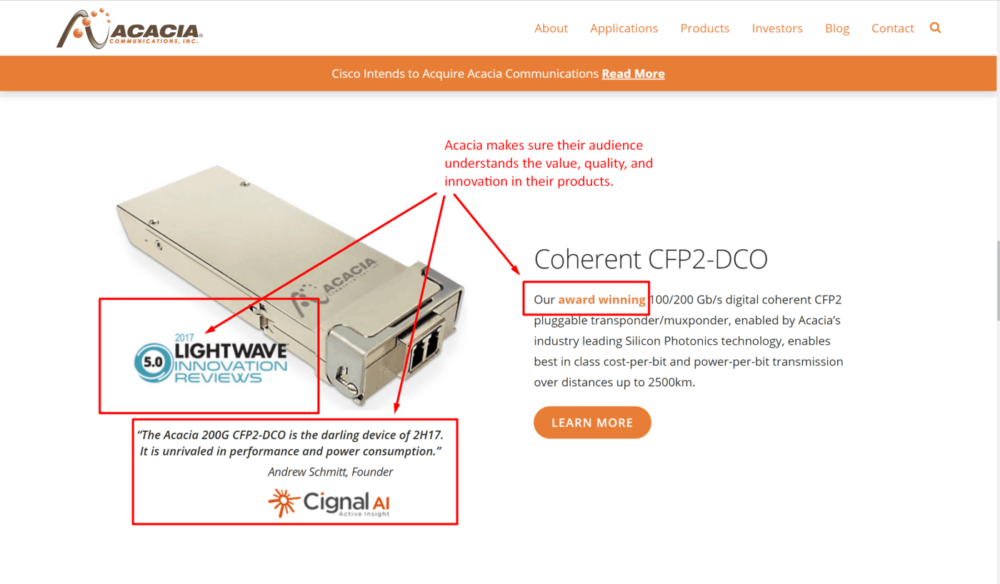 And they didn't stop there…
Scroll a little more down the homepage and they break down their expertise very clearly with this catchy segment:
Which of course leads to a more in-depth page detailing their accomplishments:
Highlight Your Expertise
This goes back to solving the problem — you'll need to prove to visitors that you have the know-how to get things done in the way they want.
There are several ways you can communicate to customers that you're a leader in your industry, without relying on empty statements. Some popular approaches include:
Showing case studies and testimonials from satisfied customers
industry best practices and certifications
producing regular blog posts which demonstrate your thought leadership
For example, if you have industry-specific certification for things like Restriction of Hazardous Substances (RoHS) or International Standard of Organization (ISO), show those accomplishments off!
Making mention of these things will establish your company as an industry expert that's trustworthy and stands by its products.
Don't Forget The Analytics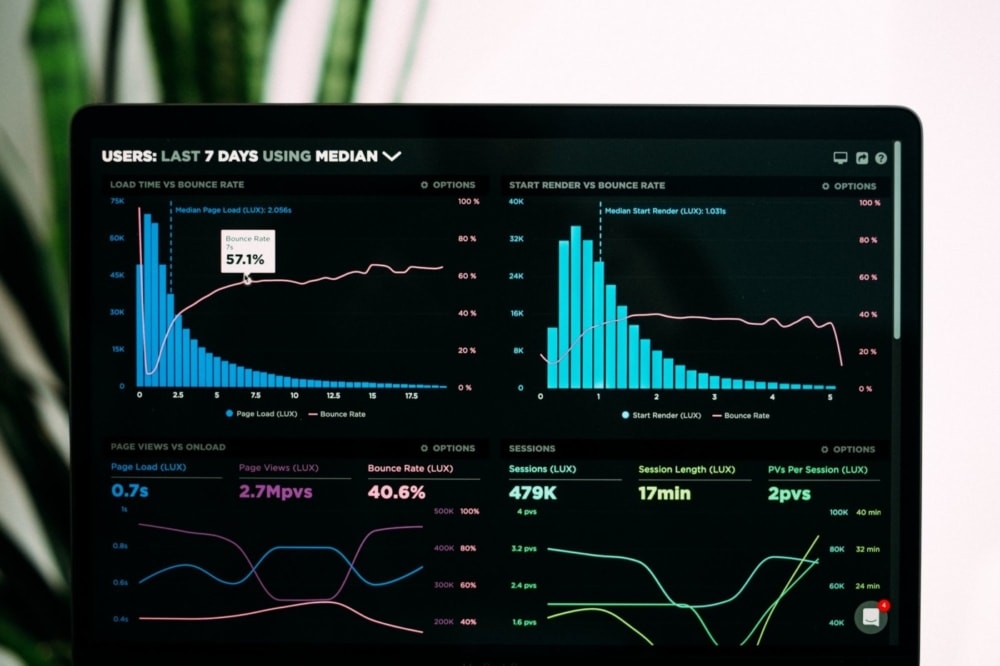 Finally, ensure that your manufacturing website is set up in such a way that your marketing department can gather and analyze data from it effectively.
If your website is built on a platform that makes it difficult to analyze what's working and what's not, your marketing efforts may not be getting the results you want. 3 Media Web CEO, Marc Avilla said it best when he wrote:
"Analytics information makes it easier to make decisions about where to invest resources, based on the content that is generating the most engagement and conversion rates with users and customers."

Why Metrics and Analytics Are the Keys to Success — Marc Avilla
There's a lot that goes into customized analytics, and it's often worth consulting an expert in the matter to make sure you're doing it right. Many people new to managing analytical data make the mistake of gathering as much data as they possibly can.
However, this can often be so overwhelming it makes the entire process more harmful than good.
To get you started, we suggest you check out this blog post to learn how to set up an effective and valuable analytics strategy. We'll give you a step-by-step process you can work through and throw in some pointers along the way.
A Manufacturing Website Done Right Will Become Your Best Salesperson
We've said it before and we'll say it again: a website can easily become your manufacturing business' best performing salesperson. Just follow thee guidelines we've covered today:
Make sure you're speaking to the right audience
Make the next step in the user's journey a no-brainer
Solve your audience's problems
Highlight your expertise
And make your manufacturing website visual and personalized with videos and photos!
And, as always, feel free to reach out to the 3 Media Web team if you need more help with your manufacturing website redesign or launch. Our award-winning team of experts is here to answer your questions and make your website a viable way to grow your business.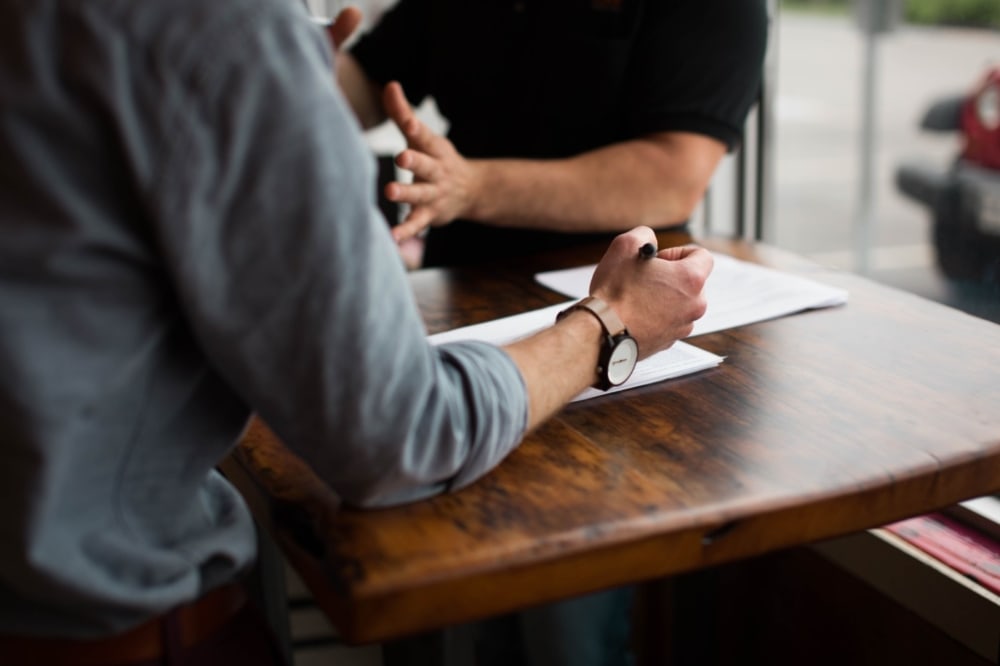 We've helped all the manufacturing businesses from above develop a powerful web experience for their companies.
Can we help you next?