Marketing Messages is one of the top providers for professionally recorded voice prompts for interactive voice response (IVR), auto-attendant, and narration in over 70 languages and dialects. Marketing Messages came to 3 Media Web with the goal of creating an organized and detailed website.  They wanted their logo redesigned and asked us to generate a custom voice search tool.
3 Media Web worked with Marketing Messages to build an improved responsive website that accurately demonstrates their top-quality services by:
Consolidating information on their current website
Creating an straightforward database for storing voice content
Crafted a music search tool by music genre or title
Constructing a gated inbound resource section with downloadable whitepapers and lead generation forms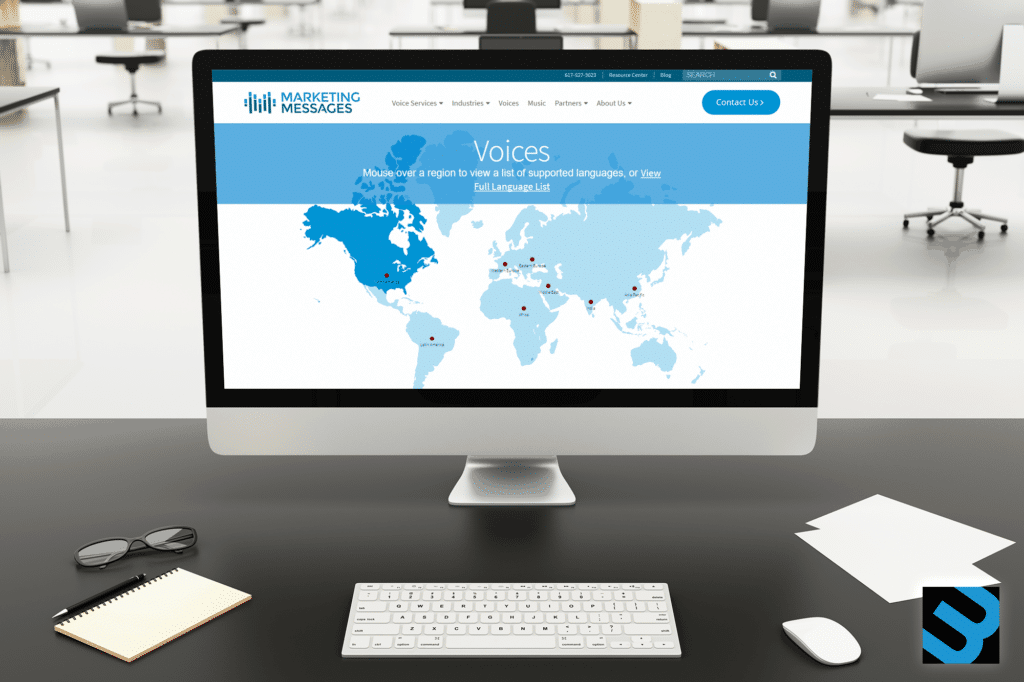 The new Marketing Messages website now provides an experience that is unlike other voice recording company.  3 Media Web:
Created a custom voice and music search tool that allowed visitors to preview languages and dialects when requesting services
Redesigned their logo to resonate with clientele who are looking for technology advanced services
Provided graphics that are not only eye-catching, but engaging
The revamped Marketing Messages website appropriately reflects the detail-oriented services provided by the company. Marketing Messages embraced 3 Media Web's collaborative approach to building the improved site and is very pleased with the outcome.
We used to have a truly awful website – it was stuck in the 90's. After working with the crew at 3 Media Web, we now have a website that is visually compelling, highly functional, and easy to navigate. From a design standpoint, they created a slick, modern look and supplied some nice custom feature functions, including a searchable database of multimedia files selectable via an interactive global map….pretty damn cool! Marc, Robbie, and Jen are the superheroes behind the process; they are responsive to our needs but also proactively voice their suggestions and alternatives. We evaluated ten web firms for our project, and we're glad we chose them!

Jim Giebutowski – Marketing Messages
Want to see more for yourself? Check out our project write up and view the website.
ABOUT 3 MEDIA WEB
3 Media Web is a Boston area website development company. We partner with companies and agencies to build beautiful, responsive websites. Our web skills run deep. HTML5, CSS3, jQuery, Bootstrap, responsive, WordPress: We speak all those languages. Whatever you've got, we can build it. Whether you already know exactly what you want out of your website or you're just starting a new web project, we're the web development team you've been looking for. Contact us to learn more.