Acacia Communications, Inc. is a leading optical communications company that empowers cloud and content providers to connect at the speed of light, enabling them to meet the rapidly increasing consumer demands for data. Acacia has leveraged advances in silicon processing to provide their clients with higher data transmission rates, lower power, and higher performance.

Acacia Communications, Inc. works with clients on an enterprise/industrial level with high-end wired and wireless communications needs. Their selective list of clients includes companies where Cloud/Data Interconnectivity between data centers is crucial. The industries they serve include long-haul land networks linking major populations areas within continents; metro carriers with complex mesh optical networks between central offices and data centers in metropolitan areas; cable communications companies; and submarines with optical interconnections that span thousands of miles under the world's oceans.

One of the client's primary goals was to make the design of the website and the content throughout the site more visually appealing and to update the look to match and complement the high-tech nature of the business.

A major consideration was to brand their investor portal, which would take interested parties to a NASDAQ sub-site, which would be seamless in operation and consistent in design with the Acacia Communications, Inc. website.

Another of the client's goals was to communicate clearly what they are all about in a way that speaks to key decision-makers within their very specific target markets, as well as to the general public. While the content is highly technical, the client wanted the text to demonstrate Acacia Communications, Inc.'s differentiation from their competition. Website visitors also include those who may be potential investors in this publicly-traded corporation.

The Resources page needed to be restructured so that the information could be managed on the back-end more efficiently. The client wanted to be able to link to videos and other external material without taking the web visitor off their site.

3 Media Web redesigned the Acacia Communications, Inc. website using a new color palette and a streamlined layout. The design includes an easy-to-follow navigation with major tabs at the top and a sub-menu on the left side of the screen. The new website is mobile responsive to meet the need to be able to access the site from all electronic devices.

To differentiate Acacia Communications, Inc. from others in its field, the About Us page includes a carousel of Competitive Strengths text superimposed over a colorful background image of the Acacia laboratory to attract and engage the reader.

An engaging video, which clearly explains the capabilities of Acacia Communications, Inc. was added to the About Us page which can also be accessed on YouTube.

The Product page was also made more visually appealing with images of the products and a puzzle graphic that reiterates the company's Four Key Capabilities, also shown with animation on the About Us page.

Likewise, the Home page, Resources, Applications, and BLOG pages were redesigned to be dynamic, simulating data streaming and supporting the assertion that Acacia Communication is a company on the cutting edge of high-speed integrated optical networks.

3 Media Web created the HTML pages, headers, footers, and images for use on the Investor portal/NASDAQ sub-site, ensuring that all links were operational.

In addition, 3 Media Web added a Careers section that appeals to a younger talent pool that the client wants to recruit for its growing company.

Updated to engage high-tech and very specific prospective clients, the new Acacia Communications website confirms its reputation as a company whose advancements are matched only by the speed of its optical networking technology.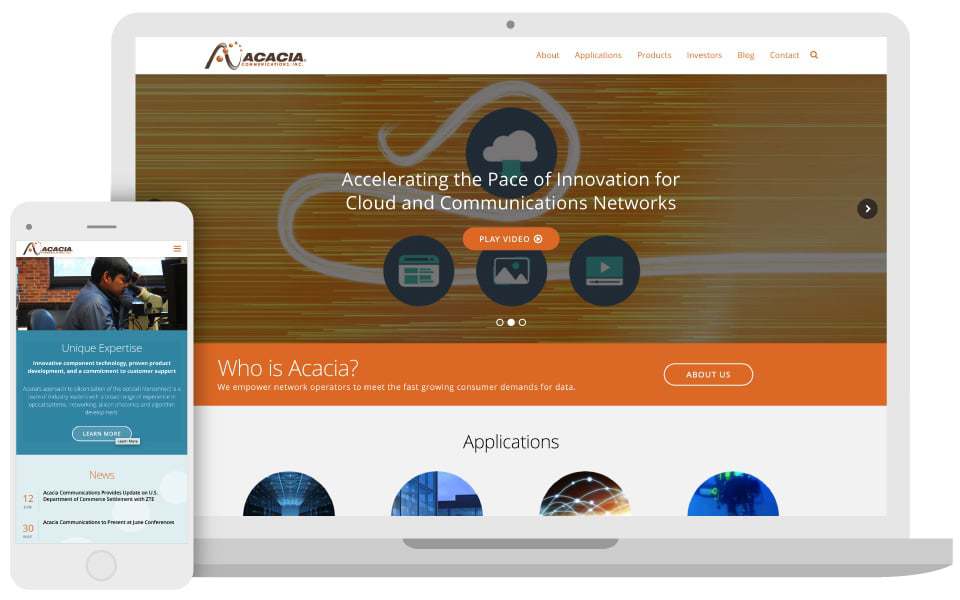 Related Projects
Parallel Wireless
How we helped a US-based telecom company elevate their web presence for local and worldwide customers.
Sigfox USA
How we helped an International IOT company expand their footprint in the USA market with a new custom website.
Extreme Networks
How we helped a global IT networking company improve their inbound marketing efforts with the integration of marketing automation tools into their already existing website.