Administrative Organizational Structure 94 (AOS #94) is comprised of District 46, the Harmony School Department, and Athens Community School, serving six towns in Penobscot County, Maine.

Maine School Administrative District No. 46 is small, yet globally connected through its commitment to state-of-the-art technology integration and an international learning program. As a School Choice, district MSAD #46 and its leaders recognize the competitive environment in which the district operates and has taken a cutting-edge approach to marketing, recruiting students who can thrive in their setting of personalized and rigorous instruction.

Their former website was not recognized as a site representing the five schools in the district. Not only did the website need to function as a resource of information for all the district's students, parents, educators, and staff, the client wanted the site to be a marketing tool for student recruitment.

The AOS #94 website had to demonstrate the differentiation of MSAD No. 46 and to spotlight their International Program. It was key that the website be easy-to-navigate for visitors from countries where they were actively recruiting, such as China and South Korea.

3 Media Web designed the AOS #94 website with a clean footer that includes contact information on each of the schools in the district, as well as links to their individualized and detailed information.

The AOS #94 website also provides to-the-minute updates for current students and their parents, and for district educators and staff. 3 Media Web created a dynamic scrolling banner with information of immediate importance: school weather closings, delayed openings, as well as announcements of what's happening – all linked to Twitter posts – which are easily displayed and changed, as needed.

In addition, a HOME page Upcoming Events section displays the next three school events and a link to a Calendar of Events. 3 Media Web added a link on the HOME page to a form for those who wish to support one or more of the district schools by volunteering or providing financial assistance or materials. This and a link to Employment Opportunities and News of the District in the Media created an active hub of information for all web visitors.

To make the AOS #94 website accessible to prospective students and their families in China or South Korea, 3 Media Web added the functionality of being able to view the entire site in Chinese or Korean with just one click.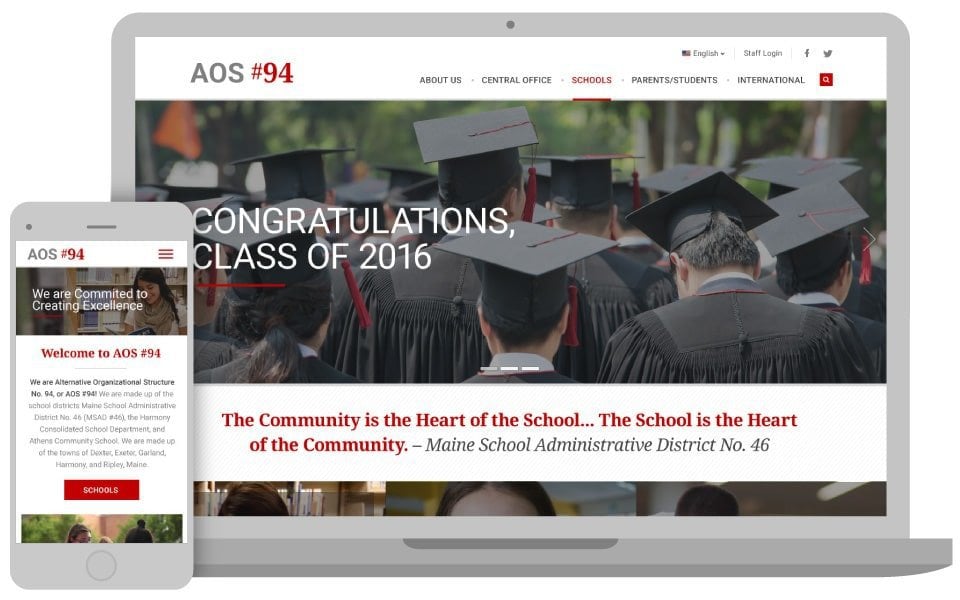 Related Projects
The Long Ridge School
How we helped an Independent, private nursery and elementary school with an award-winning website makeover and integrate 3rd party staff and student applications online.
Kidsborough
How we helped an after school and summer program with a website makeover that is scalable and easy to manage as new locations open and the program continues to grow.
Global Study Connections
How we helped a Maine-based education company with a responsive website makeover that uses more photography and content to better target their key audience in Asia.