CORD (Cape Organization for Rights of the Disabled) is a non-profit organization that advances independent living and the rights of people with disabilities.

Their service area focuses on Cape Cod and Nantucket, Martha's Vineyard, and the Elizabeth Islands in Massachusetts.

Founded in 1984, CORD is the only independent living center in the region that provides services and advocacy to enable choice, dignity, full access to the community and control of life for those living with disabilities.

CORD advocates for the rights of individuals with disabilities to promote a barrier-free environment for all. They provide a range of services to help individuals obtain benefits and services they need to achieve their goals for independent living.

Operated mainly by those with disabilities for people with disabilities, CORD offers support and advisory services, including peer counseling, skills training, advocacy, and transition services.

The client required a new website that combined the content from two concurrent websites. However, the messaging needed to be written from CORD's prospective clients to address the problems they face daily.

The CORD websites were dated and text heavy. They failed to engage visitors; instead, they sent visitors to other websites with external links.

The new CORD website needed to resonate with a variety of website visitors: prospective clients, donors, volunteers, and those in a position to refer prospective clients to CORD.

A key requirement for the CORD website redesign was that the site had to be compliant with WCAG (Website Content Accessibility Guidelines).

3 Media Web partnered with Red Javelin Communications in Sudbury MA, who selected 3 Media Web because of their expertise in designing WCAG compliant websites and a history of successfully working together.

The new CORD website was a complete integration of content and accessible digital marketing. This comprehensive project included a team from all areas of marketing, working together from concept to launch and beyond with follow-on digital marketing post-launch.

Our web accessibility experts ensured that the CORD website complies with Web Content Accessibility Guidelines.

Not only with regard to text size, site colors, alt descriptions for images, and text narratives for audio, but with other features, such as pause buttons on gallery images, audio, and video.

3 Media Web created a new CORD logo and presented the new website using energetic colors, while keeping with the WCAG for high color contrast. The result is a vibrant look using purple and white, maintaining full accessibility.

The content, provided by Red Javelin Communications, successfully engages website visitors and is written from the perspective of individuals with disabilities.

The new CORD website successfully addresses its various constituencies and supports its mission as a primary resource for individuals with disabilities.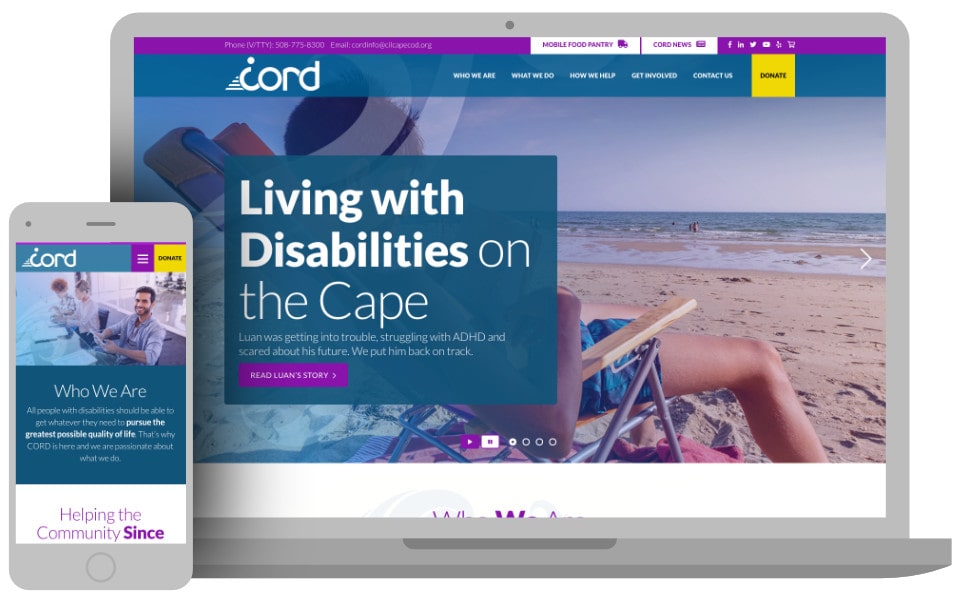 Related Projects
Marlborough Regional Chamber of Commerce
How we helped a regional chamber of commerce get more active visitors to their website with a redesign.
Visit North Central Massachusetts
How we helped a tourism association promote the region with an updated brand and modern website.
AOS #94
How we helped a Maine School District with a website makeover that seamlessly combined five school websites into one.