Dermelix Biotherapeutics is a clinical-stage biopharmaceutical company focused on delivering innovative treatments to patients suffering from rare genetic skin diseases. Their novel antenatal (before birth) protein replacement therapy treats a rare pediatric genetic disease with no currently available corrective treatment options. Another of their innovative genetic therapeutic technologies topically delivers medication directly to the affected area of the skin of pediatric patients with Netherton Syndrome, another rare skin disease.

The Dermelix website presented the challenges of a start-up biotech company whose design and content needed to be precise and organized in such a way to resonate with various constituencies: the medical community, patient families, and investors.

There was an immediate need for a website landing page to present Dermelix Biotherapeutics as an innovative, ethical biopharma that is moving forward with urgency to target rare genetic skin disorders. This landing page had to launch within weeks from the initial creative meeting with the client to coincide with World Rare Diseases Day.

Dermelix had retained a graphic design firm in Los Angeles, with which 3 Media was to coordinate branding efforts utilizing the logo and branding package they developed.

3 Media Web went to work immediately and within days they designed a landing page which was linked to the client's press release for World Rare Disease Day. The landing page was the basis for the website design and used the new Dermelix helix logo. The helix element of the logo is also used within animated illustrations that explain in detail the client's medical approach.

The graphic helix is featured throughout the Dermelix website as static illustration superimposed over photo images and as filler illustrations to reinforce the brand on each page of the website.

3 Media Web worked closely with two key Dermelix creators to help organize the website to best meet the needs of their target markets. The resulting website has straightforward navigation and easy-to-understand content that delivers its complex message. The original illustrations of their medical approach, both animated and fixed, and created by 3 Media Web, were the result of close communications with the client and were tweaked until they were detailed and accurate to meet their high standards.

The Dermelix Biotherapeutic website is precise, yet straightforward in layout and navigation. The design is modern, utilizing colorful images and animated illustrations. It supports the company's branding efforts to be recognized as an innovative biopharmaceutical leading a new wave of therapeutic development.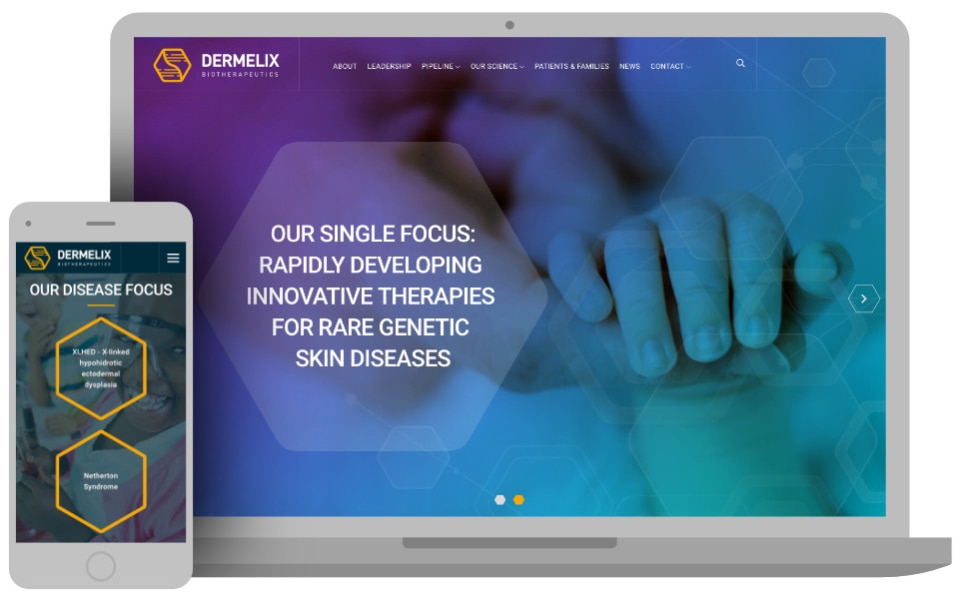 Industries
Services
Project Manager