GMSi Group, Inc.(GMSI) is a leading supplier of machine tools, accessories and abrasive tooling for metal working, industrial sharpening and manufacturing applications. An importer of products manufactured in Germany and Taiwan, GMSi provides product distribution, readily-available inventory, and technical support in close partnership with their suppliers. GMSi customers receive production support, engineering, and technical service for many of their applications.

GMSI wanted a new website with an updated look that included more information on their extensive product line … an umbrella website that would include many manufacturers' products and links to their websites. The client wanted to establish the company brand as an all-under-one-roof solution. The dilemma was to provide enough information to maintain credibility, and also retain the prospect's attention on the GMSi website, before sending them to a supplier's website.

GMSI  shared that their target audience was only moderately computer savvy, so it was important that all operations and the navigation on the website be simple and intuitive.

It was key to GMSi that the content messaging emphasized their expertise and exemplary programs for training and support for the products they import and distribute, differentiating them from their competitors in their marketplace.

3 Media Web created a new modern, responsive website that highlights the entire product line with an intuitive, easy-to-use navigation. Rather than sending prospects to their corporate partner websites, users click to landing pages for detailed information, remaining on the GMSi website.

The focus changed to one that reinforces the one-stop-shop value which strengthens the company's overall brand and goals. 3 Media Web created filters in the "product section" that allow users to easily search the comprehensive product line by manufacturer and product type to quickly find the solutions to their manufacturing application.

To demonstrate the importance of GMSi's customer support and training, 3 Media Web designed a separate web section that defines the company's unique program of leveled support beginning with immediate response to an inquiry by an experienced engineer, progressing from trouble-shooting to preventive and routine maintenance, and training.

As a result, GMSi's website is an improved marketing tool that delivers a user-friendly experience. The site enhances the GMSi Group's brand with all manufacturers under their umbrella in a consistent and current design.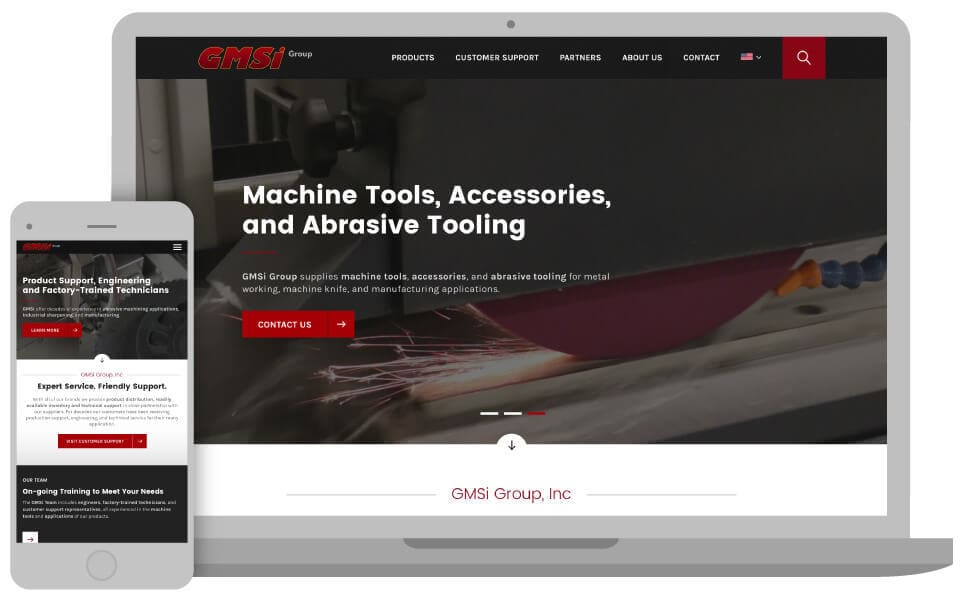 Industries
Services
Web Designer