Hampton Properties, LLC is a real estate development company that specializes in restoring the unique historic buildings in Worcester, MA to provide premium apartment rentals for students from local universities and colleges. Their homes for rent and for sale have revitalized neighborhoods since 1985. Hampton Properties, LLC is a trusted partner with members of the community who share the goal of creating a better living environment with well-thought out restoration of Worcester neighborhoods.

Their previous website did nothing to promote their leadership in their marketplace for the quality work they have accomplished, the recognition they have received, and the impact their restored buildings have had on the overall revitalization of the community. The client needed a website with the capability to interact with the user. They wanted a method for parents and students to pay their rent online. They needed to replace the myriad of paper forms with online forms that could be easily kept track of. In addition, they needed a way for web visitors to easily search for properties to rent or to purchase online … a simple search function that would showcase their properties.

3 Media Web designed a website that effectively uses a wealth of photographs, both interior, and exterior, of the Hampton properties for rent or for sale. All the paper forms needed to complete the rental process were replaced by interactive online forms: the lease agreement, parental authorization, and maintenance request. The process was streamlined so that the web content answered the concerns and questions of prospective renters or buyers, replacing the need to address them by phone or email. The website search function was improved so that users can search on the simplest criteria while being able to see all the features, photographs, and benefits of each property in the search results.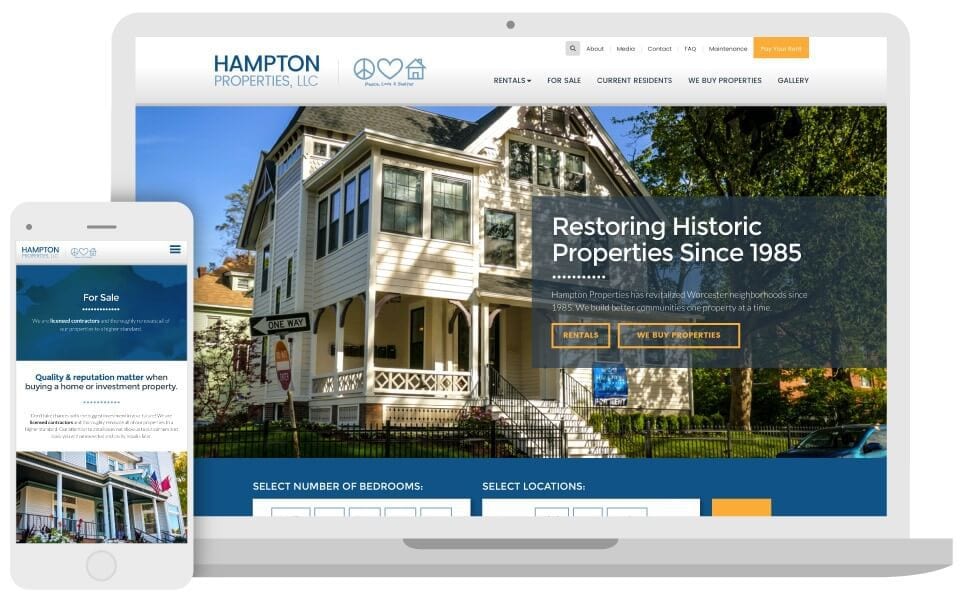 Industries
Services
Web Designer