Located in Suburban Boston, Kidsborough is a before and after school and summer program that provides enrichment based curriculum programs to children in grades K-8. Kidsborough serves families requiring full-time before and after school care, as well as families desiring to attend part-time. Currently, Kidsborough offers programs in Canton, Framingham, Hopkinton, Marlborough, and Medfield, Massachusetts.

Kidsborough has been growing rapidly and expanding its resources into new communities, but the website did not reflect this and was not easy to update. The program is thriving, and Kidsborough wanted a presence that would reflect their excellence in enrichment for kids in various locations across Suburban Boston.

Kidsborough also wanted to put more registration information online and in different languages, so that all communities could access it. They also required individual pages for each of the location sites that would show accurate information such as site coordinator and special news for the site.

3 Media Web designed a modern, colorful, responsive website that is built on the WordPress platform and is easy for the client to manage on the back-end. The website features colorful photos from the program, and each location site offers information about the manager, staff, events, and Instagram accounts.

Registration information is easily available on the website in multiple languages making it readily available to all potential families. A custom contact form that gets emailed to each location also helps site coordinators quickly communicate with parents.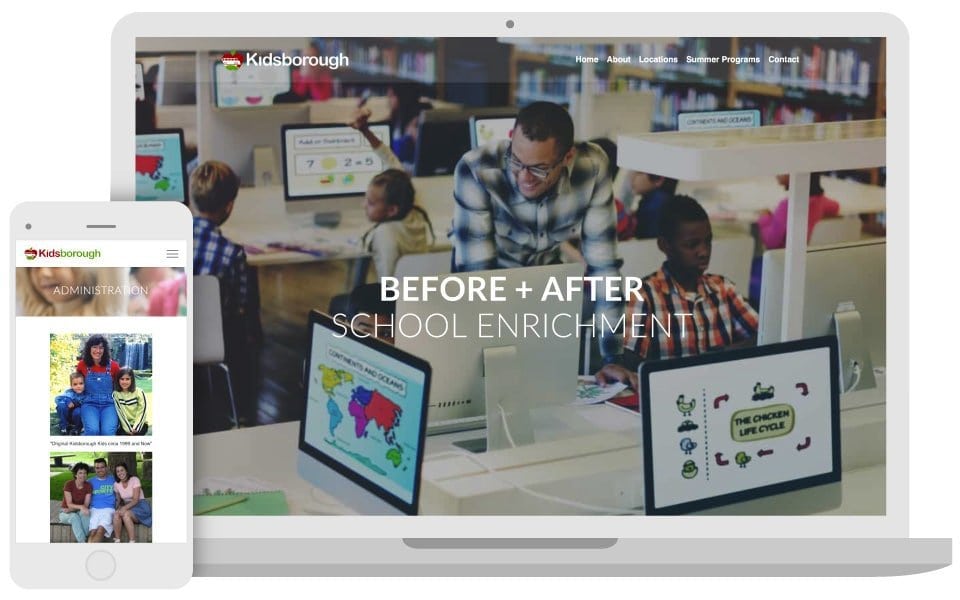 Related Projects
The Long Ridge School
How we helped an Independent, private nursery and elementary school with an award-winning website makeover and integrate 3rd party staff and student applications online.
AOS #94
How we helped a Maine School District with a website makeover that seamlessly combined five school websites into one.
Global Study Connections
How we helped a Maine-based education company with a responsive website makeover that uses more photography and content to better target their key audience in Asia.