Navin, Haffty & Associates is a leader in customizing solutions for medical facilities that range from large multi-entity health systems to rural critical care access hospitals. A MEDITECH EHR partner, NHA offers electronic health records consulting services aligned with MEDITECH's solutions to improve operational performance and enhance patient care quality. The depth and breadth of NHA enables them to support all types and sizes of engagement needs, from strategic planning to MEDITECH 6.1 implementation and staff expansion.

The client came to 3 Media Web wanting an updated website, one that reflected its conservative values and projected their well-earned reputation as a leader in their field. Most important to them was maintaining their extensive library of research reports, newsletters, and resources they created over several years. Organizing these resources into an easily accessed archive of materials was a high priority. Their Navin, Haffty & Associates Report has been distributed monthly since 2001 to more than 8,000 subscribers representing over 1,000 hospitals.

3 Media Web designed an updated, clean and easy-to-navigate, mobile responsive website. We met the client's number one priority by creating a Resource Library where website visitors can easily access the company newsletters and PDFs of research reports, company brochures, and other resources that can be browsed or downloaded. A reader can click on one of the recent Navin, Haffty & Associates Reports by date or search the current and previous two years of archived newsletters. In addition, we created expanded search functionality by building a database of keywords and phrases so that a website visitor can use the search box to locate a newsletter by topic or title.

A feature of the Home page is an automatically scrolling gallery of client logos which instantly demonstrates Navin, Haffty & Associates' standing as an industry leader. The testimonials by past and current clients on the Home page confirm the prestige the company has earned.

To support the need to keep the site current with news of client launches, awards, and medical conference presentations, 3 Media Web created a carousel of headlines on the Home page that can be easily updated by the client.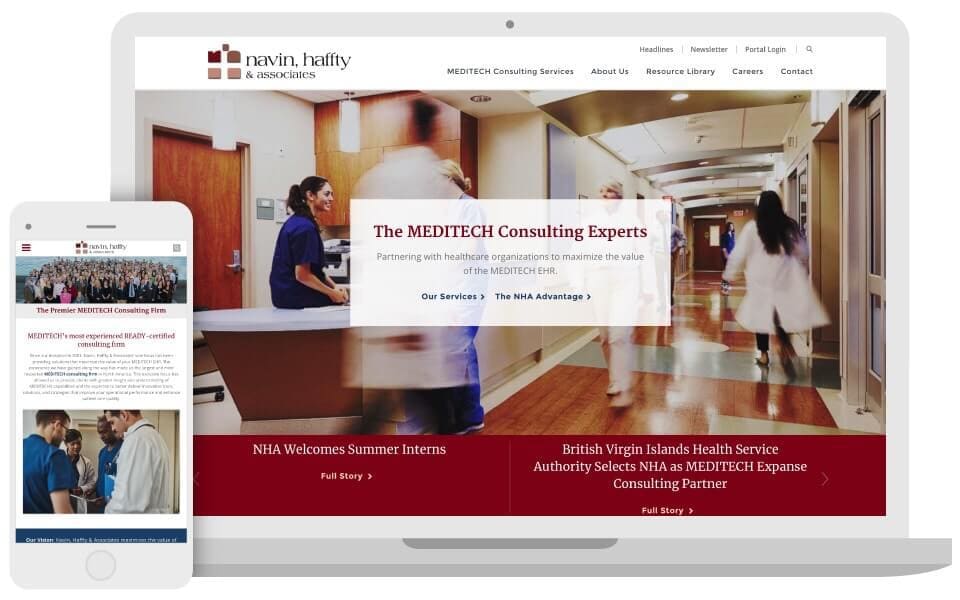 Industries
Services
Web Designer