A leader in parking management, NuPark provides a cloud-based solution for all aspects of parking operations from permitting, issuing and enforcing citations, and verifying parking permits with license plate recognition … to real-time data analysis and tools to enhance space utilization.

NuPark needed an updated look for their new website. The former website was not mobile responsive and was underutilized. The new website for NuPark included work by several parties, who successfully collaborated on the various parts of the project.  3 Media Web was brought into the project to develop a new website for NuPark by Red Javelin Communications, who did all the messaging, public relations, and overall management of the project.  3 Media Web developed the creative strategy for the website, along with the design and front-end development. We handed off the design and the code to the NuPark in-house team to complete the build-out and CMS integration. Our challenge was to launch the new NuPark website in time for a major trade show.

3 Media Web gave the website a fresh, updated look with a clean, easy-to-use navigation and opportunity for future expansion. A new logo was developed that compliments the bright color palette of the website. Our designer created custom icons that clearly point to concise information about each of the specific services provided by NuPark. To further customize the website, 3 Media Web directed a NuPark marketing staff member who took the photographs that are used throughout the site. In addition, 3 Media Web delivered a branding style guide with instructions for appropriate use of the NuPark logo, fonts, and colors on the web and in print marketing materials. The new website was launched in time for the trade show and NuPark was so pleased with the design that they asked 3 Media Web to create print and booth design for the show.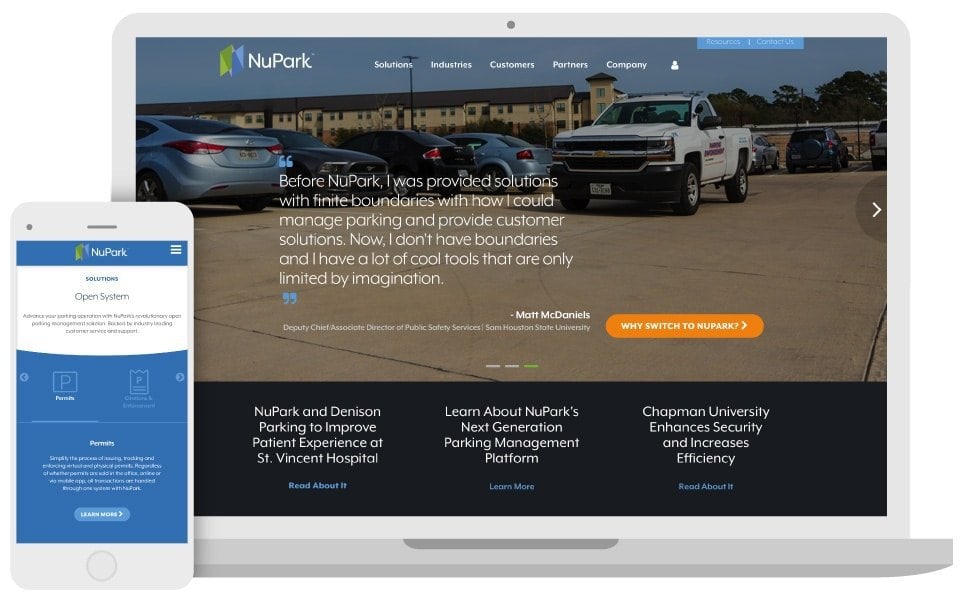 Industries
Services
Project Manager