The Long Ridge School is an independent, private institution on 14 wooded acres in Northern Stamford, Connecticut. Located just 15 minutes north of the Merritt Parkway, the school draws its PreK (from 2 years old) to grade five students from many local Connecticut and New York towns. The school prides itself on its diversity and on its multi-age and multi-disciplinary study. Its mission is to keep instructional classes small, to meet the curriculum needs of every child, and to instill a lifelong love of learning.

The school was not among the well-known private schools in the area. They needed a website that would "stake a claim in the market" as the private school in the "Fairchester" area where integrity, creativity, and educating the whole of children occurs. Some of the "competitive" schools do not have the commitment to diversity that The Long Ridge School has, which is a definite benefit for LRS in attracting families of all backgrounds and family situations. The clients wanted a website that reflects this diversity and their mission to nurture and challenge the 100 students in their care.

3 Media Web designed a site that uses dynamic on-site photography of the campus and of students in action — both indoors and out. In these candid photos, the students are excited, engaged, and loving learning. The content is crisp and speaks directly to parents who want a school whose values match their own. 3 Media Web used testimonials from parents of current students, students, and alumni to attest to their positive experiences at The Long Ridge School. As is common in education, the site needed to blend solutions for many different constituent groups, so the website is rich with recruitment information as well as for the parents of current students. There is a school calendar, parents' group, and online resources. A greatly enhanced Giving section outlines ways to support the school with online donations, fund-raising information, and opportunities to volunteer.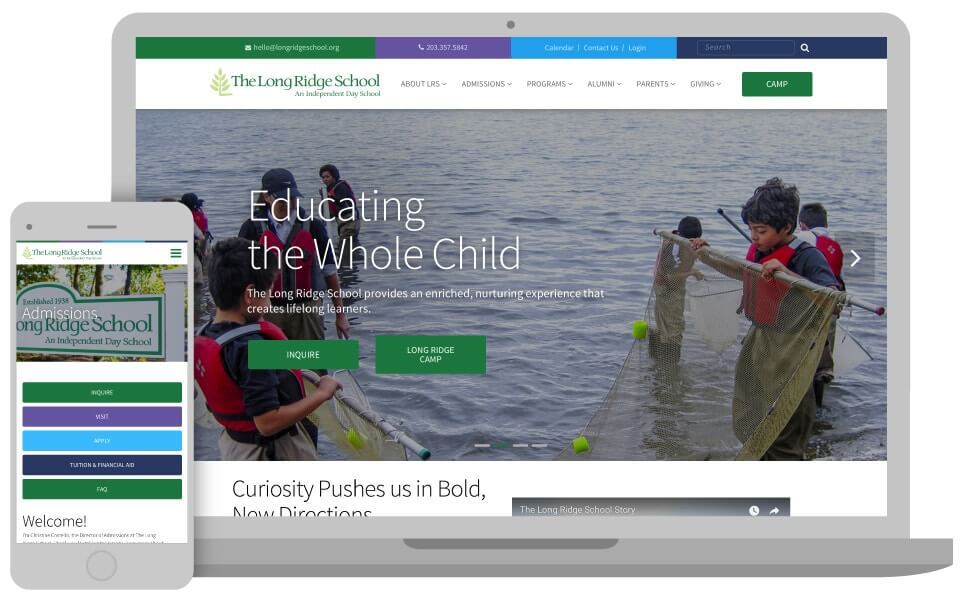 Related Projects
AOS #94
How we helped a Maine School District with a website makeover that seamlessly combined five school websites into one.
Kidsborough
How we helped an after school and summer program with a website makeover that is scalable and easy to manage as new locations open and the program continues to grow.
Global Study Connections
How we helped a Maine-based education company with a responsive website makeover that uses more photography and content to better target their key audience in Asia.