Is Your Website Stressing You Out?
Managing your website shouldn't be a chore. We've figured out how to take website management from chaotic to calm. Read our guide to learn more. Don't worry. No silly forms to fill out.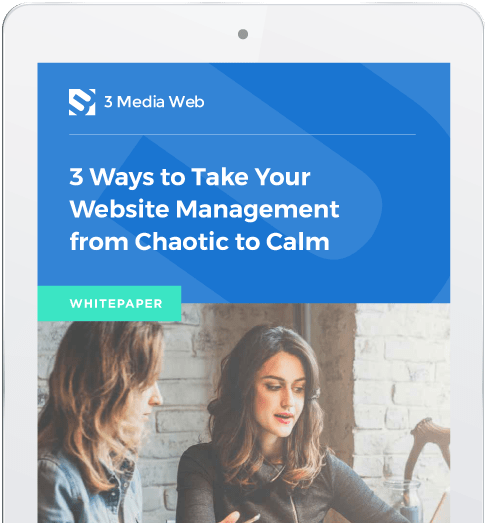 FAQs
When you hire 3 Media Web to become your dedicated external web partner and commit to an annual web support agreement, you will receive priority support throughout the year for changes and modifications to your website. 3 Media Web will also proactively monitor your site, check for WordPress security, bug, and feature-related updates, and apply those as needed.
At 3 Media Web, we take a proactive approach to security. Our fantastic technology experts maintain all security standards, keep websites proactively updated with the latest and greatest software, and subscribe to security bulletins for the latest security and threat updates. If you ever do get hacked, don't worry — we have double backups of all of our client sites, so your site will be restored quickly and efficiently. (It's a rarity though ;-))
Luckily if you are a 3 Media Web web support and hosting client, your support agreement consists of enough hours to cover training. We know that if you're not updating your site daily, it's easy to forget what you may have learned after your site launch. If you get stuck on a task or forget how to update a page, give our support team a call, and we can refresh your memory. Or, if you are too busy, ask us to do it.
3 Media Web integrates Google Analytics on all of the sites we build. We then give you access and can provide training on how to use your Google Analytics account. If you don't remember how to access it, just give us a call — it's covered under your support agreement with us.
3 Media Web can also support you in the following capacities: design, WordPress, SEO, email, Google Analytics, and marketing support. Examples include training, support on technical updates, plugins, integrations, email newsletters, social media integrations, form development, new pages, and more.