Why Did INBOUND17 Rock?
This was the second year in a row that Team 3 Media Web took to HubSpot's INBOUND Marketing Conference (INBOUND17), an event that attracts 25,000 marketing creatives from all over the world.
INBOUND17 included three full days of high-profile speakers and keynote presentations, along with workshops related to digital marketing, entrepreneurship, sales strategy, agency growth, and of course inbound marketing.
This year's keynote speakers included former first lady Michelle Obama, WWE Superstar and Massachusetts native John Cena, best-selling author Brene Brown, HubSpot Founders Brian Halligan and Dharmesh Shah, and Dr. Ed Catmull, who is the co-founder of Pixar Animation Studios and President of Pixar and Walt Disney Animation Studios. Other exciting presenters included various industry experts like Rand Fishkin, known as the Wizard of MOZ, Adam Grant, best-selling author and TED speaker, and Billie Jean King, sports pioneer and an advocate for equality and inclusiveness in the world of sports, just to name a few.
It's no wonder this event lures the world's top marketers and keeps them coming back for more. Although most attendees are avid users and evangelists of the HubSpot INBOUND marketing methodology and software, the event is also splattered with agencies and companies HubSpot is courting to come onboard with using their software. HubSpot was dressed to impress at this event.
3 Media Web sent four of its finest to experience and report back on INBOUND17. Our team started out early Tuesday morning and continued to take in as many sessions and keynotes as possible until the final day on Thursday. Many late nights were had attending sponsored events and meeting with clients after the day's sessions. They came back tired but energized and full of ideas and inspiration.
What the Team had to say:
Marc Avila, Founder, and CEO says, "The Inbound Marketing conference is always an excellent opportunity for me as a business owner to check my assumptions against what other agencies are doing and seeing into the trenches. Yes, there are lots of great sessions on marketing and sales, but where I get the most value is the operational and agency growth topics. Last year I was able to walk away with a few nuggets of information that allowed me to implement right away into our digital agency and this year was no different."
At INBOUND17, Marc took in sessions on how to strengthen client relationships by making engagements more personal, using AI to automate business operations, and knowing your audience when presenting to potential clients.
"We also had the opportunity to meet-up with a handful of vendors that help power our business such as Accelo, SpyFu, and CoSchedule. Having this great event so local to us is just one more reason to attend. I highly suggest INBOUND to anyone looking for insight into trends in the marketing world. There is indeed something there for everyone."
Lysa Miller, Partner, and VP of Sales and Marketing attended sessions on agency growth, leadership, entrepreneurship, sales, SEO, content and client relationship building. Lysa soaked in tips and advice from agency owners, entrepreneurs, industry leaders and creatives alike. She found having such a variety of topics was helpful to someone who not only runs a business but also has a strong hand on what is offered to each client.
"Every business is different and each INBOUND speaker, vendor, and attendee I spoke with all offered me insight into what makes them tick. It just inspired me to love my business even more than I already do and solidified the fact that I am where I am supposed to be. Plus I met fellow Canadians, lots of Canadians."
For Sara Spector-Brown, Operations Manager, attending the INBOUND17 conference was the icing on the cake for an already awesome first month working at 3 Media Web.
"Spending a few days at INBOUND17 confirmed that I had made the absolute best decision to jump back into the world of websites, clients, marketing and work with a small, yet talented and dynamic team!" says Sara.
"Seeing all of the vendors, keynotes, listening to the speakers share their knowledge; all of this was beyond exciting to me. I was inspired by Piera Gelardi's keynote and how she runs her company so creatively, so well-organized, but yet encourages her team to contribute ideas with zero judgment."
As someone who has been away from the entrepreneurial side of things for awhile, Sara enjoyed learning from Josh Harcus's presentation (How to Land Fortune 500 Brand Clients While Playing XBOX One). According to Sara, he shared great suggestions for (current) ways we should communicate with clients and build long-term relationships, i.e. video (not audio-only) meetings, connecting with clients on social media, gaming, and also sending fun gifts.
Crystal Byron, Digital Marketing Manager says without a doubt it's the best conference experience she's ever been to.
"The keynotes were really informative and got my creative juices flowing, and the marketing sessions gave me a whole new perspective on digital marketing. It was great to be surrounded by people at all levels of marketing experience and the opportunity to network and share ideas." says Crystal.
"With hundreds of break-out sessions, it's hard not to learn something new at INBOUND. My favorite sessions focused on the incredible impact micro-influencers have on marketing campaigns ads, how their stories can help build brand trust. I'll be incorporating the tips and tricks I learned at INBOUND to my everyday work! "
INBOUND17 Highlights
INBOUND17 was an exciting event for our team and we want to share some of our highlights from the week.
Meeting the Accelo Founders & Team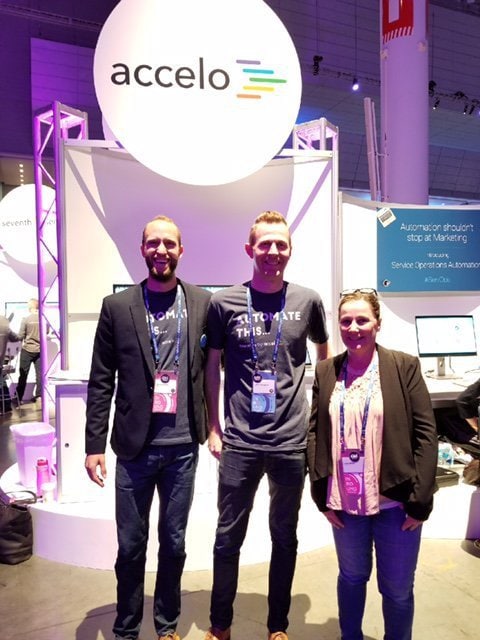 Let's face it, our company runs onAccelo, not Dunkin Donuts, sorry, no coffee can take on a day here at 3 Media Web. Accelo Service Operations Software powers everything from our client management, support and marketing agreements, projects, and sales to internal and client communication. It was a highlight of our INBOUND17 experience to meet co-founder Eamonn Bell  and lead solutions engineering mastermind John Scrugham. The folks at Accelo spent time with our team to hear about our agency, how we use their product, and listened to our ideas for better usability on their platform. Accelo powers over 1,000 service agencies across the globe; it's no surprise this company just lured nine million dollars of Series A funding!
Attending the Accelo-sponsored after party was a fun experience for our team. Held at Rosa Mexicano, it was packed with INBOUND17 attendees, featured a full menu of Mexican food and drink and a reggae-salsa band to top off the fun. Luckily we also ran into Accelo Founder Geoff McQueen who took the time to chat with our team, hear what we had to say about Accelo and offered us future insights into the product.
Now how is that for a first highlight?
Rand Fishkin Wizard of MOZ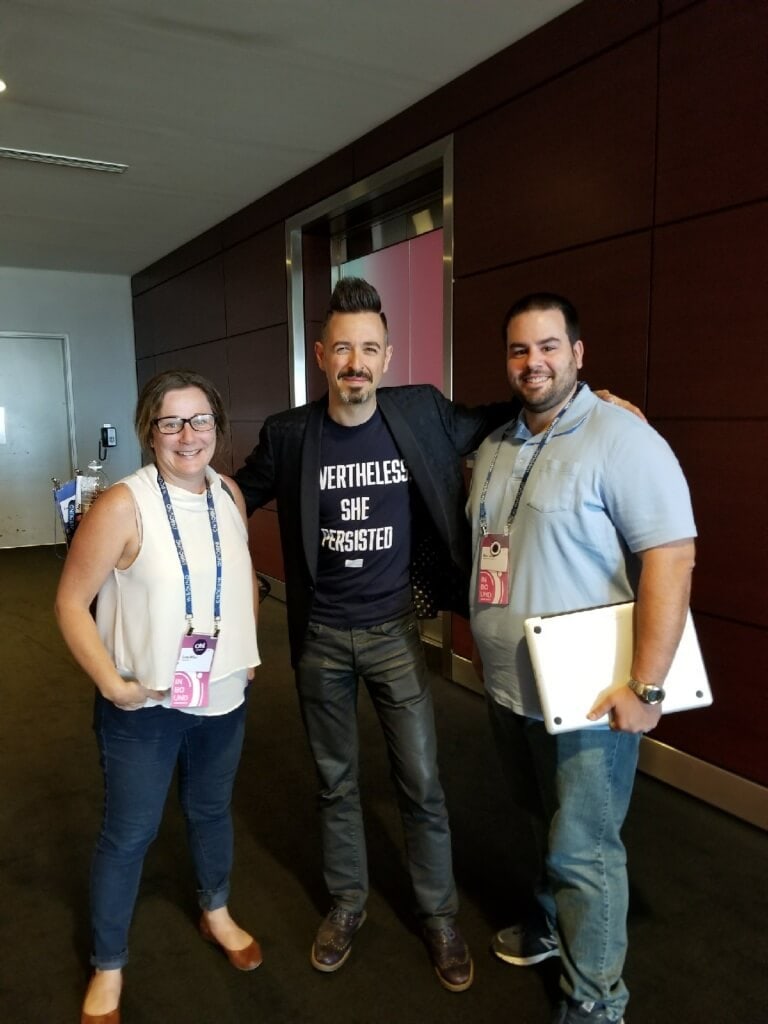 SEO geeks at heart love Rand Fishkin, the founder of MOZ, the SEO powerhouse behind all things getting found on Google. And of course, no better a place to find him than at that at this world-renowned marketing event. Fishkin spoke the language of geeks and SEO hackers. The session was full of insightful search engine knowledge and tips to help marketers rule SEO.
Focusing on the importance of each contributor to the Google Algorithm, not just one or two, was the major message; it's all about the need for diversifying your SEO efforts. It's always great hearing an SEO hackers insight into rocking SEO. We were a little disappointed Fishkin didn't wear green. The Wizard of Moz has earned the right to wear the emerald color in any city, nonetheless at INBOUND17.
Jooohhhnnnn Ceeeennaa!

All hands down for the Massachusetts native who could kick anyone's butt in the wrestling ring.
John Cena has gone from tough-guy champion WWE wrestler to movie actor and philanthropist.
Most recently, on the acting scene, he scored a role in the blockbuster Trainwreck alongside Amy Schumer. He has granted over 500 wishes for children with life-threatening illnesses through the Make-A-Wish Foundation (the most in Make-A-Wish history), and appeared in the 2016 PSA "We Are America", sponsored by the Ad Council, as part of its "Love Has No Labels" campaign, which was shown at the beginning of his keynote as his introduction to the crowd.
Cena rocked it onstage at INBOUND17 relaying his own personal growth experiences to the intelligent marketing crew he was speaking to. In the end, determination, perseverance, loving what you do and bringing your best game to the table were the key takeaways from his entertaining and inspirational keynote. Plus he's kinda funny!
Hanging out with the SpyFu team
It's true. We are the agency that spies on our clients competitors. Why reinvent the wheel? One of our favorite tools is SpyFu, which we use to research our client's competitors, their Google Adwords spend, SEO keyword rankings, and backlink profiles. We use this information to build competitive campaigns which contribute to the ongoing success of the work we do for our clients.
Meeting smart, focused people at #INBOUND17 (Hi, Lysa!) https://t.co/QAc5GJOLCg

— SpyFu (@spyfu) September 27, 2017
We heard about expanded SpyFu features, how to improve on our spying (sounds weird, eh?), and how to better utilize the data found from our client's competitors. As a result, we plan to explore the software further and use new features to expand our use of the tool moving forward. An added bonus was the super cool t-shirts we are now sporting around the office. Yup, SEO geeks.
Summing up INBOUND17 and already missing the Seaport fun
Overall, INBOUND17 was really spectacular. HubSpot outdid themselves with the level of organization implemented, from great food with no lines, extra room in sessions making it flexible to attend unregistered sessions on a whim, the expertise of speakers and keynotes, easy transportation and parking, a great app that led attendees through the event and an overall positive vibe, making every attendee feel like a superstar.
Congratulations HubSpot on a memorable INBOUND17!