LiveAction provides end-to-end visibility of network and application performance from a single pane of glass. They give enterprises confidence that their networks are meeting business objectives by delivering full network visibility for better decisions and reduced network operation costs.
The Challenge
LiveAction was looking to expand their digital reach and draw more interested parties to their website. Their former site didn't support their company objectives and yield the results that they were looking for in terms of lead generation. The 3 Media Web team needed to increase their web traffic to improve their market visibility and support lead generation and conversion efforts.
The Solution
Since the existing website was the product of many uncoordinated updates, the new site needed to be more focused, and aesthetically pleasing. We worked to elevate their digital presence and appeal to the higher level audience and crafted a plan to simplify the backend.
"We've been measuring the conversions, traffic, performance, bounce rates, and Lighthouse scores, and we're beyond pleased with 3 Media Web's work. This project was one of the most painless website experiences I've ever had.
Definitely work with 3 Media Web. They're very knowledgeable and partner-centric, and they'll be very invested in you — your success is their success."
Stephen Ochs, Director of Demand Generation, LiveAction
Accelerated Timeline
Weekly strategy and design meetings provided the foundation for us to hit an aggressive launch date. Although the project lagged a bit in the early phases due to extended client feedback cycles, we were able to optimize development and make up for lost time to meet the deadline.
Driven by Strategy
The first step of the project was to define a cohesive creative strategy and develop an intuitive information architecture. With a refreshed sitemap in hand, we could dive into performing keyword research to help drive the right people to the new site. Knowing the target that we wanted to hit contributed mightily to the project's success.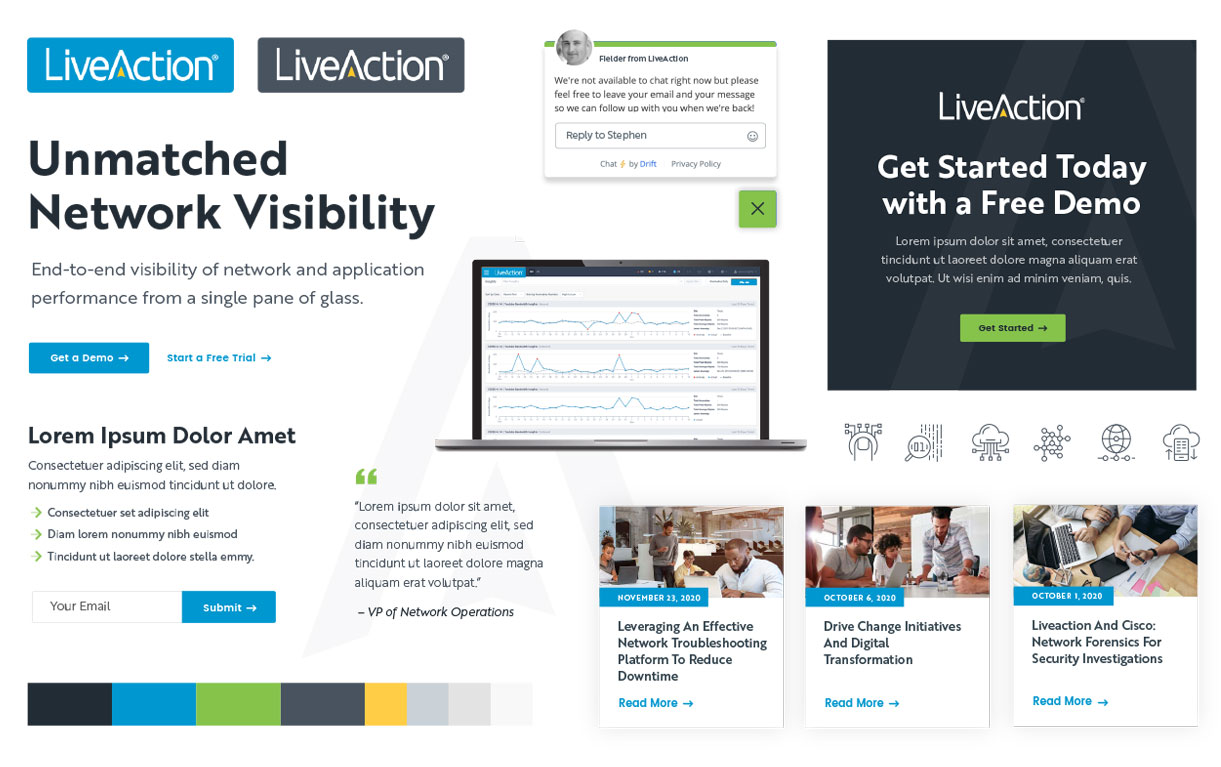 Elevated Design and Custom Graphics
After our initial conversations with the client, we developed a mood board to pinpoint the design direction. This step informed all the design elements we created throughout the site, including the promotion banners and custom graphics. Making LiveAction's solutions appear more accessible and understandable was a key component of the new site.
Multiple Integrations
The new website also needed to be integrated with many of the existing systems LiveAction was using to run their business. These third-party software solutions and widgets, like Pardot, Gartner Peer Insights Review, Drift Chatbot, JobBite, and a security firewall plugin, are all part of the new website, making the client's business continue to run smoothly.
Results
LiveAction is continuing to partner with us to build upon the success of the initial website launch. We'll be overhauling the lead generation system and integration. Our digital marketing team is working closely with them to formulate and launch marketing strategies. They are also starting the planning on two sub-domain sites, and our team is standing by to help with that task. They are ready to go – and they are ready for us to help them.