3 Media Web Brings Home Two 2017 Prestigious W3 Awards
The Academy of Interactive and Visual Arts recognizes and honors the power of web creativity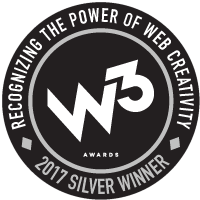 by presenting its prestigious W3 Awards. This year, 3 Media Web's talented design team produced two more award-winning websites.
The W3 Awards honors creative excellence on the web and recognizes the creative and marketing professionals behind award-winning sites, videos, and marketing programs. The W3 is sanctioned and judged by the Academy of Interactive and Visual Arts, an invitation-only organization consisting of top-tier professionals. In the past, 3 Media Web has won several web design awards, and it now has two more for 2017 to add to its list.
Award-winning Web Design Team
This year, 3 Media Web has the distinctive honor of receiving two Silver W3 Awards, for website design.
Kidsborough
The first W3 Award is for Kidsborough, a before-and-after school and summer program that provides enrichment-based curriculum programs to children in grades K-8.
Onconova Therapeutics
The second W3 Award was for Onconova Therapeutics, a Pennsylvania-based biopharmaceutical start-up that focuses on discovering and developing novel small molecule drug candidates to treat cancer.
Our Ongoing Mission
"We are excited about our future as an industry leader. With a strength in technology behind everything we do, 3 Media Web not only offers design and development services but partners with many of its clients as an outsourced web and digital marketing team," says Marc Avila, Founder, and CEO of 3 Media Web.
3 Media Web's roster of clients includes Fortune 500s, B2B Enterprise clients, Educational, Health Care Institutions, Biotechs, Manufacturers, start-ups and locally owned SMB's.
"No matter the size of the business, at 3 Media Web all of our clients receive the same level of top-notch services." says Avila. "That is something we are proud of."
Join Our Email List
Sign up to receive our newsletter