3 Media Web Named to Top 10 by Boston Business Journal
Quick Summary:
The Boston Business Journal publishes various Books of Lists, including the Power 50.
Entrepreneurs and business executives who want to know the leaders in their specific market depend on the Book of Lists from Boston Business Journal  to provide ranked listings of hundreds of the hottest area companies in their field. The individual lists also include the names of key decision-makers, along with their titles and contact information.
Company Ranked as one of the Largest Web Design Firms in MA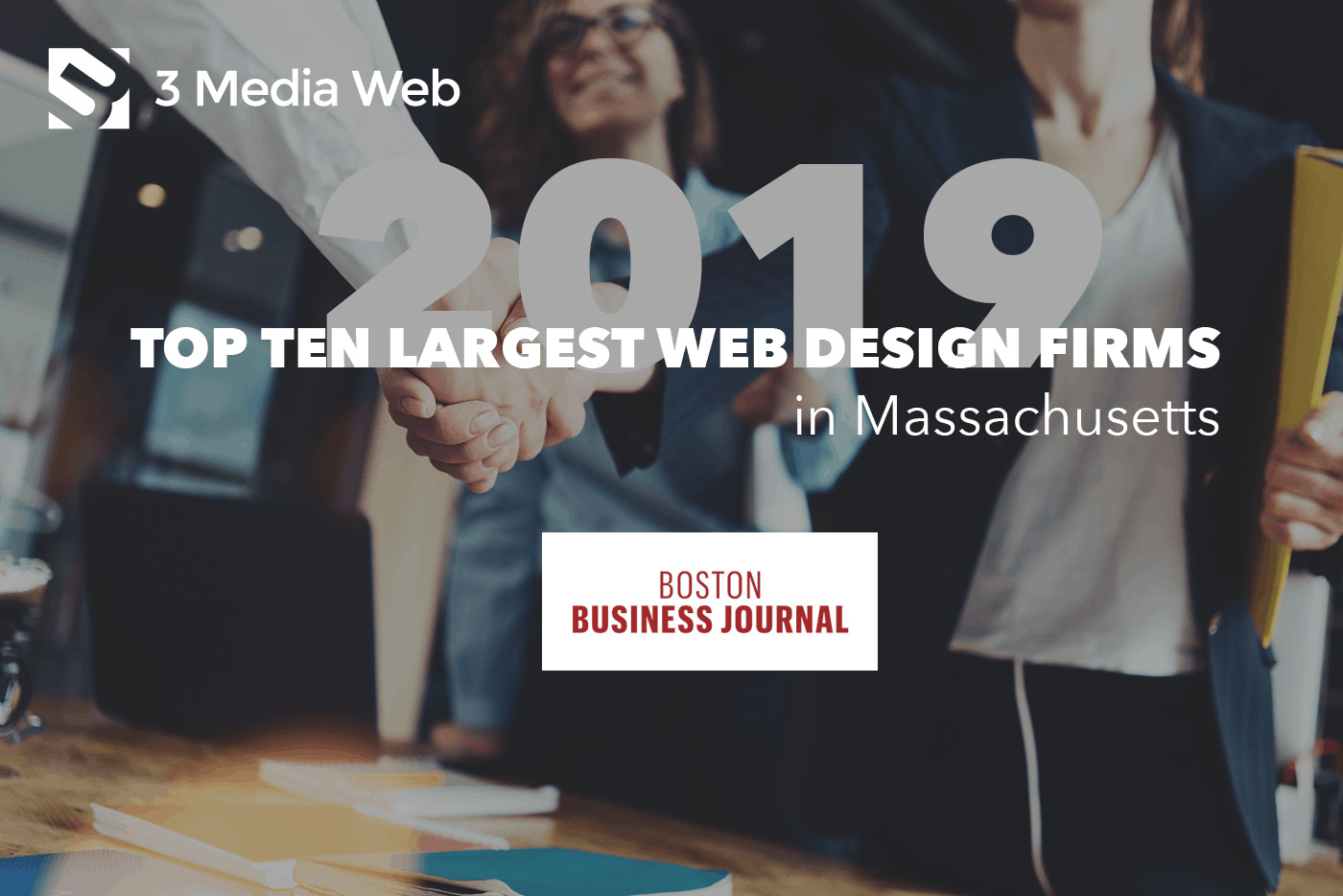 Recognized for its respected and well-researched Book of Lists, the BBJ released its latest Book of Lists, The Largest Web Design Companies in Massachusetts. Ranked by their 2018 Massachusetts office web design revenue, 3 Media Web is included in the BBJ Top 10 Largest Web Design Companies in the state.  Locally researched by Sean McFadden and Hilary Burns, the defining factors included number of designers on staff (3), as well as the number of total employees (15).
Determining Factors
The BBJ researchers also asked about the number of clients in MA serviced for web design in 2018 (130) and the total number of clients in all locations (150) 3 Media Web's MA office designed 27 websites in 2018 for companies in manufacturing, technology, Biotech/BioPharma, and professional services. 3 Media Web provides web support, hosting, and digital growth services, as well as web design and development.
Founded in 2001, 3 Media Web's corporate headquarters is in Marlborough MA, and has a second location in Grand Rapids MI. Total revenue in 2018 generated by the MA office exceeded $1M.
Marc Avila, President of 3 Media Web, said, "We are proud of our team and the accomplishments we have made over the years. We will continue to help both medium and large companies to strategize, design, and implement new websites, create successful SEO, and implement online marketing activities … and achieve their goals through online marketing."
Featured Portfolio of Work
Examples of websites designed by 3 Media Web's MA office in 2018 include: CORD Cape Cod; MicroGroup; Covectra ; NopSec ;
AMSC; Acacia ; and Visit North Central .
A Credible Resource
The Boston Business Journal publishes various Books of Lists, including the Power 50: The region's most influential leaders; Largest IP Law Firms in MA; the 40 Under 40 List; and Largest Charitable Foundations in MA, among others.
The BBJ's Book of Lists is reputed to be an ideal resource for sales prospecting, job search, fundraising, and business research.
Join Our Email List
Sign up to receive our newsletter