DPS/PPS, Inc. Providing Payment Processing Solutions for Customers Nationwide
Quick Summary:
The client's goal was to have a website that acts as a 24/7/365 salesperson with automated forms to expedite orders and demo requests.
DPS/PPS offers a variety of merchant services that include a variety of gateways, specialty equipment, integrated technology, state-of-the-art handheld solutions, and point-of-sale systems for independent gas stations, Marinas, convenience stores, and retail. Their website needed a better sales enablement solution to sustain their varied business.
Data Processing Solutions (DPS) is two companies under one umbrella. DPS offers merchant services and provides equipment, software, and credit payment processing for millions of transactions for customers nationwide. Petroleum Processing Solutions (PPS) is the Energy division of DPS, Inc. and specializes in Pay at the Pump processing for unbranded, independent gas stations.
A Website to Attract a Varied Marketplace and Enable Sales
DPS/PPS is expanding into new business verticals and requires a website that will engage a varied marketplace.
3 Media Web created a dynamic and clean website design that integrates the two company logo graphics. The animated logo flashes alternate views of both company logos, capturing the visitor's attention and highlights the fact that the two companies are related.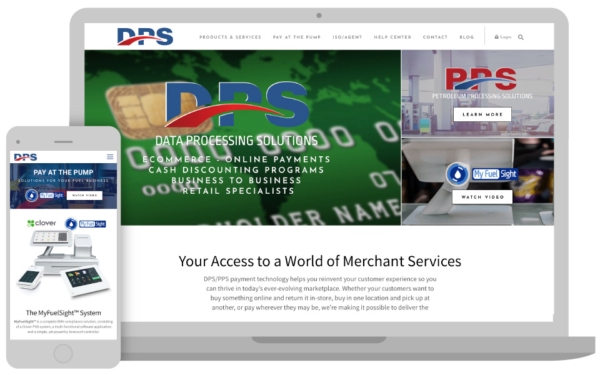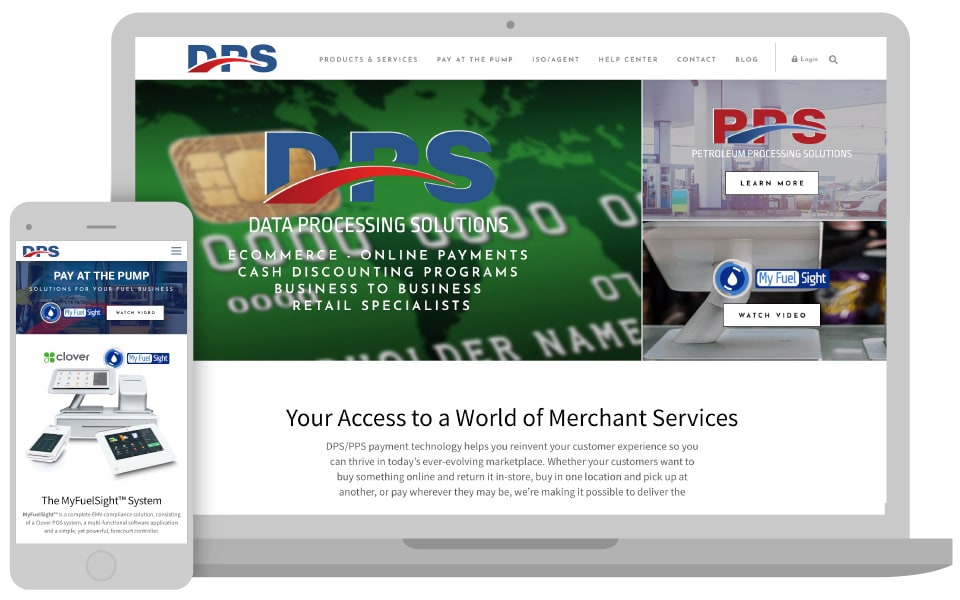 Emphasis on the Petroleum and Retail Entrepreneur
DPS/PPS is targeting the un-branded gas station entrepreneur or retail store owner who needs an easy and affordable method to transact business via credit.
To engage these prospects, 3 Media Web provided this product with its own Pay at the Pump tab on the main navigation bar and also positioned two important calls-to-action to the right of the Home page header image: PPS Petroleum Processing Solutions LEARN MORE and the My Fuel Sight WATCH VIDEO links. These CTAs appear on the Product and Services page, and the Pay at the Pump page as well.
Scrolling down the Home page, the website offers the three reasons DPS/PPS is the ideal choice for this market:  Low cost, 24/7/365 Support, and Flexible Options.
Streamlined Content Explains Diverse Products and Services
The Home page has seven blocks with simply the name of the product which, when hovered over, reveals a link to a pop-up OVERVIEW explanation. For products that require more than a few sentences, a second READ MORE link also is revealed.
24/7/365 Sales Enablement 
The client's goal was to have a website that acts as a 24/7/365 salesperson with automated forms to expedite orders and demo requests. 3 Media Web created a Help Center tab on the main navigation bar that lists all content information for various types of support, includes FAQs, and links to Merchant Application forms for DPS and PPS. To accentuate the ease of operation of their products, the DPS website includes a Schedule a Demo form on the footer of each page. In addition, the BLOG is a handy resource for both clients and prospects with a synopsis and link to curated articles of interest.
The new DPS/PPS website is clean and simple to navigate, appealing to the company's diverse market. It achieves the goal of gaining the attention of potential customers and providing an always available "salesperson" with the sales enablement information needed for customers to take the next step in the sales cycle.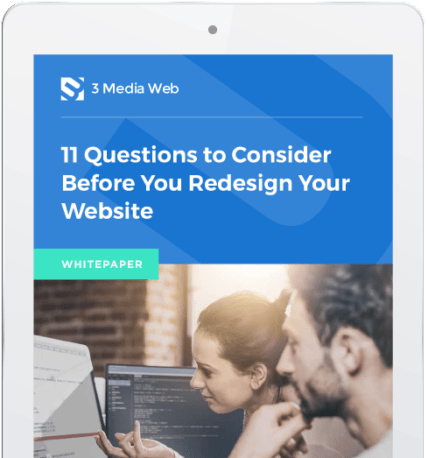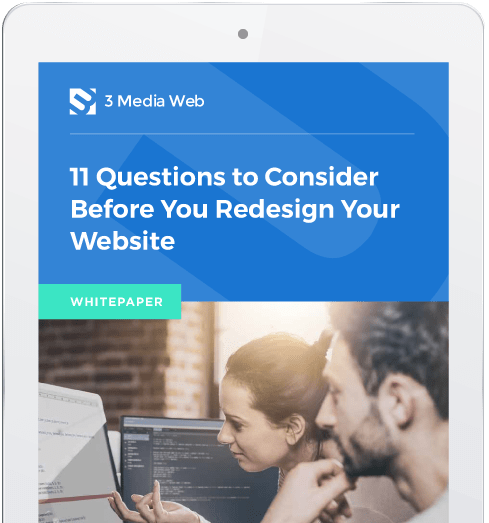 Join Our Email List
Sign up to receive our newsletter