A Google Grant Provides $10,000/mo in Free Ad Credits to Nonprofits
Quick Summary:
The Google Ad Grant is arguably the most missed marketing opportunity for nonprofits. With over 10 million nonprofits worldwide, only around 150,000 nonprofits are currently enrolled in the program.
To start, Google Ads is the advertising platform for Google that provides businesses and nonprofits the chance to advertise their business when users perform a search looking for their product, program, service, or anything else they offer. These ads appear at the very top of a Google search results page. This advertising platform can be expensive, usually used by bigger organizations, and has resulted in most nonprofits staying away until Google created the Google Grant program in 2003, the nonprofit's edition of Google Ads. This program can essentially unlock free Google Ads for nonprofits.
Google Grants provides nonprofits $10,000 per month in FREE

Google Ads advertising credit. 

The $10,000 must be split evenly throughout the month, giving you a daily budget of $329 that can be spread across all campaigns.
This can result in upwards of 3,000 new monthly clicks.
How do you secure a Google Grant?
Obtaining a Google Grant requires an application, but the process overall is relatively straightforward. Most shouldn't have a problem completing the process on their own.
You must be an eligible nonprofit. You can see the complete list here.
Register with Techsoup.
Sign-up for Google for Nonprofits.
Activate your Google Ad Grant account.
In between steps, it can take about one to three business days to hear back from Google. You'll also be required to complete an annual survey, but that should only take about 10-15 minutes to finish.
How is the $10,000 Google Grant used?
Now that your account is active, it's time to promote your mission, vision, and programs to generate awareness, volunteers, and, hopefully, donations.
Every month you'll receive $10,000 in Google Ads credit. Once you create your campaigns and ads live, you're charged every time your ad is clicked. And when we say "charged," we mean the CPC (cost per click) will be deducted from your $10,000 ad credit. Any amount not used in one month does not carry over to the next – it's a use-it-or-lose program. Once you've spent the $329 for the day, your ads will stop showing. Even if you accidentally go over your daily budget by a few dollars, you won't be billed, so there is no need to worry.
Should you manage the Google Grant on your own?
The Google Ad Grant is arguably the most missed marketing opportunity for nonprofits. With over 10 million nonprofits worldwide, only around 150,000 nonprofits are currently enrolled in the program. Additionally, the average nonprofit that self-manages the Google Grant will only spend 3% of its $10,000 monthly budget. That's $9,700 unused every month or about 3,000 people you could have reached out to. Any way you look, it's a big missed marketing opportunity, especially when it's a free program.
Now, let's suppose you have experience managing a standard Google Ads account. In that case, I encourage you to look at some of the program's limitations so that you can familiarize yourself with the differences. In the end, you might be okay managing the Google Grant on your own, but for most nonprofits with little to no experience, seeking out a Google Grant management agency is the right decision. The right agency will help you where your "competitors" who self-manage the grant struggle.
Promote Your Mission with Support from Google Grants
The Google Ad Grant is the free edition of Google Ads, formerly known as Google AdWords. It allows nonprofits to promote their mission, vision, and program to gain donations and volunteers and generate awareness. This generous Google program provides nonprofits $10,000 every month, which is split daily into $329. Although there is an application and qualifying process, it can be simple for most nonprofits to complete on their own. If you're unsure how to apply for or improve your current Google Ad Grant account, consider hiring a Google Grant management professional. They'll be able to help you complete the application process, implement an effective strategy and add data tracking.
With 12 years of experience, Carlos Vizcardo oversees all digital advertising campaigns across multiple platforms like Google, Facebook, and LinkedIn. He ensures all clients, from nonprofits to small businesses, achieve a positive ROI while teaching them how to understand their account data properly.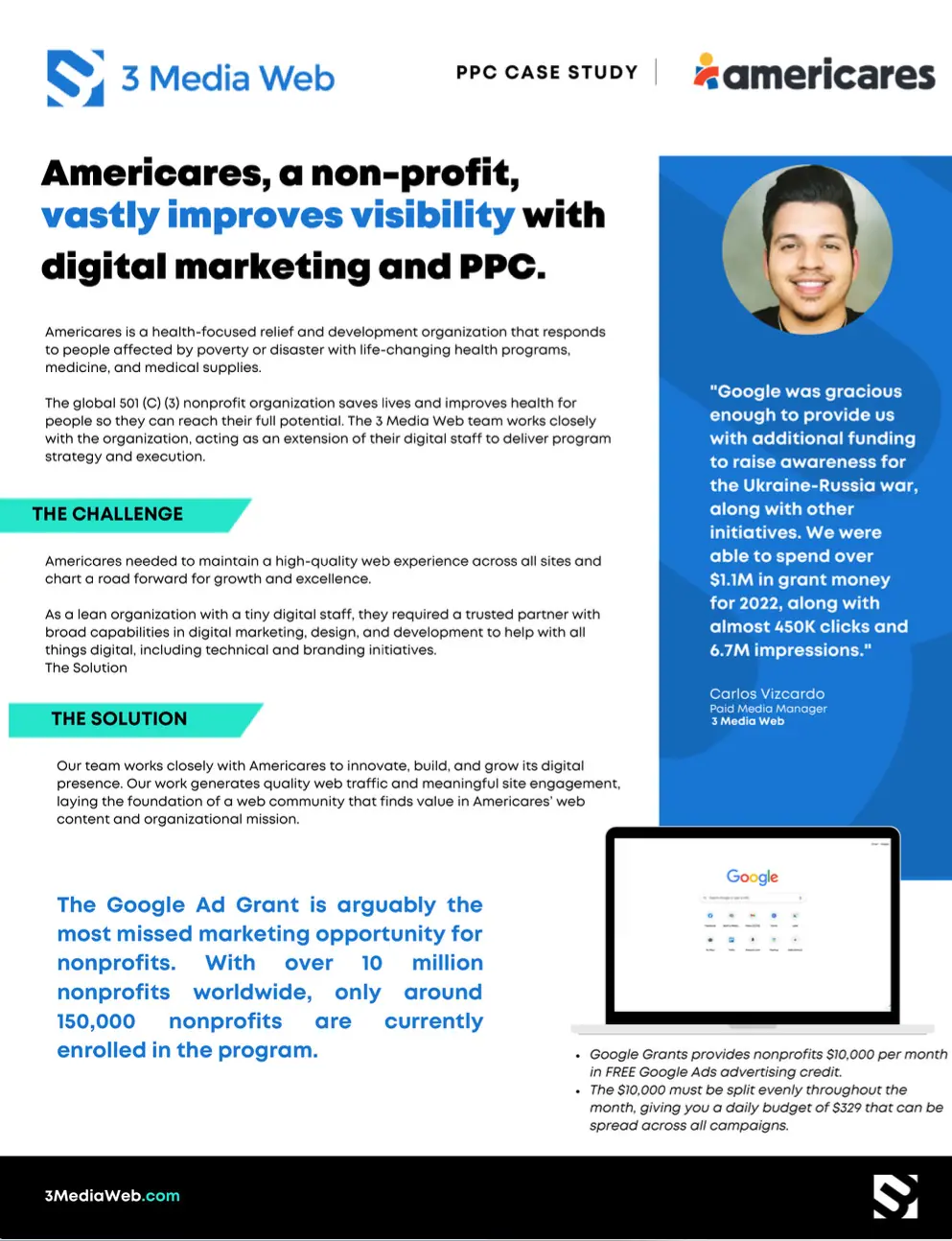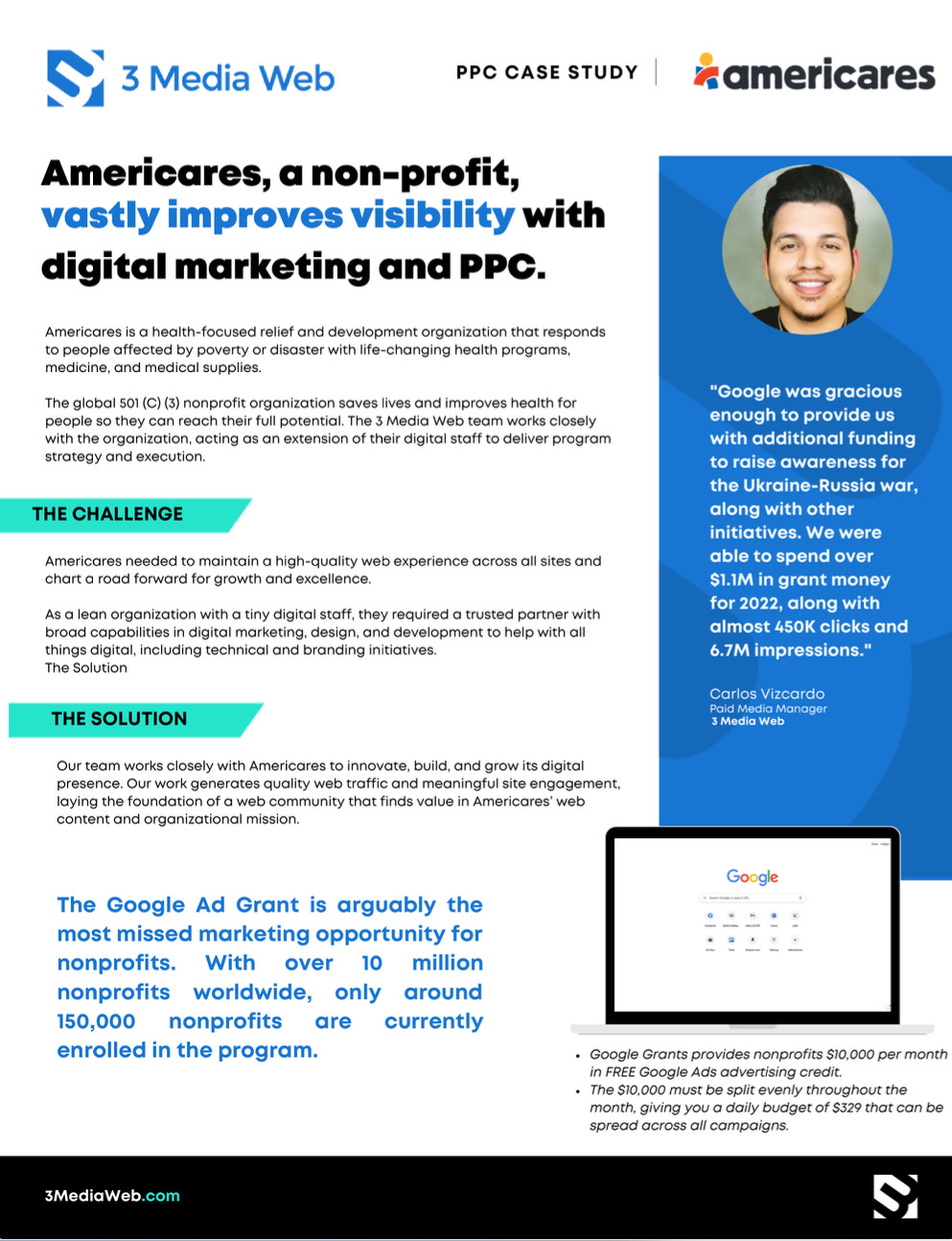 Join Our Email List
Sign up to receive our newsletter