What is the Difference Between WordPress & WebFlow?
Quick Summary:
Both WebFlow and WordPress offer their users everything critical to building a website, but WordPress is open-source and much more flexible for scaling your business.
If you're planning to build a website, chances are, you've come across many opinions, thoughts, debates, forums (and more) – all divided by WordPress Vs. WebFlow advocates.
WordPress and WebFlow are highly popular platforms allowing you to build a website. So, why the clash of the titans? Well, the difference in features, dashboard, and functionality are some of the many reasons that make users sway one way or the other. 
To begin, it's important to note that WordPress and WebFlow are easy-to-use solutions for building different kinds of websites with little to no technical expertise required by the user. However, the approach each of these tools offers to build a website is different.
While there are many notable differences between the two tools, the basic difference is that WordPress is an open-source content management system that you need to install on a hosting server to build your website. At the same time, WebFlow is a SaaS application that does all the work for you.
If you're looking for an answer to what is the difference between WordPress and WebFlow to pick one to build your website, we've got you covered. Let's dive deeper to understand what each of these platforms offers, the key differences between them, and which one may be better suited for you.
What is WordPress?
What started as a blogging platform today, WordPress is a popular platform that allows users to build all kinds of websites – business websites, portfolios, ecommerce stores, portfolios, and more.
It is a free, open-source content management system that comes with numerous themes and plugins, allowing for complete customization. Themes allow you to design your personalized website experience, whereas plugins allow you to add different features and functionality to fully customize your website. Being open-source, anyone can modify it and contribute to improving the platform as well as create new features and functionalities for all WordPress users across the globe.
It requires zero coding skills, and anyone can install and use it for free. All you need to get started with WordPress is a Web Hosting plan and install the WordPress platform.
The award-winning web support and hosting team at 3 Media Web can help you get online. Reach out to the team to get started today! 
What is WebFlow?
WebFlow is a SaaS platform that helps users build a website. This platform is designed for website designers and offers a low to no code designing experience. However, it is different from its SaaS website designing platforms as it allows its users to access the website's base code. Its visual drag-and-drop website builder offers a visual tool to build a website's HTML, JavaScript, and CSS.
As a SaaS platform, users can embed code to add/modify features or simply build a website with the core platform. Once you're done designing, you need to export the code of your website and host it with a web hosting provider or buy a WebFlow plan to host your website. It's important to note that you can only export your website code to another hosting provider if you are building a static website. If you use WebFlow's CMS to create dynamic website content, you can only go ahead with WebFlow's hosting options.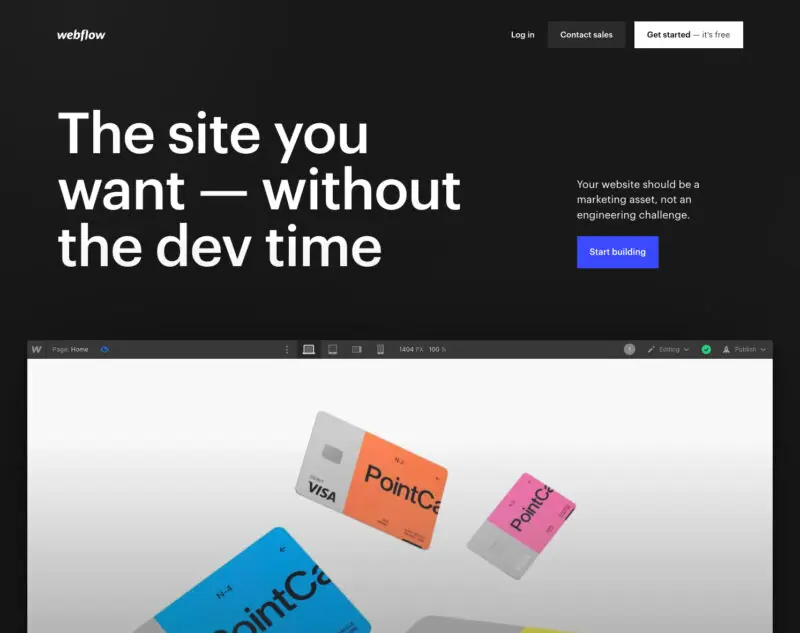 Same but different!
Before we go ahead and look at the key differences between the two platforms, it's important to note the similar features they offer. Both WebFlow and WordPress offer their users everything critical to building a website. With WebFlow, all you need to do is embed the code you want to add features and functionality, and with WordPress, all you need to do is install the right plugin to do the same for you.
Common features offered by both platforms:
Pre-designed templates and themes
SEO and performance optimization
Drag-and-drop website designer
Complete content management system
Build static and dynamic websites
Complete code access
Build blogging websites and ecommerce stores
Enable SSL certificates
Difference between WordPress and WebFlow
Now that we understand what WordPress and WebFlow are and how they're similar let's look at what makes them different. We'll look at key features required to build a website and how each of these tools is different under each of these features.
Themes and templates to customize website design
To help users build a website, both WordPress and WebFlow offer pre-designed frameworks that one can build on. This takes away the hassle of building from scratch. WordPress calls these 'Themes,' and WebFlow calls these 'Templates.' You can choose between free and premium themes/templates to make it even better.
However, with WordPress, you have much more room for flexibility as the platform offers over 4,000 free themes and over 10,000 premium themes. In comparison, WebFlow only offers around 40+ free and 500+ premium themes.
If you want to build a unique website design and have more design flexibility, then WordPress is better than the two, with a much larger pool of customizable themes.
Extensions and plugins to add website features
You may want to add certain features and functionalities beyond a standard website build when you build your website. For example, you may want to add an extensive inventory management tool to your ecommerce website. To do so, you might want to use extensions or apps, as WordPress calls 'Plugins.'
WordPress offers over 55,000 free plugins and thousands of premium plugins that you can easily search for in the WordPress.org plugins directory. These plugins can be installed on your WordPress dashboard to add functionality and enhance the suite of features your website offers.
WebFlow does not come with plugins like WordPress, but you can always add code snippets from the services you need to enhance your website features. For example, suppose you want to add an inventory management tool to your website. In that case, you'll need to go to your preferred inventory management service and integrate its JavaScript snippet into your website code.
While WebFlow does allow you to add features, the process is more tedious and may require some technical know-how. However, WordPress is quick and easy, and anyone can do it!
Third-party integrations to enhance website functionality
You may need third-party integrations to build, manage, and grow your website to get the most from your website—for example, an email marketing or a sales management tool.
With WordPress, plugins make this easy as you can find the right plugin to integrate almost any integration you may need. You can also find plugins like WP Webhooks specifically built to allow users to add advanced third-party integrations.
With WebFlow, however, you will need to add code embeds or use a separate interface to use third-party integrations. You can integrate third-party tools into your WebFlow website, but you won't get many options, making code embeds the easiest way.
Again, if you are a pro website designer, WebFlow may work great for you, but if you are a newbie, not a tech-geek, or someone who wants a quick-one-platform-solution WordPress is the more suitable option to build your website.
Looking to work with a hosting partner and a web designer in the same package? 3 Media Web does it all. Ready to get started? 
Ease of building an ecommerce website
While both WordPress and WebFlow allow you to build an ecommerce website, WordPress makes it much easier with a single plugin – WooCommerce. It is a WordPress plugin that brings with it all things ecommerce – and it's free!
With WebFlow too, you can easily build an ecommerce website with its core platform. However, you need to buy their ecommerce plan.
Pricing and plans
While WordPress is free, you must buy a web hosting plan and your domain name to power your WordPress website. Additionally, if you choose premium themes to design your website or buy other premium plugins to add features to your website, that's another cost. However, WordPress is probably one of the cheapest platforms to build a fully customized and personalized website, with thousands of free themes and plugins available at a click.
With WebFlow, it's free to sign in and build a website. However, when you're ready to take your website to live, you will have to either get its Site Plan or Account Plan. Site Plan allows you to host your website with WebFlow. This is a must for dynamic websites, whereas you have the option to host static websites with any hosting provider of your choice. An Account Plan is mandatory to be able to export your website's code to another host.
WordPress Vs. WebFlow – In a nutshell!
Well, I hope this helped clarify the difference between WordPress and WebFlow or at least make it clearer why there's so much noise online comparing the two! WordPress and WebFlow do the same at their core – they help you build a website. But how you do it, how easy it is, and what skills/expertise you need to do it make all the difference.
WebFlow is great for anyone who has a basic understanding of HTML, CSS, and JavaScript. It's a platform loved by designers for the visual editor it offers.
However, WordPress makes it easier, with more people opting to build their websites with zero to no coding skills. It's simple, intuitive, more affordable, and probably the easiest platform to build highly customized websites. WordPress plugins allow anyone to create simple to complex websites that offer any functionality needed to offer a great website experience.
Are you ready to build your website? Are you a pro designer excited to try WebFlow's visual website editor? Are you a newbie who'd rather use WordPress and get everything under one roof to build your website with zero coding required?
If you like the design sensibility of WebFlow but the ease of WordPress, build your website with WordPress and use the WebFlow plugin for WordPress to design your pages – get the best of both! Yup, WordPress does offer it all (and more!).
3 Media Web has been building WordPress websites for decades. Reach out if you need a dedicated, long-term partner to help get your business online.  
Join Our Email List
Sign up to receive our newsletter