An Emerging Leader in Mobile Telecommunications: Parallel Wireless
Quick Summary:
3 Media Web created a website that sets the stage for Parallel Wireless to re-introduce itself to the industry.
Parallel Wireless is pioneering a new, more automated approach in mobile telecommunications that gives operators the ability to work with all generations of mobile technology by moving to a virtualized network architecture. With 5G approaching, Parallel Wireless clients are looking for flexibility and ways to reduce expenses.
Focusing on software-driven solutions, Parallel Wireless is poised to take center stage with a web presence that reflects their technology, innovation, and position as a "tier one" company.
Lead Generation as a Website Goal
The client's prospects are a varied group … from service providers, cable operators, mobile network operators, and carriers to chief technology officers and other executive-level business operators, who are all conservative, cautious, and difficult to sell. The sales pipeline is long, taking repeated efforts to teach prospects about the technology and its benefits.  
A Website that Radiates Confidence
3 Media Web created a super modern, bold and positive website design that exudes confidence, signifying a credible industry leader. The design team observed the Parallel Wireless existing branding, while pushing the envelope to create a dynamic, enterprise-level website.
Working with the client's creative agency, the Parallel Wireless logo was modified, and elements of the logo were incorporated into the design of the new website. In addition, 3 Media Web collaborated in the design of banners and imagery.
The vertical bars in the company's logo were tweaked to resemble Wi-Fi bars and incorporated into the company name. Throughout the site, this design element was repeated in a horizontal format for the linking buttons.
Content Theme Supports Branding
A repeated theme to: Reimagine Your Network. Reimagine Your Economics reflects the central message that Parallel Wireless is on the cutting edge of new technology that will streamline mobile communications, offering affordable solutions. Each of the three major overview blocks on the Home page – Reimagine Coverage, Reimagine Capacity, and Reimagine 5G and Beyond link to more detailed content on interior pages with bullet points, graphs, and videos to offer clean and concise explanations on their technologies.
Mega Drop-Down for Products & Technologies
To organize the huge amount of information Parallel Wireless had on their website, 3 Media Web created a full screen sized drop-down menu for the Products & Technologies tab on the main navigation bar. This drop-down features links to four technologies and 16 products, 10 of which have drop-down sub-menus. Also, on the drop-down menu, there is a link to the Resources section, which includes an asset library with brochures, datasheets, recorded webinars, customer videos, and case studies.
Who is Parallel Wireless?
The original site included more than 60 pages with press releases, news articles, and blogs that help to tell the story about Parallel Wireless. The Company link on the main navigation bar includes content on the company's leadership and culture, as well as news reports, events, awards, and their business partners.
"When partners and customers look at our website, they're impressed with the quality and the usability of it. It looks like we spent hundreds of thousands of dollars on it, but we didn't. They gave us a high-end product without us having to pay for it.

We tripled the number of visitors, which is important for us, given how small our industry is. Especially now, when everyone is working from home, we reach our audiences primarily through digital channels. In a small industry, when the number of visitors has tripled, this metric super important."

VP, Marketing, Parallel Wireless 
Why Parallel Wireless?
The Customers tab links to an introduction to Parallel Wireless corporate clients, using each company's logo graphic. Also included is a seven-point chart that gives the features and benefits of choosing Parallel Wireless.
To encourage lead generation, 3 Media Web created lead forms which 3 Media Web will be integrating into the site in the next phase of development.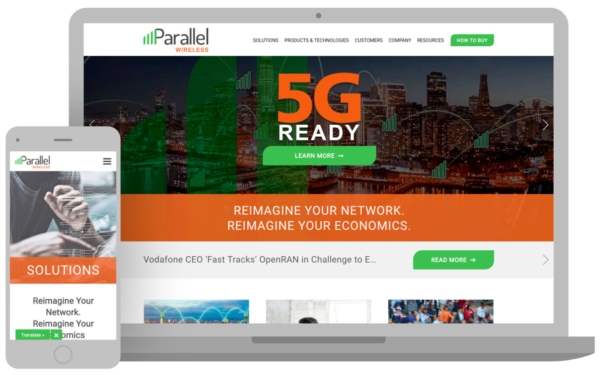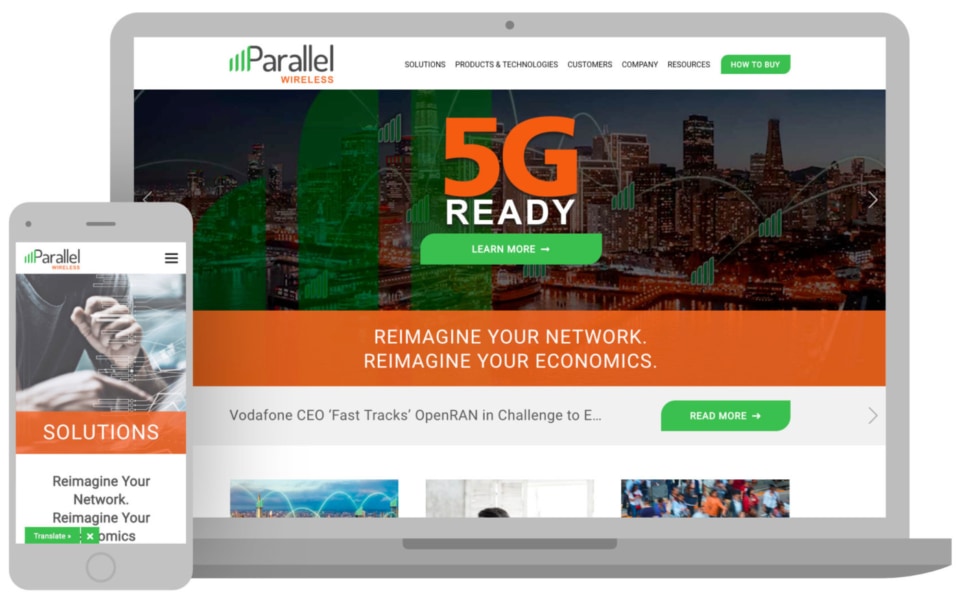 Images Reflect Industry and Brand
A design element that pervades the Parallel Wireless website is embedded within the images chosen for the site. Each image includes the colors that reflect the Parallel Wireless logo palette and the subject matter that signifies the telecommunications industry.
Abbreviated Project Timeline
3 Media Web achieved the Parallel Wireless goal of having their new website launch date coincide with the publication of a press release, despite the abbreviated timeline from content entry to completion.
3 Media Web created a website that sets the stage for Parallel Wireless to re-introduce itself to the industry, repositioning the company as an assertive, disrupting force in mobile telecommunications.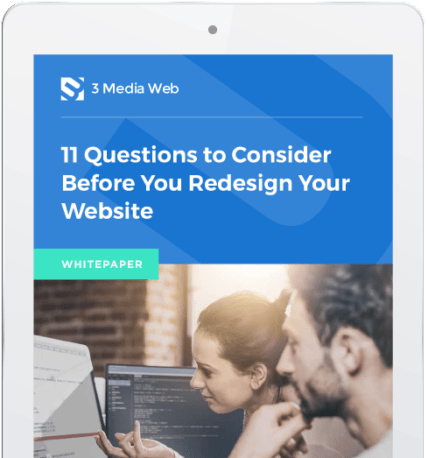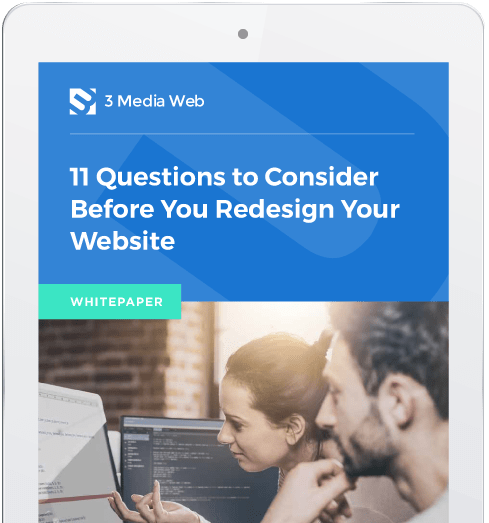 Join Our Email List
Sign up to receive our newsletter