How We Helped Arcade Snacks Improve Their Customer Retention and Increase Sales
The Client: Arcade Snacks
Our client, Arcade Snacks: Fine Nuts & Dried Fruits are a New England based snack company. They specialize in retail and wholesale distribution of a wide variety of tasty snacks.
Arcade Snacks got their start when George "Arcade" Ethier and his wife Ann started a nut roasting business out of their home way back in 1986. As they continued to expand their offerings beyond freshly roasted nuts, their company also grew.
Now a multi-facility company with worldwide distribution, Arcade Snacks can still proudly say they are family owned and operated.
Their offerings include corporate gifts, candy, nuts, mixes, dried fruit, yogurt snacks, and chocolate.
The Challenge: A Cart Abandonment Problem & An Outdated Website
When Arcade Snacks reached out to us, they needed help transforming their outdated website into a more modern storefront. As it was, the UI/UX was lacking and clunky—it took many clicks to place a single order.
Because the process of ordering a product was so tedious, customer and cart abandonment was an issue that needed addressing.
Aware of the cart abandonment issue, our client had been considering a site refresh. When the COVID-19 crisis struck, they experienced an influx of traffic to their website, which made getting a website redesign more of an urgent matter.
The Solution: A Complete Redesign With A User-friendly Shopping Cart
During the discovery phase, our designer, Jon Langberg, was able to identify all of Arcade Snacks' pain points in regards to their old site design.
Based on those findings, Jon created a new vision for the Arcade Snacks site featuring a modern look and feel for the homepage, product categories, and product pages.
In addition to the changes in the design, usability was another main point of focus.
Jon's new design resolved the cart abandonment challenge by drastically reducing the number of clicks required to add products to the shopping cart.
You can now add products to your cart with one click from either the category page or the product page by merely clicking an Add to Cart icon.
Impressively, our designers and developers were able to make these improvements to the shopping cart without our client having to change their processes on the backend of their online store. Tasks such as adding new products and processing orders remained the same, so there was no learning curve for our client.
Lastly, it's worth noting that, since Arcade Snacks was experiencing a jump in traffic to their site as a result of COVID, the entire website refresh—from discovery to launch—needed to happen at an expedited pace.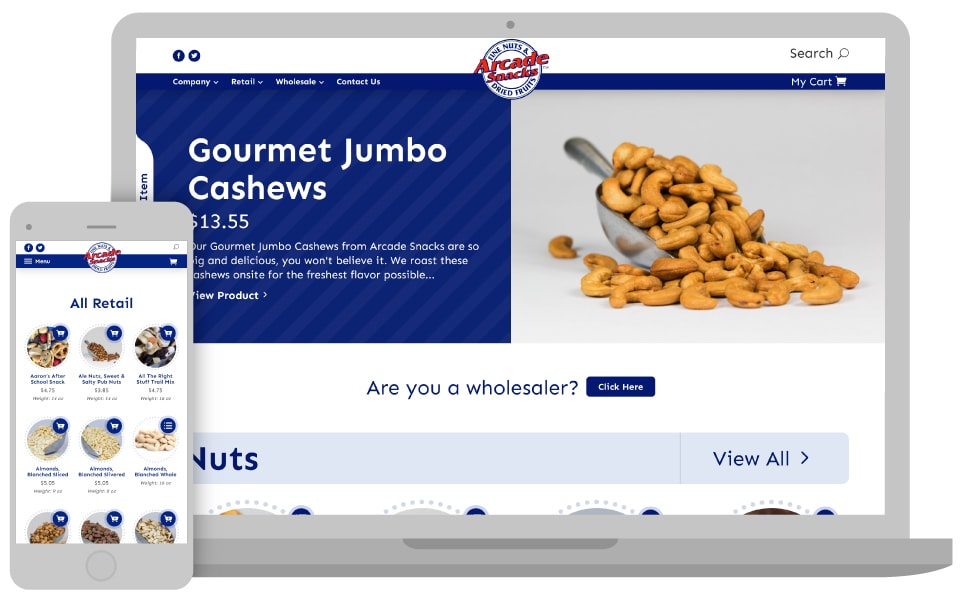 The Results: Increased Sales & High Customer Retention
Our team got the project done right and right on schedule.
The discovery phase, initial planning, and new designs were finalized within three weeks. Two weeks later, the development of the new Arcade Snacks website was completed, had passed our stringent quality assurance testing, and launched successfully.
Thanks to a new and modern representation of their brand and improved online shopping process, Arcade Snacks immediately saw an increase in online sales. They also began getting positive feedback from their customers.
For example, an Arcade Snacks customer who had used the old website for previous purchases, had this to say about the new site design:
"Since COVID-19, I have made several orders from your company. I noticed at first that the website was usable but a bit cumbersome. Now, however, everything is streamlined and very user friendly. I very much appreciate these changes."

Arcade Snacks Customer Feedback
Although the site has just launched, it's clear the improvements made by 3 Media Web will lead to higher customer retention over time.
They tend to see an increase in sales surrounding various holidays, which have yet to occur since the site launch. We are looking forward to seeing additional results over a more extended period and with increased promotion of the website.
If your company website isn't performing as well as you need it to be, our team of expert developers, designers, and digital marketers can help you get the results you are looking for as well. Contact 3 Media Web today.