Leading Manufacturer of Top-quality Bakery Products Since 1941: Bake'n Joy
Bake'n Joy began as the A. E. Ogan Company in 1941 and remains a family-owned business now headed by Robert Ogan, grandson of the founder. The company has grown to service retail bakeries as well as in-store bakeries and food service industries, including convenience stores, colleges and universities, healthcare, and the hospitality industry. Bake'n Joy has sales representatives for the food service and retail businesses nationwide. The company has evolved over the years in response to consumer trends and provides high-quality products to the busy baker.
450 Products and Growing!
Bake'n Joy makes products that meet the needs of any size or type of bakery business. Their Predeposited Muffins, Scoop & Bake Batters, Mixes and Bases, Fillings and Toppings, and Thaw & Serve products satisfy those customers who want to bake on premises but need an alternative to "scratch" baking. For those customers who want to offer a high-quality and ready-made product, Bake'n Joy offers six categories that include Cookies, Cakes & Cupcakes, Cornbread, and more. In addition, they offer vegan and gluten-free products.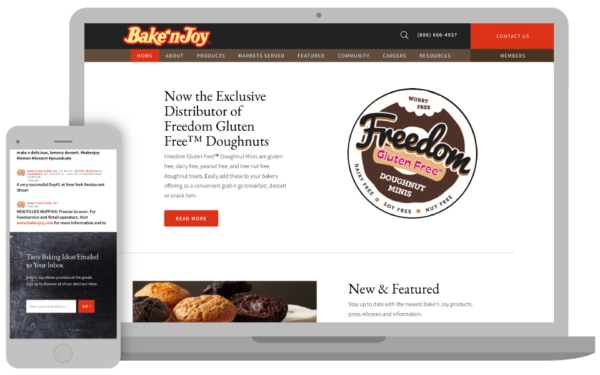 Keeping Pace
The client's website had not kept pace with the company's growth. The client desired a more professional look and a navigational design that would guide the website visitor through their more than twelve categories of products. They also wanted a layout that could feature the eight Bake'n Joy brands. It was important for the Bake'n Joy website to show all products, rather than simply an overview as on their current site.
An Updated, Streamlined, Professional Design
3 Media Web changed the Home page design to achieve a sleek, professional look, free from the distraction of background patterns. The image gallery uses up-close images that nearly induce the salivary glands into action. Each image highlights the Bake'n Joy brand.
The new design removed cartoon images, replacing them with high-quality photographic images to enhance the professional appearance desired.
Target Products or Browse with Uncomplicated Navigation
3 Media Web created the main navigation bar with a Products tab that has a large megamenu featuring the categories of products and the Bake'n Joy brands. Web visitors can click on the Products overview header, which brings them to a Products page with a side menu listing of product categories and brands, as well as thumbnail images of each of the company's product categories. In any case, the reader can browse products and drill down to product details on interior pages. An accordion chart for each product includes a thumbnail image along with the item number, name, weight and volume size. Each product in the chart links to a full description of that product, providing an easy road map for the reader to follow.
Home Page Features
3 Media Web designed the Home page to include banners that the client can update, as needed. One banner features Bake'n Joy's exclusive distributorship of a new gluten-free product and another announces a new Filled Muffin category. The call-to-action button links to interior pages with additional information.
The Home page also includes an introduction to information about Bake'n Joy, supporting their professional, long-standing reputation as a family-owned business and linking to their About section with the President's Message and the company's Culture and Values.
Scrolling down, the reader can find logo images of the company's brands, which link to the interior brand page. This page displays each of the categories, which are linked to the accordion chart that includes all products.
Another section on the Home page includes links to articles on Industry Trends, Company News, the Bake'n Joy Facebook page and a call-to-action to subscribe to the company newsletter.
About Bake'n Joy
The History of the company is displayed in text and vintage photographs, as well as an animated timeline of the benchmark activities since Bake'n Joy was founded in 1941.
Other Featured Tabs
A Featured tab in the main navigation bar includes individual, animated banners for new and featured products. A Community tab includes blocks of text and images to highlight company news, social media posts, and events, including the company's trade show schedule for the year. 3 Media Web designed a Resources section, a robust collection of product information, videos on product handling, recipe how-tos, and market data with industrial insights.
In addition, this section includes infographics on trends in the marketplace, as well as a page for the Freedom Gluten Free™ brand they distribute. A FAQ accordion chart of questions and answers rounds out the section.
3 Media Web delivered a new, more streamlined website that reflects the growth of Bake'n Joy and provides a clean, easy-to-navigate journey for the website visitor, who can quickly arrive at content specific to the Retail or Food Services industries.