CBIA User-Focused Website Design Drives Engagement
The Client: CBIA
As the leading voice for Connecticut businesses, the organization advocates at the state Capitol for policies that support job creation, foster economic growth, and help businesses compete. Companies large and small across a diverse range of industries rely on them for business-critical resources, products, and services that help those businesses grow and succeed.
Challenge: Website Was Difficult to Navigate
CBIA came to us with a website that didn't effectively communicate their mission or value, and also didn't drive lead generation, due to poor user experience. Lacking clear direction and the right content, the former site was not effectively engaging users or converting visitors to members.
Solution: Revamped Site Makes It Easy for Users to Engage
The 3 Media Web team collaborated extensively with the client to make sure that the design and UX were completely dialed in. The eye-catching, clean site now provides relevant information to site visitors and guides them to find what they are seeking, all the while promoting the benefits of the organization.
We wrote and edited all new content for the core of the site, ensuring a cohesive voice, tone, and style throughout, even with diverse stakeholders involved. The website also includes a lot of additional assets as they post news and resources daily and these items drive a great deal of traffic to the site. The vastly improved UX experience organizes and displays all this rich content, and makes it easy for the user to navigate.
We also worked with the CBIA team to implement a staging server to test a number of interactive search tools they have on the site. Once the testing was complete and the site was launched live, it pointed to the real servers, where testing needed to be completed again to ensure that the transfer was effective.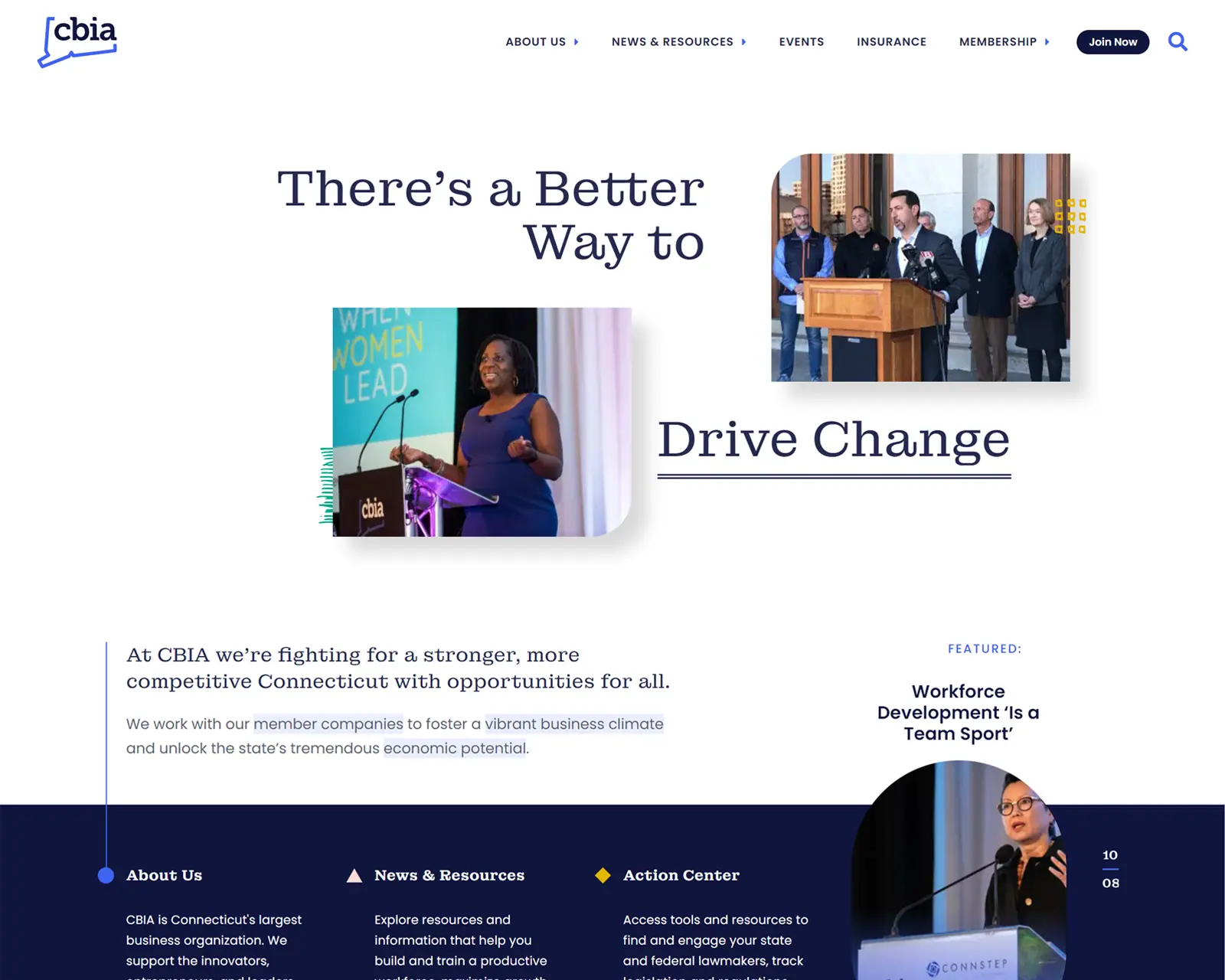 CBIA Homepage – After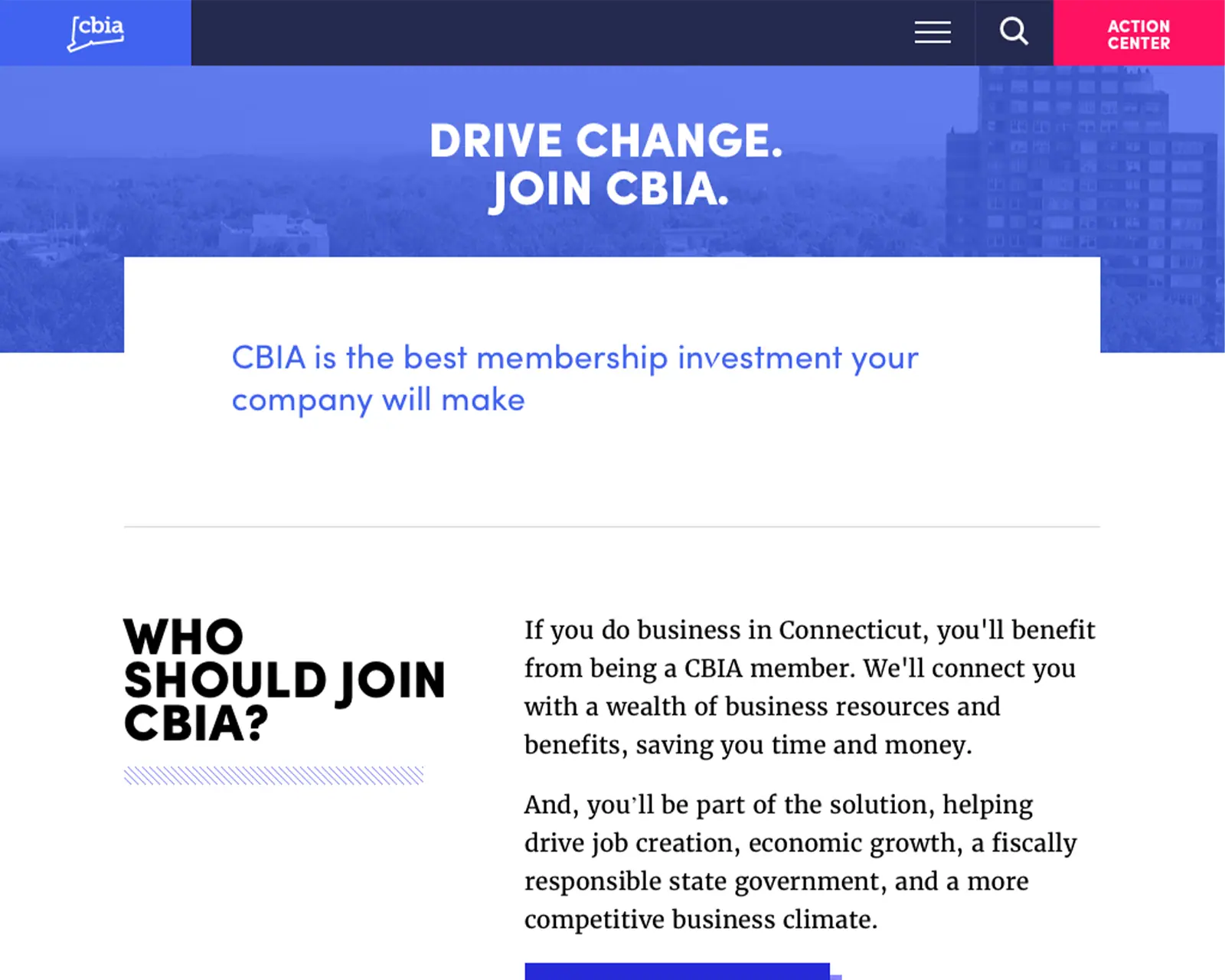 CBIA Homepage – Before
CBIA About Page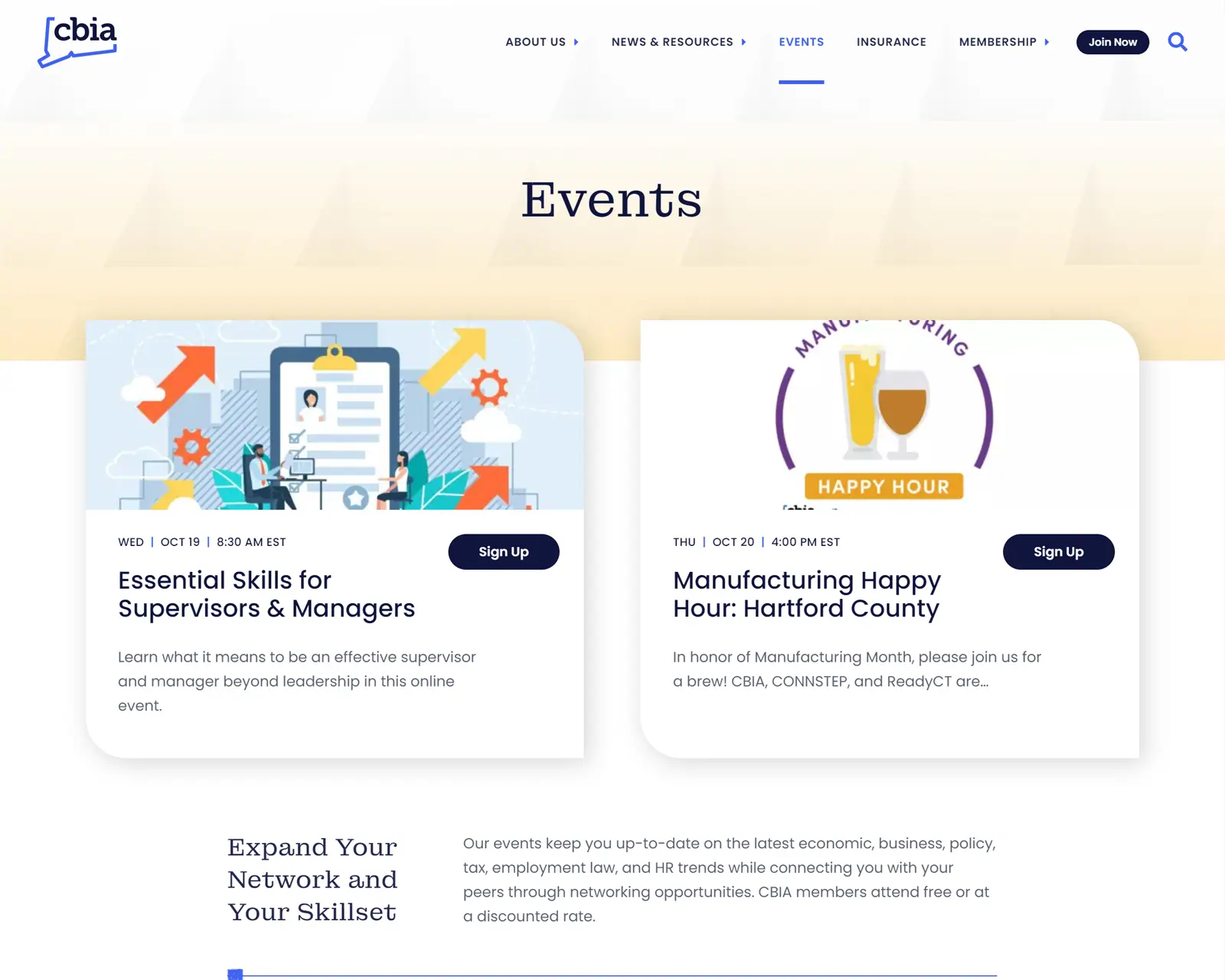 CBIA Events Page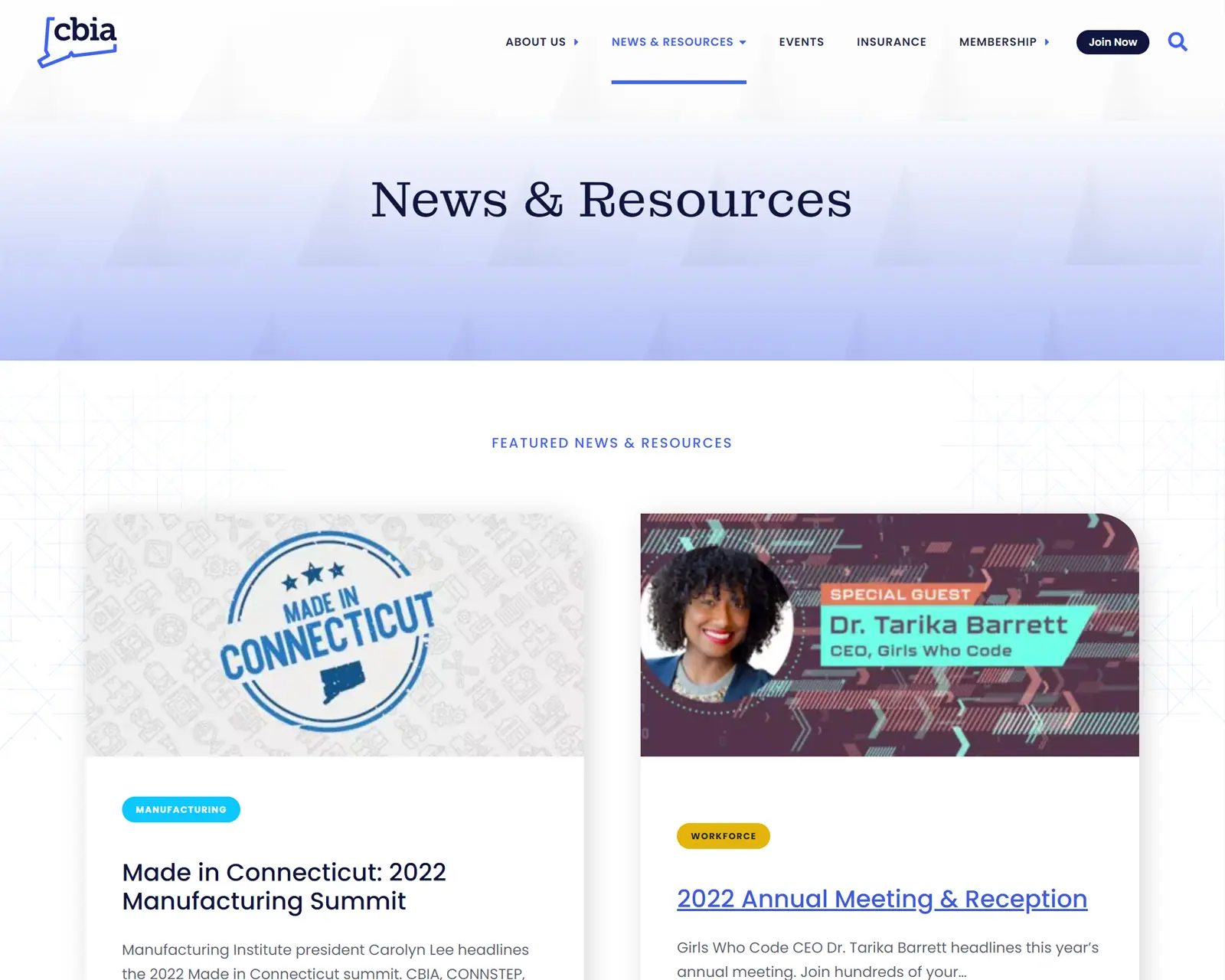 CBIA News & Resources Page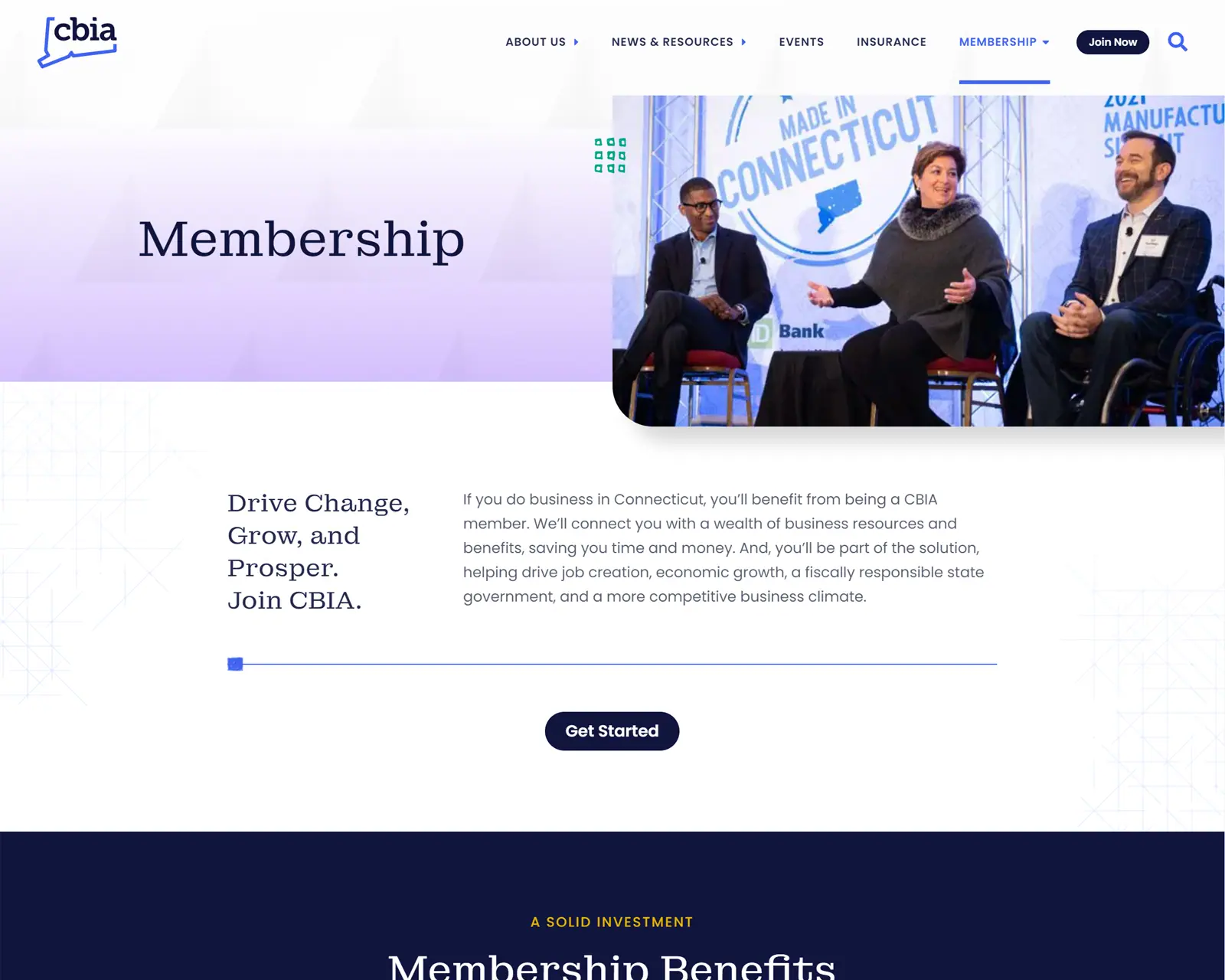 CBIA Membership Page
The Results
The new site delivers clear value, with member benefits and 'join now' calls to action displayed throughout, and on page forms that users don't need to search for. The new homepage devotes prominence to hot topic issues and stories that CBIA wants to communicate with their visitors, further showcasing their value and role as a thought leader.
The tech services team has been working closely with CBIA post-launch. We also have held a number of training sessions for their internal teams on how to use WordPress and update the site on their own.
We anticipate that the new site will support the organization's lead generation goals as it continues to draw users in to easily explore rich content.
Join Our Email List
Sign up to receive our newsletter