NoBull Marketing Website Design Elevates Brand and Positions for Continued Success
Quick Summary:
The agency needed to update its brand and website to align with its current market position.
The Client: NoBull Marketing
NoBull Marketing is a digital marketing agency that creates Google strategies and lead generation for lawyers. Through the power of Google My Business and Google Ads, they have helped over 120 lawyers add an average of five new cases and $15,000 in new revenue at an ROI of 350% every single month.
Challenge: Web Presence Was No Longer Hitting the Mark
The agency needed to update its brand and website to align with its current market position. NoBull Marketing is great at what they do, and it needed a brand that reflected this while staying true to its "NoBull" attitude. Because the target audience comprises professionals in the legal industry, it was important to create a new look that demonstrates trust and professionalism.
The new NoBull Marketing homepage after the web design project with 3 Media Web.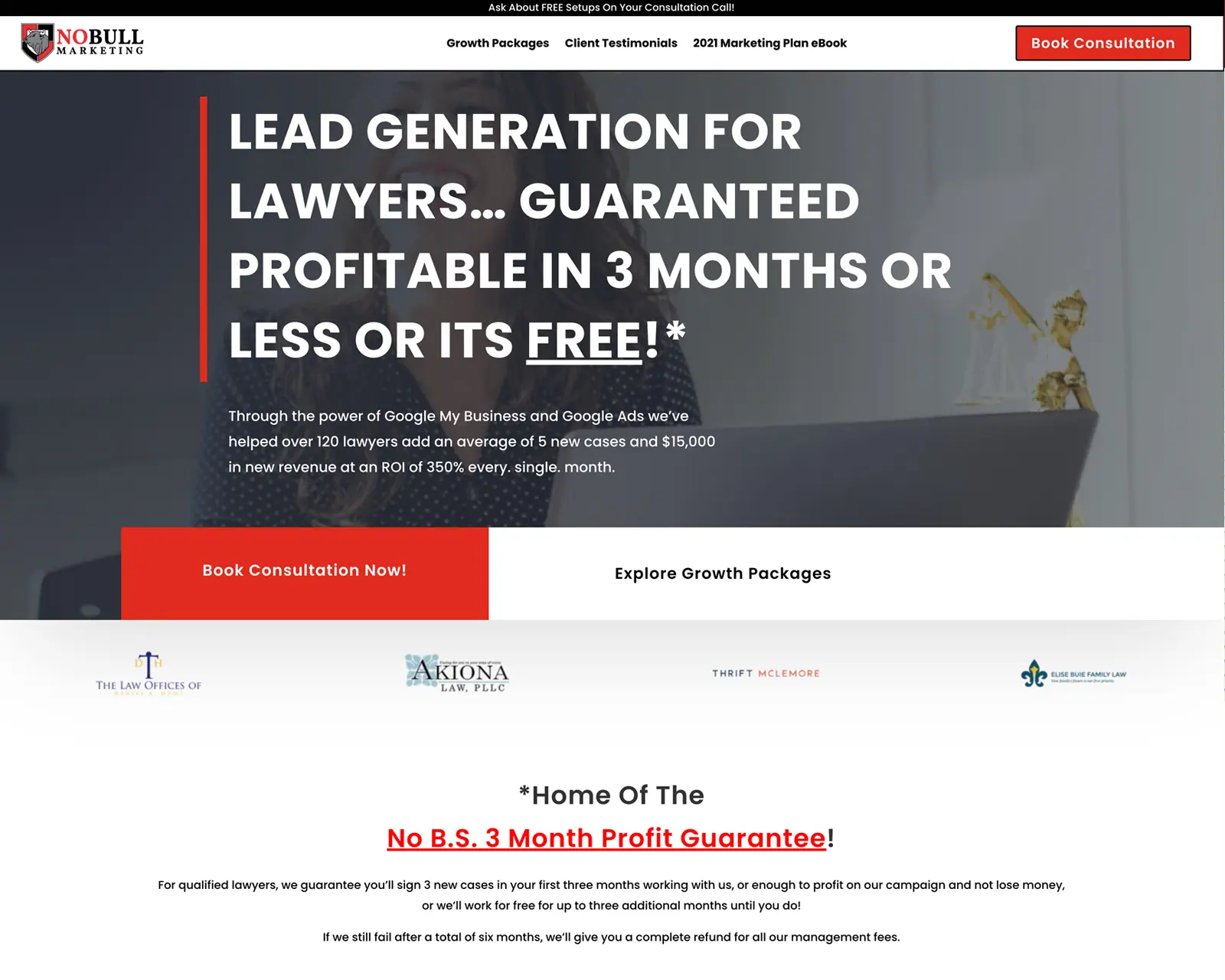 The old NoBull Marketing homepage before the web design project with 3 Media Web.
Solution: Professional, Yet Singular Brand and Site Created
NoBull Marketing referred a law firm to us in the past and came to us to work on their project. We were thrilled to partner with them on an entirely revamped brand and website with cutting-edge UX/UI that clearly positions No Bull Marketing as a formidable leader in lead generation solutions for lawyers.
We worked together to maintain the company's energetic feel while playing to its conservative market. We iterated on the logo, identified the winner, and crafted a brand style guide to help roll out the new presence across all media.
We then got to work on the website and applied the refreshed branding and all new page layouts and functionalities. The new site leverages a WordPress block theme and delivers a seamless navigation path that allows site visitors to find and digest relevant content easily. Integrations with Calendly, YouTube, and Gravity Forms facilitate consultation scheduling, video viewing, and form data retrieval respectively. The new site is easy for the client to update themselves.
We started the project on January 9, 2023, and launched by March 29, 2023.
The Results
The new brand and website provide better brand recognition for the marketing agency. With a more professional digital presence with a better hierarchy, lead generation, and conversions are expected to improve.
Immediately post-launch, we've done two smaller projects for NoBull Marketing. We designed social media assets, a Zoom background, and an email signature. We also educated them on using HTML to link their email signature and set everything on Canva so they can easily edit as needed.
Join Our Email List
Sign up to receive our newsletter