Recruitment Website for an Innovator in Senior Health Care: SALMON Health Care and Retirement
Quick Summary:
3 Media Web launched a straightforward and easy-to-navigate website designed to attract potential employees.
A long-time client of 3 Media Web, SALMON Health and Retirement requested a separate website for recruiting applicants for open positions in their eight locations. They wanted a website with an up-to-date, contemporary feel and a website design that would be competitive in the sometimes–difficult healthcare recruitment arena.
The SALMON family's senior living and healthcare communities in Central MA have a history of more than six decades of tradition and innovation in healthcare. SALMON Health and Retirement offers many ways for their employees to achieve their personal best while making a positive difference in the lives of others. Professional positions, caring for the health of older adults, as well as jobs in meal service, office management, maintenance, and recreational activities, are valued as supporting the compassionate organization that is SALMON Health and Retirement.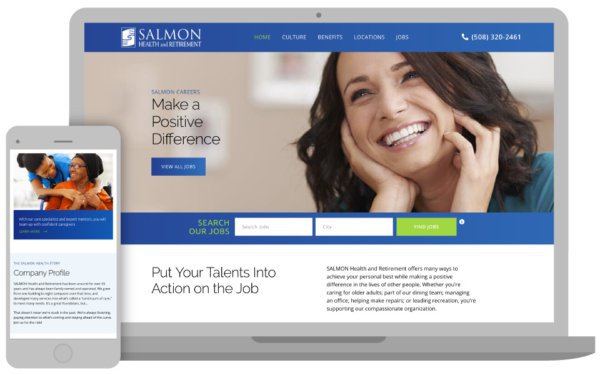 A Progressive, Contemporary Design
SALMON Health and Retirement was established in 1952, but it was important that the website be engaging for young people who could envision themselves in an organization that offers many benefits and the opportunity for upward mobility.
3 Media Web created a website that is attractive and inviting, realizing the client's goal. The Homepage greets visitors with a screen-wide hero image of a young, attractive job seeker and the tagline: SALMON Careers. Make a Positive Difference. The Call-to-Action to VIEW ALL JOBS succeeds in focusing on the client's main objectives. This dramatic welcome is followed by an invitation to Search Our Jobs by type or location.
The Importance of Culture
Scrolling down the Homepage, there is an intro that begins: Put Your Talents into Action on the Job this links to the Culture page that includes a hero image of happy employees, supporting the declaration that SALMON Health is a Family. A gallery scroll follows with authentic testimonials by those who work in the SALMON Health organization.
A Company Profile and Vision round out the Culture page, which includes a snapshot counter that summarizes the SALMON Health and Retirement story with the number of locations, job opportunities, years in business, and the number of employees.
A Wealth of Employee Benefits
3 Media Web created a Benefits page that engages the job searcher with a snapshot of the reasons why individuals work for SALMON Health and Retirement. Below this listing is a summary of the organization's innovative benefit program which includes their Career Ladder for CNAs; Beyond Basics Certification training program, Mentor Program, Sign on Bonus, Tuition Reimbursement, and Loan Forgiveness.
By adding a Benefits tab to the main navigation bar, 3 Media Web supported the client's goal to demonstrate the opportunities at SALMON Health in a way that resonates with visitors looking for employment in an organization that offers more than just a job.
Employment in 8 Locations
The fourth of five tabs on the main navigator bar, the Locations page provides more than just addresses. The page leads with a map of all locations and is followed by a listing by town of all health care centers located there, along with contact information and a link to directions.
A click on the name of the town links the web visitor to an in-depth review of the SALMON Health Centers in that town, giving the reader a comprehensive look at the programs, activities, events, and staff.
An All-inclusive Jobs Directory
An easy-to-access directory of all available jobs includes a list by job title that gives information on the location and type of position. The search list of jobs by department gives the job seeker an alternative way to review the available jobs and a search bar allows a search by city. Clicking on a link for a position takes the reader to a detailed page for that job with a call-to-action link to an online application.
Website Goals Achieved
3 Media Web launched a straightforward and easy-to-navigate website designed to attract potential employees who are looking to make a difference in other people's lives in a way that makes SALMON Health and Retirement their number one choice for employment.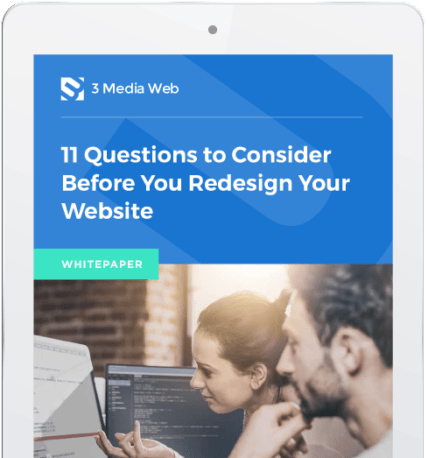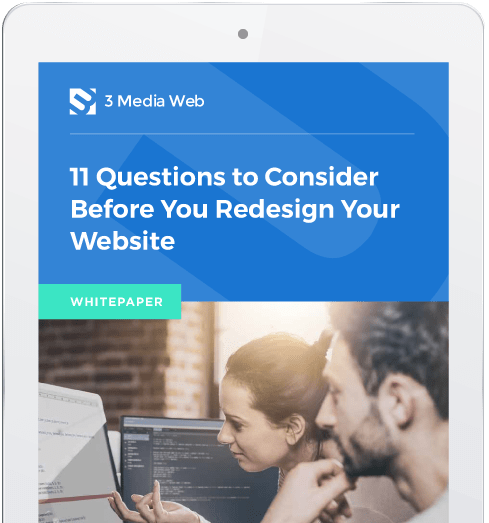 Join Our Email List
Sign up to receive our newsletter