Website Launch for Leader in Connectivity for the "Internet of Things": Sigfox USA
Quick Summary:
This straightforward and easy-to-navigate website meets the client's goals of having a concise message that speaks to prospects.
Sigfox USA is the US subsidiary of Sigfox, a global company headquartered in Labège, France, providing low power, wide area network (LPWAN) connectivity. This network is built to communicate small messages with "things" to allow enterprises to gain insights into areas of their operations and assets. Featuring low power, long range connectivity, and low cost, Sigfox USA provides Asset Tracking (Where is it?); Asset Monitoring (What is the status?); Streamlined Operations (Remote monitoring); Regulatory Compliance (Creating an auditable trail); and Predictive Maintenance (Is maintenance needed?)
The Sigfox USA unique device-to-cloud approach to wireless connectivity has no signaling overhead, and a compact protocol, enabling messages to transmit over long distances.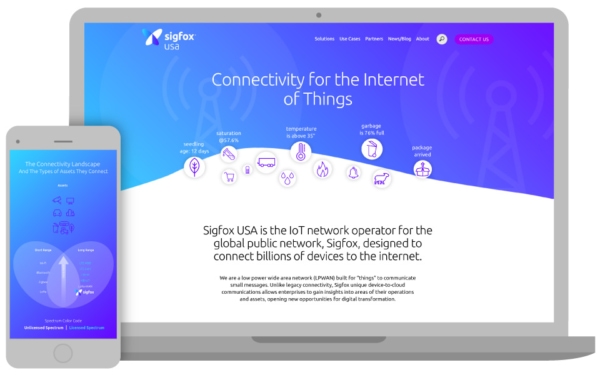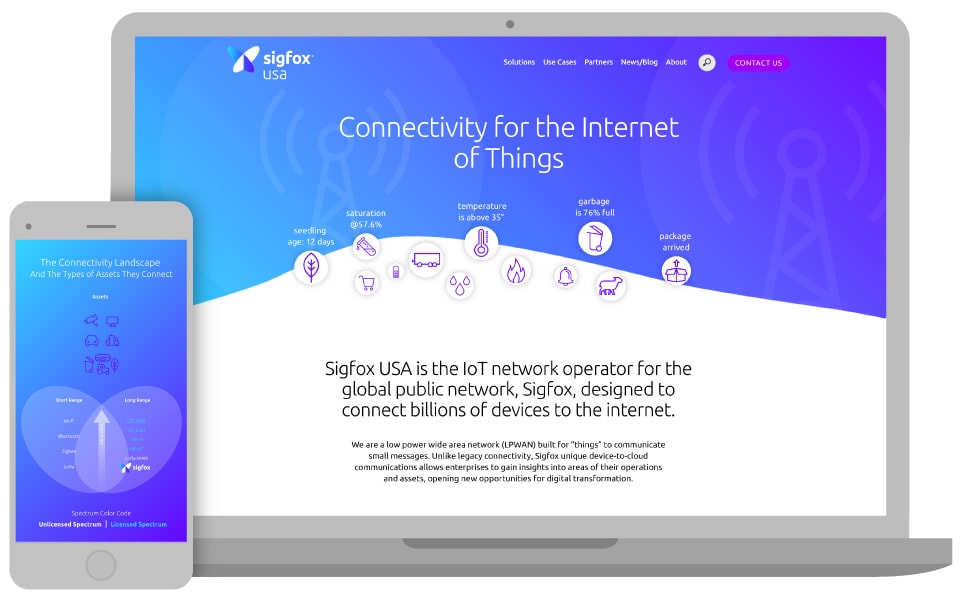 Unified Branding with an Individual Look
A goal for the new website was to have a unified look that conformed to the Sigfox brand, but to give Sigfox USA visibility and voice to address their own marketplace.
Sigfox has a brand guide in place that requires specific use of color, icons, fonts, and images. Conforming to this top-to-bottom guide, the 3 Media Web design team was able to meet the client's goals for a "different" look. In addition, new icons were created that follow the brand guidelines, invites engagement, and gives the website a unique look.
HOME Page Lays the Groundwork
The simple, clean design on the HOME page features creative icons and caption text that give examples of "The Connectivity for the Internet of Things" provided by Sigfox USA. Scrolling down the page, the reader learns of the Sigfox USA benefits of low power, long range connectivity, and low cost. A button link invites the visitor to learn more.
More HOME Page Features
Further down the page, an animated graphic explains the "Connectivity Landscape and the Types of Assets They Connect." Logos of companies in their Partner Network are displayed, followed by an attention-getting band that uses graphic icons to demonstrate each of the five major services provided by Sigfox USA. Each one links to more detailed information on an animated interior page with large images and concise content. Here are two bands with links to press releases, blog articles, Twitter feed, and information about upcoming events. A Call-to-Action to sign up for the company newsletter and a form to request more information complete the comprehensive and engaging HOME page.
Creating from Bare Bones
To create a new website from scratch, 3 Media Web and Sigfox USA worked together to determine all aspects of the website – design, messaging, and functionality. Because of the rapid growth of Sigfox USA, it was necessary to develop the site with the flexibility to grow with the company and to allow the client to make updates as needed. Several areas of the website, such as blog posts and upcoming events, invite visitor engagement and require updating. 3 Media Web provided the functionality to do this and trained client staff to proceed on their own.
Main Navigation Bar
Ease in use was achieved by a single navigation bar with five tabs and a Contact Us link. Each area of the website can be accessed from the navigation bar, the HOME page, or the web footer Quick Links. The About Us section includes a Highlights band with statistics that also can be updated – percent of US population served, the number of major metro areas served, and the number of miles in the geographic area served. An FAQ section, Career Opportunities, and Upcoming Events round out the section.
A Key Goal – SEO
An important Sigfox USA goal was to ensure that the new website would be optimized for search engines. As part of the website build, 3 Media Web created the necessary technical SEO foundation. They then implemented keyword research and analyzed the results to deliver recommendations to the client for their content writers. Finally, on-page SEO was executed to include all-important alt tags for images, anchor text for links, browser page titles, and meta descriptions. In addition, they advised Sigfox USA on overall SEO and keyword strategy going forward.
This straightforward and easy-to-navigate website meets the client's goals of having a concise message that speaks to prospects in their voice while maintaining the branding of their parent company.
3 Media Web has excellent project management and clearly communicates any progress or setbacks. They're honest and skilled, making them a reliable partner that exceeds expectations. The website looks great and is easy for non-experts to update and change.

Kristi Mason, Director of Communication, Sigfox USA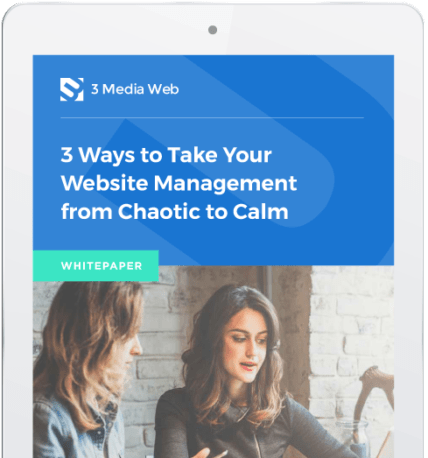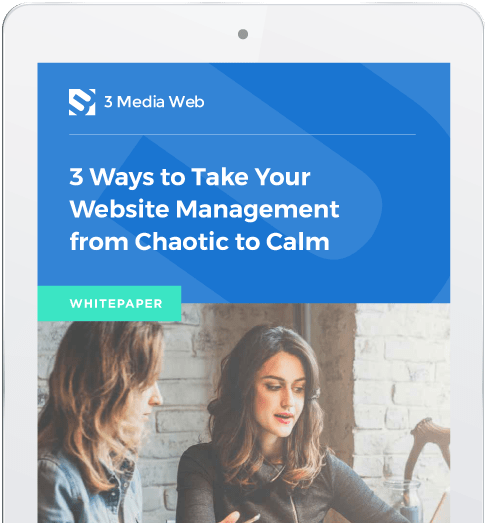 Join Our Email List
Sign up to receive our newsletter