Design a Website That Moves Fast and Adapts Quickly
Quick Summary:
Marcus was able to optimize every page of their website, based on data, to suit the evolving needs of a fast-growing business.
Some businesses just need more flexibility and scalability in their website design. Simple template-based websites can hold companies back, especially those looking to define a new product category.
3 Media Web, helps clients build websites that support and complement digital strategy, working to drive better goal completion rates and convert visitors into leads. 
We were able to design a website for our client, Iotics, that could adapt and move quickly in a fast-paced industry.  
The Client: Iotics 
Iotics, a 3 Media Web client, is a next-generation Event-Data Platform. Providing an overlay architecture for enterprise data that creates digital data twins. The platform enables the secure sharing of actionable insights that drive real-world decisions.
"Our mission is to liberate data to enable the world to make the most informed decisions. With the Iotics event data platform, you don't duplicate, centralize or re-architect in order to allow data to flow freely and securely anywhere." 
The Challenge: Visionary Design That Moves Fast  
Iotics needed a new website on a business-class platform that could scale. Their current website platform didn't embody the proper tone or reflect Iotics' unique product offering.  The Iotics Event-Data Platform was developed by Iotic Labs, the company's research and development hub, and required a digital footprint that conveyed the value the product brings to the market.
"We needed a visionary design, a full SEO strategy, and for 3 Media Web to support our digital strategy," said Reppucci.  
The other challenge: a short timeline. 
3 Media Web's designers only had a three-week window to design, build, and test a new website that could be handed off to the Iotics team. "We work quickly in an agile way, testing and innovating, so we need full control," said Reppucci. 
That handoff would also need to happen between teams working in different countries and time zones. 
Our Solution: 
A new enterprise-class, secure, flexible website built on WordPress, with a monochromatic blue color scheme reinforced a sense of uniformity and simplicity. This helped to simplify an already complex and unique technical product for prospective customers, future employees, and partners of Iotics.  
3 Media Web handed off the website to Iotics Digital Strategist, Marcus G., after a full training on the website backend. This enabled Marcus to start working on the site immediately, instead of being held up by a technical learning curve. "The website set up is simple, smooth, and easy to use," said Marcus.
Iotics asked 3 Media Web to build their website in a way that enabled full control of future site changes. "We need to be able to adapt, refine, and evolve," said Marcus, "We're greatly appreciative 3 Media Web was able to work the same way." 
Another pillar of the website redesign was a solid foundation in information architecture and search engine optimization research. Figuring out the most valuable keywords for Iotics first allowed the design team to build the website with confidence and it also helps the Iotics team create new content going forward. 
Based on the findings on search intent, the team decided to split the website into products and solutions, for the two levels of user education in the digital ecosystem industry. A third section of the website draws potential talent to apply for open roles. 
The solid foundation of keyword research is currently driving an increase in organic traffic to the Iotics website, for some keywords, up by nearly 200%. Many keywords with no previous rank are now driving hundreds of impressions per month, and ranking on the first page of the Google search results. 
The Results: 
This need for full control showed up soon after the website handoff when COVID-19 hit the world. Marcus used the recipe book developed by 3 Media Web backend training to create the Iotics COVID-19 Response page. As part of this initiative, 3 Media Web was able to jump in to help modify custom CSS on the homepage hero. "3 Media Web got it coded, designed, and tested, so it was good to go in a few hours," he said. 
Now, only a few months later, Marcus was able to optimize every page of their website, based on data, to suit the evolving needs of a fast-growing business. "We're able to quickly iterate because of the tools set up by 3 Media Web."  
The site is also out-performing the old Iotics website. Marcus says, "We're getting new organic traffic and organic leads with half of the bounce rate." 
"The training sessions were very helpful," says Marcus, "on the WordPress backend, Pantheon, even modifying CSS code, which went above and beyond." The training enabled the full handoff between 3 Media Web and the Iotics team.  
"This project is a good example of both companies handling remote, distributed––across the country in different time zones––entrepreneurial projects," said Reppucci. "It plays to both our company's strengths."
Learn how 3 Media Web's team of designers and developers can help your business build a better website.
Is Your Current Website Holding Back Your Business?
Template-based websites are useful for companies to move quickly and make changes on the fly, especially in the beginning. They can also hold companies back. 
Some business websites just need more flexibility and scalability––they need their site to push users towards a conversion, such as turning site visitors into leads. 
3 Media Web was able to design a website for Iotics that could adapt and move quickly in a fast-paced industry.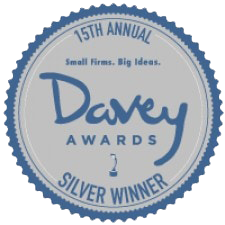 Join Our Email List
Sign up to receive our newsletter