How We Helped A Health-Focused Non-Profit Launch a COVID-19 Response Page
Quick Summary:
As we collect more analytical data over a period of time, we expect to see an increase in the amount of traffic to their COVID-19 Emergency Relief pages.
Americares is a prominent non-profit health-focused relief and development organization established in 1979. Their health programs and medical donations serve 4,000 health care centers across more than 90 countries each year. They came to us in need of a COVID-19 response page. 
The Challenge: Build An Engaging COVID-19 Response Page
Like many organizations and businesses around the world, the COVID-19 pandemic sparked a new need for Americares to have a focused and engaging webpage to serve as their disaster response page.
Previously, Americares relied on a single, dynamic landing page for this purpose. However, the uniquely impactful nature of the pandemic made it clear that a more effective approach to providing the most up to date information should be paramount.
A single landing page just wasn't going to cut it, so Americare reached out to 3 Media Web and asked us to tackle their COVID-19 disaster relief webpage challenge.
Our Solution: Custom Gutenberg Blocks & An Immersive New WebPage
Anthony Urato, our project manager for this project, worked closely with Americares representatives, Ted Davis and Mike O'Connel from start to finish.
During the first two weeks of the project, the team worked on designing the pages. Both Davis and O'Connell were active during the design process and were incredibly helpful in explaining their idea of the immersive experience they were aiming to capture for the webpage. 
Together, we decided on building an immersive animated experience on the website.
In order to do so, our team of developers built unique custom Gutenberg blocks that present key information regarding the COVID-19 pandemic on different sections of the page. 
Our idea to use custom Gutenberg blocks was a solution that allowed Americares to maintain specific and up-to-date information in an engaging, single-page experience.
Once the design phase was complete, it was time to develop the page. The development of the page took about two months to complete. 
During that time, O'Connell continued to work closely with our team. Our team appreciated his presence and commitment to the project as we navigated the complex environment of the established Americares website—especially when the time came for our team to integrate our new code onto their established site.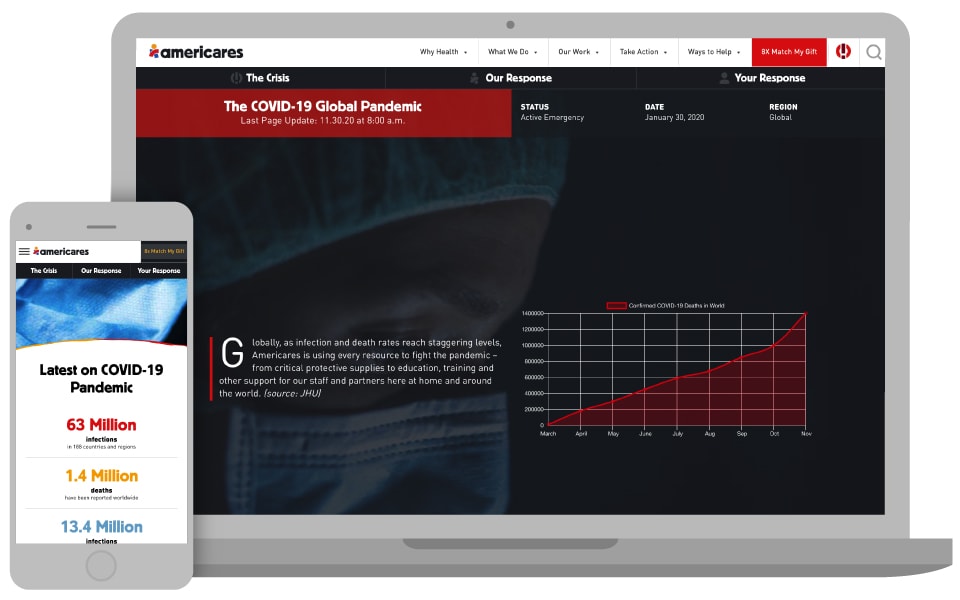 The New Americares COVID-19 Disaster Response Page
Now, when users visit the Americares COVID-19 page, they are presented with a beautiful new design that puts the user and the information they are seeking out front and center.
As you scroll through the page, animations gracefully display different details relating to the COVID-19 crisis. 
Visitors can read about:
The latest numbers and data relating to the virus
The history of the virus
What Americares is doing to contribute to the cause
Where they can find additional news from trusted resources
All of this in an immersive, single-page design with an optimized UX/UI.
The Results: Higher Page Traffic & More Effective Communication
We do not have full access to Americare's reports and data so it is difficult to provide a clear measurement on the page's performance since launch.
At the time of writing, the new COVID page is still hot off the press. Having gone live just a few weeks ago, we are still measuring the page's performance and metrics. 
As we collect more analytical data over a period of time, we expect to see an increase in the amount of traffic to their COVID-19 Emergency Relief pages.
Meanwhile, Americares and those who visit the COVID-19 response page will benefit from a heightened user experience that positions Americares as a trustworthy resource and thought leaders amongst their peers, donors, and recipients.
3 Media Web Helps Organizations Like Yours Build Powerful Websites
Is your website underperforming? The 3 Media Web team is here to help.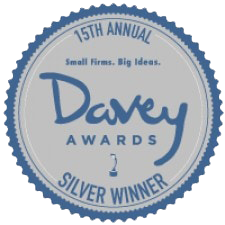 Join Our Email List
Sign up to receive our newsletter