How We Helped Hamill Galleries Reimagine The Art Gallery Website
Quick Summary:
We came up with the theme of "Art is not Complicated," which encapsulates Hamill's vision for the space.
Hamill Galleries, an art gallery located in Quincy, Massachusetts, is operated by the mother and son team, Bobbi Hamill and Mathew Mracheck. After collecting art over several decades, the two opened Hamill Galleries to display and sell their art collection. After all that time, they needed an art gallery website that reflected their accomplishments. 
What sets Hamill Galleries apart is its unique approach to the industry. Hamill Galleries' goal is to make art appreciation accessible for anyone who wants to learn, regardless of whether they are looking to make a purchase or not.
The Challenge: Build A Unique Website For An Eclectic Art Gallery
Hamill Galleries recently moved to a new gallery space. To fully embrace the new change, they also decided to update their older, outmoded website.
The ultimate goal for the website redesign was to create a modern online gallery space that would help them sell their personal collection of art. 
The challenge was creating a uniquely fun website that is just as eclectic as the Hamill Galleries art collection.  
Our client wanted a website that was engaging and rewarding to use for any experience level. 
A standard art gallery site wasn't going to fit the bill. Rather, the new site needed to remove any negative stigmas associated with the process of collecting art, such as pretentiousness, snooty critic's opinions, and long history lectures.
The Solution: Reinvent The Art Gallery Website
We kicked the project off by meeting with Bobbi Hamill via screencasts to get to know her and the gallery's modus operandi.
Bobbi was a delight to work with. We loved how much she loved participating in the discovery and creative processes. Especially considering the importance of feedback from clients during these phases of a design project.
Building A Creative Foundation Through Discovery
During the early stages of discovery, we established that Bobbi likes to keep things simple. She doesn't like technology and generally avoids computers and cell phones whenever possible. 
Based on those findings, we established that the simpler we make the new site, the better. 
We also learned she's not a fan of pretentious art galleries and wanted her new space to be a welcoming experience for all. 
This was an important aspect for Bobbi, who installed a pool table and big-screen television so gallery visitors could hang out and watch football games if they wanted. 
We knew our design for the new Hamill Galleries website should mimic the upbeat, fun atmosphere of the gallery's physical location, in addition to encouraging website visitors to explore all different types of art.
Redefining The Art Gallery Website
Next, we began brainstorming ideas that would embrace Hamill Galleries' fun-loving atmosphere. We came up with the theme of "Art is not Complicated," which encapsulates Hamill's vision for her space.
The next step was to pitch several creative concepts to Bobbi. 
An early iteration of one of the concepts included a casino slot machine that users could spin by clicking a button on the main page, then the slot machine would spin and stop on random works of art.
The concept was to have users experience surprise and discover new art without the "snootiness" that often deters people.
Eventually, we decided upon a similarly playful approach…
Rather than the slot machine in our original concept, we opted to replace it with a key piece of art from Bobbi's collection: an antique carnival spinning wheel. 
Now, when visitors land on the Hamill Galleries homepage, they're greeted with the carnival spinning wheel. Users tap the "Spin It" button to animate the wheel.
After a short spin, the page automatically redirects the user to a random art category with different art pieces for the user to explore.
Alternatively, we also designed a navigation menu that encourages users to explore different art pieces by selecting a category that interests them.
The menu is divided into two main categories that have three clickable subcategories each. Users can select between any of the subcategories:
When users click on one of the subcategories, they are transported to a random piece of artwork to explore. There's also a gallery option beneath the random piece of art that makes it easy for users to browse more of the collection.
The Result:
The final solution was fun, exploratory, inviting, and simple. 
The newly redesigned Hamill Galleries website is the perfect example of our client's goals, vision, and personality.
Unfortunately, because there was no analytical tracking done on the site previously, we have no metrics to compare.
However, we can say that the immersive experience of the new site design is doing what it was designed to do: putting the fun back into collecting art by engaging and educating customers.
Could your website benefit from a redesign that's as fun and unique as your business?
Contact 3 Media Web to get started.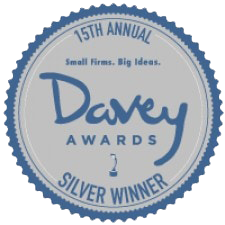 Join Our Email List
Sign up to receive our newsletter