New Biotech Site Launch: Minerva Neurosciences
Minerva Neurosciences came to 3 Media Web with an outdated website they felt was generic and didn't reflect how they had matured as an innovator in BioPharma. The older site had an excess amount of obsolete and stock images that not only didn't reflect Minerva's current growth stage but were also misinforming.  3 Media Web worked with Minerva to generate a responsive website that allowed investors, peer scientists, and regulators to understand Minerva's mission and vision easily.
To reflect the company's mission in a promising and informational way, we provided:
Unique, relatable, and uncluttered graphics that reflect the company's BioPharma niche
An exciting modern layout that will attract investors
Investor media content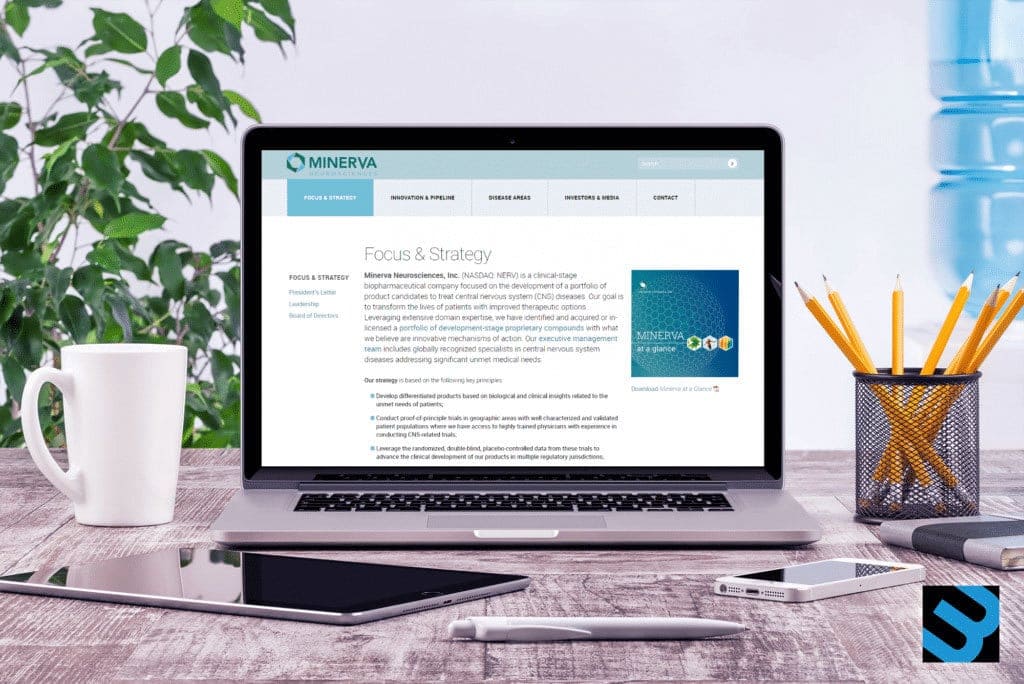 To generate a biotech website that differs from others we:
Created a responsive and aesthetically pleasing website that reflects the excitement of Minerva's work in their field
Updated the company's logo
Provided content management so that the website can be updated to keep pace  with the continually developing central nervous system disease research
Portrayed a welcoming and positive message about Minerva's strategy to those looking to invest or receive information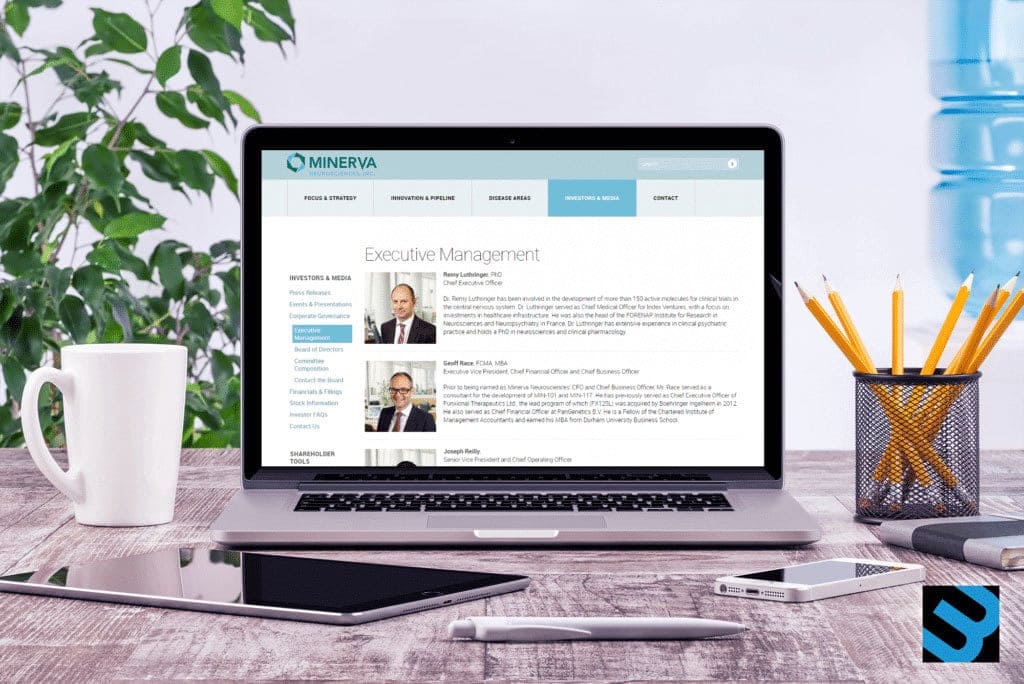 The improved Minerva Neuroscience website provides site visitors with an informative and unique experience that sets it apart from other Central Nervous System research sites with up-to-date information on new pharmaceutical therapies and research within the field.
"Minerva is an emerging company in the central nervous system space whose identity was significantly defined by new clinical data generated during the design phase of a new web site.  We worked closely with 3 Media Web to shape a design that captures the excitement of the company in a clean and direct fashion, balancing selected images that represent disease states with clear and uncluttered graphics that encourage the visitor to grasp key messages quickly.  The site allows for readers to connect directly between the Company's compounds in clinical development and the diseases they target.  In addition, the over-arching strategy of the company is highlighted in a separate section that includes a President's letter and is echoed on other pages.  Throughout the process we viewed 3 Media Web as a true partner and came to rely on their sophisticated design expertise and communications insights.  We found them highly responsive and able to make valuable contributions throughout our engagement.  We look forward to continuing our relationship indefinitely as updates are required."

William Boni – Vice President, Investor Relations and Corporate Communications at Minerva Neurosciences, Inc.
Join Our Email List
Sign up to receive our newsletter