Town of Westborough Website Development Showcases Local Business
The Client: Town of Westborough Economic Development Committee
The Westborough Economic Development Committee (EDC) promotes business development in the town, works with businesses wishing to locate and or expand there, provides advice to the Board of Selectmen on economic development policy, and works cooperatively with businesses and state agencies to retain current businesses and attract new business and development to Westborough. The Committee consists of town officials and four appointed business leaders from companies in the Town of Westborough.
Challenge: Needed Hub for Shop Local Campaigns
Westborough EDC needed to create a searchable and filterable online directory for businesses in the town of Westborough. This resource needed to be a central local business information hub to connect customers, civic organizations, and other businesses. Impressed with our work on the 495/MetroWest Partnership website, the client sought us to help them with this project.
Solution: Launched Intuitive Site with a Searchable Shopping Directory
The 3 Media Web team kept in close contact with the client, collaborating via weekly meetings to create a design and basic branding for the new website. The recently launched site with all new page layouts has a clean, engaging design that showcases the business community and is easy to navigate and use.
The centerpiece of the new site is a company database that makes locating a business in Westborough a breeze. The custom database includes tags, filtering, and an inclusivity section showing whether the businesses are minority-owned, veteran-owned, or woman-owned. The Directorisdt Plugin supplied the base for the directory, cutting down development time and then making it possible for us to manipulate the code to fit our client's needs. Akismet anti-spam is used for forms to avoid fake database entries.
To enhance the usability and visual design, we used Google Maps API to display maps and plot map markers, allowing users to easily click the location and pull up the directions in Google Maps.
We also educated the client on best practices for collecting business entries and taught them how to use a Google Form for this task. And we provided basic WordPress training, including how to update database entries and make changes to their site.
We accomplished all of this in three months from kick-off to launch.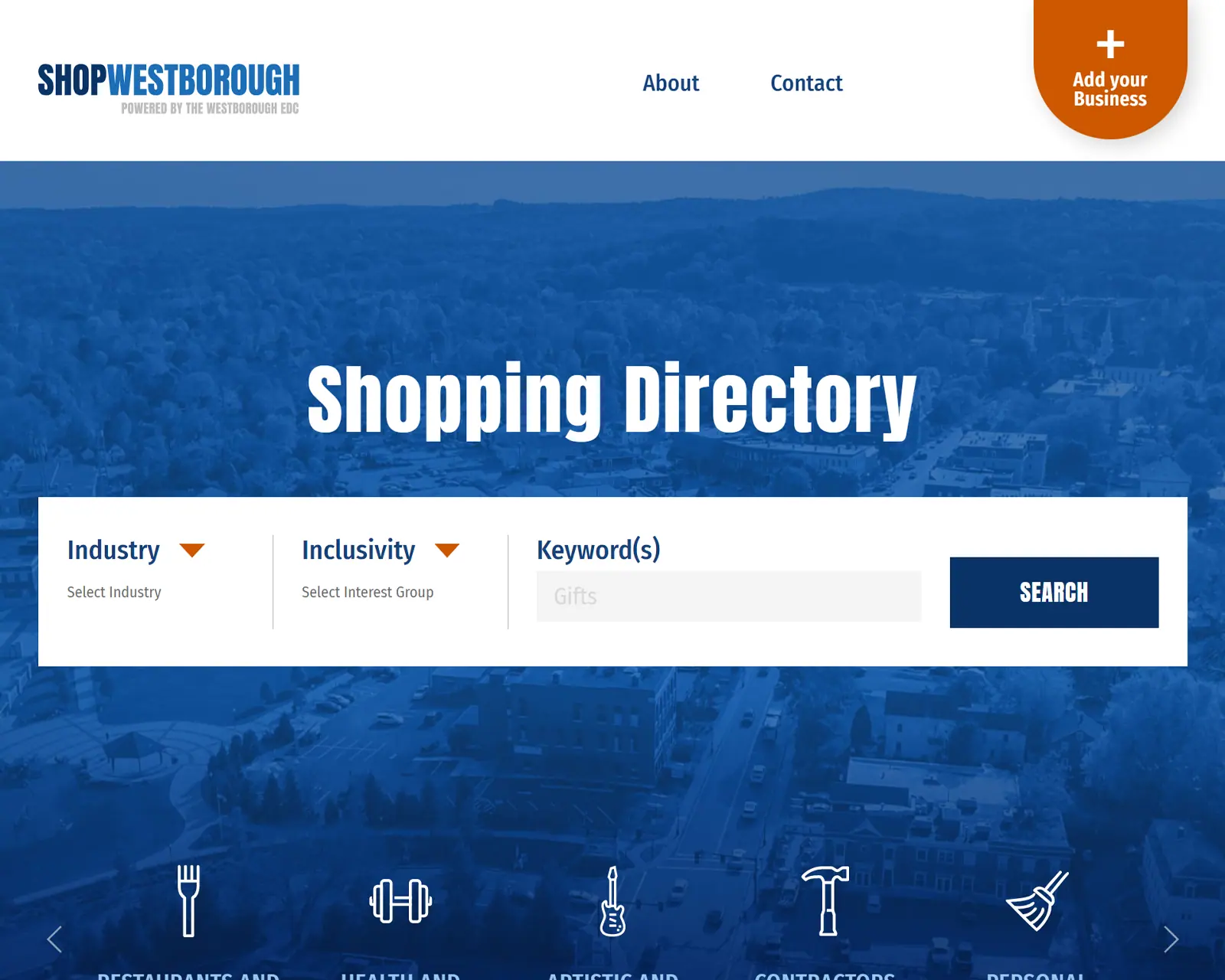 ShopWestborough Homepage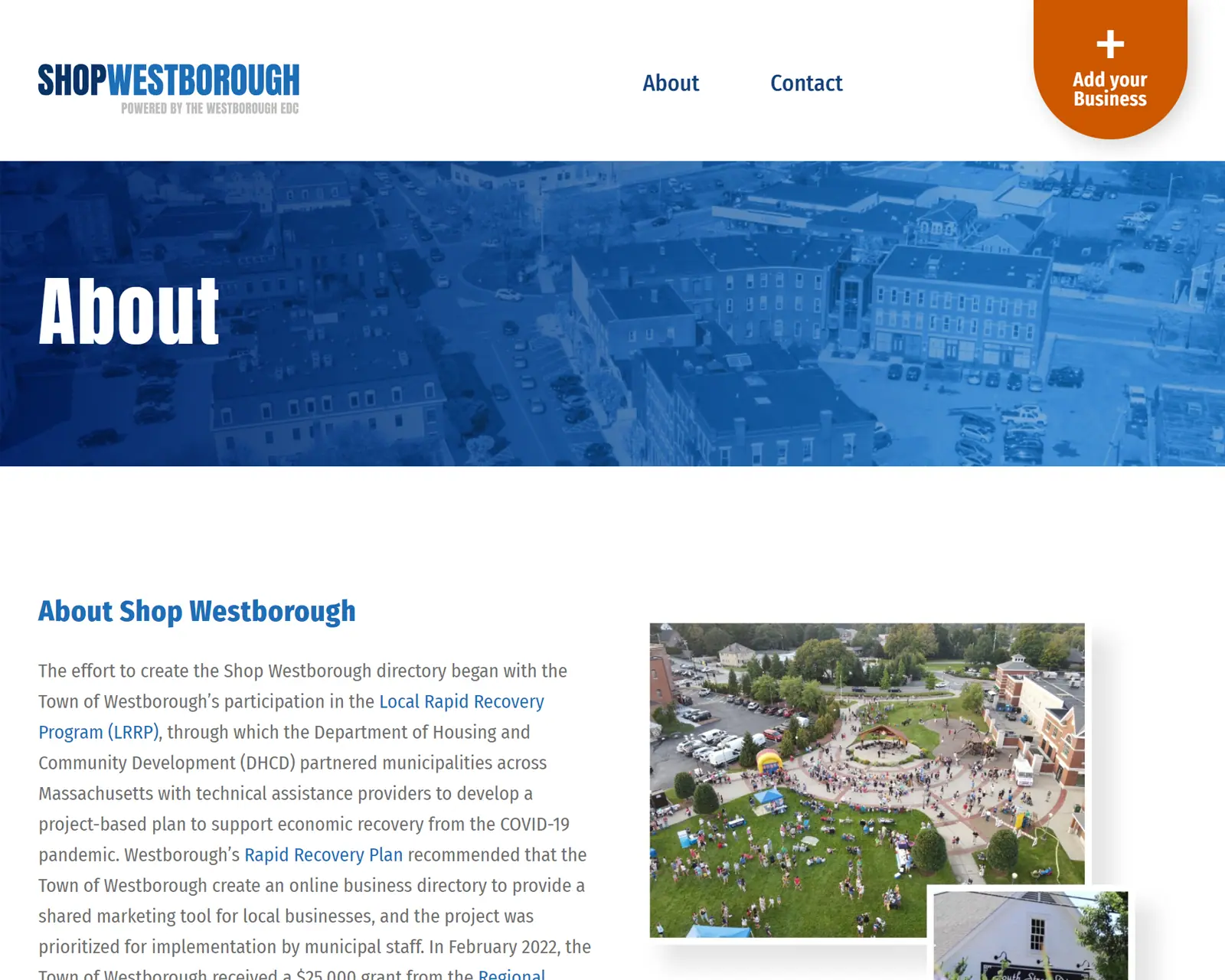 ShopWestborough About Page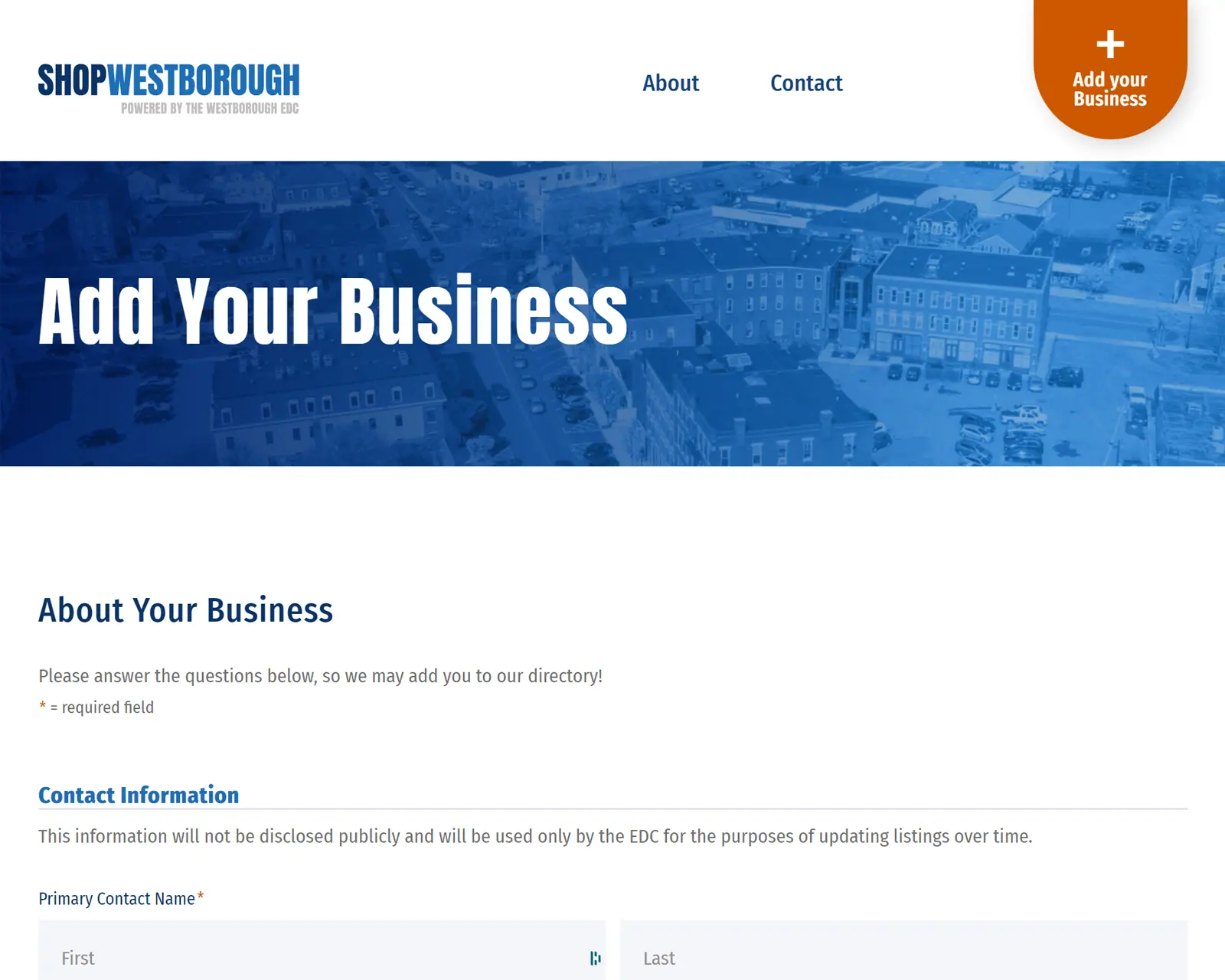 ShopWestborough Add Your Business Page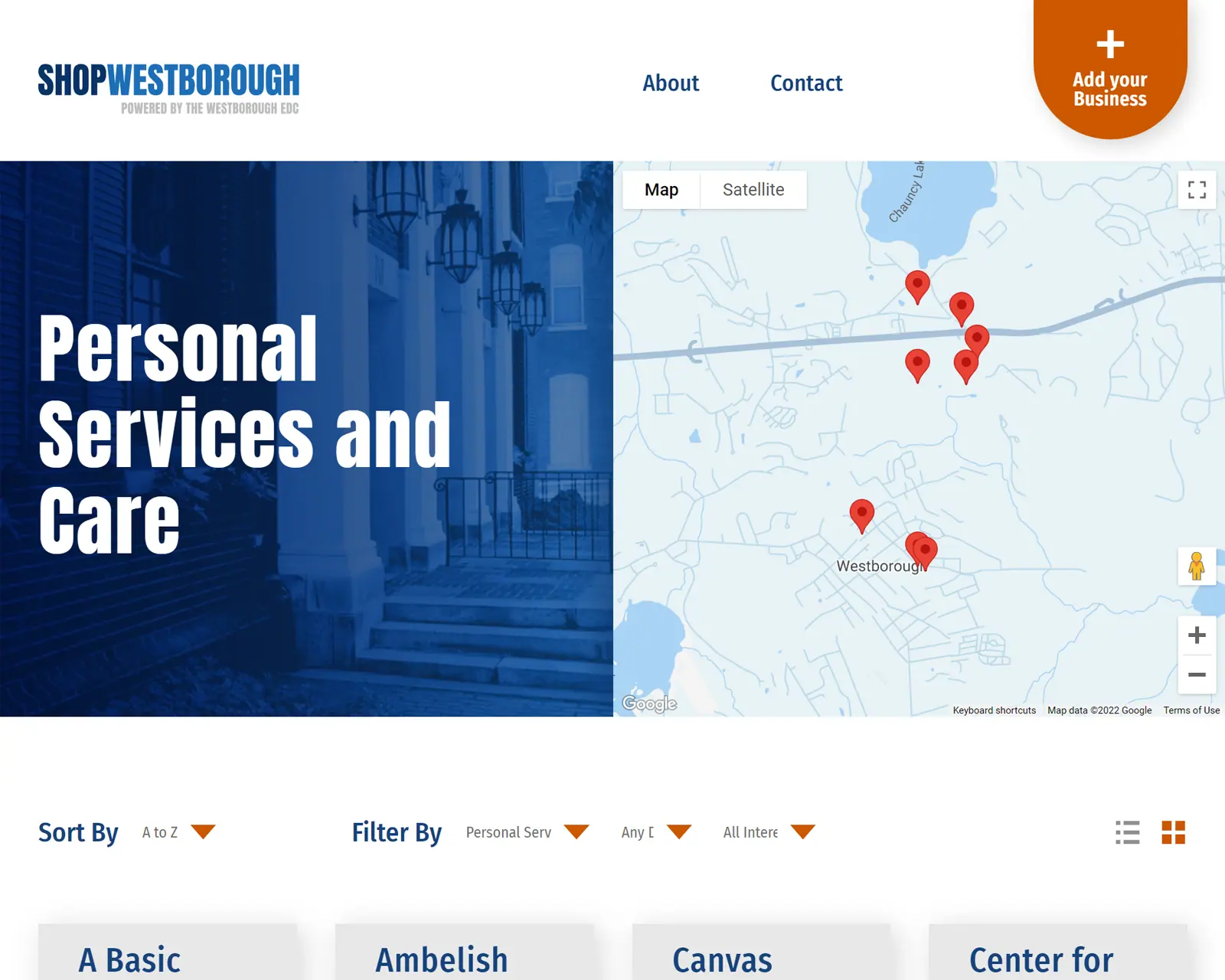 ShopWestborough Filtered Page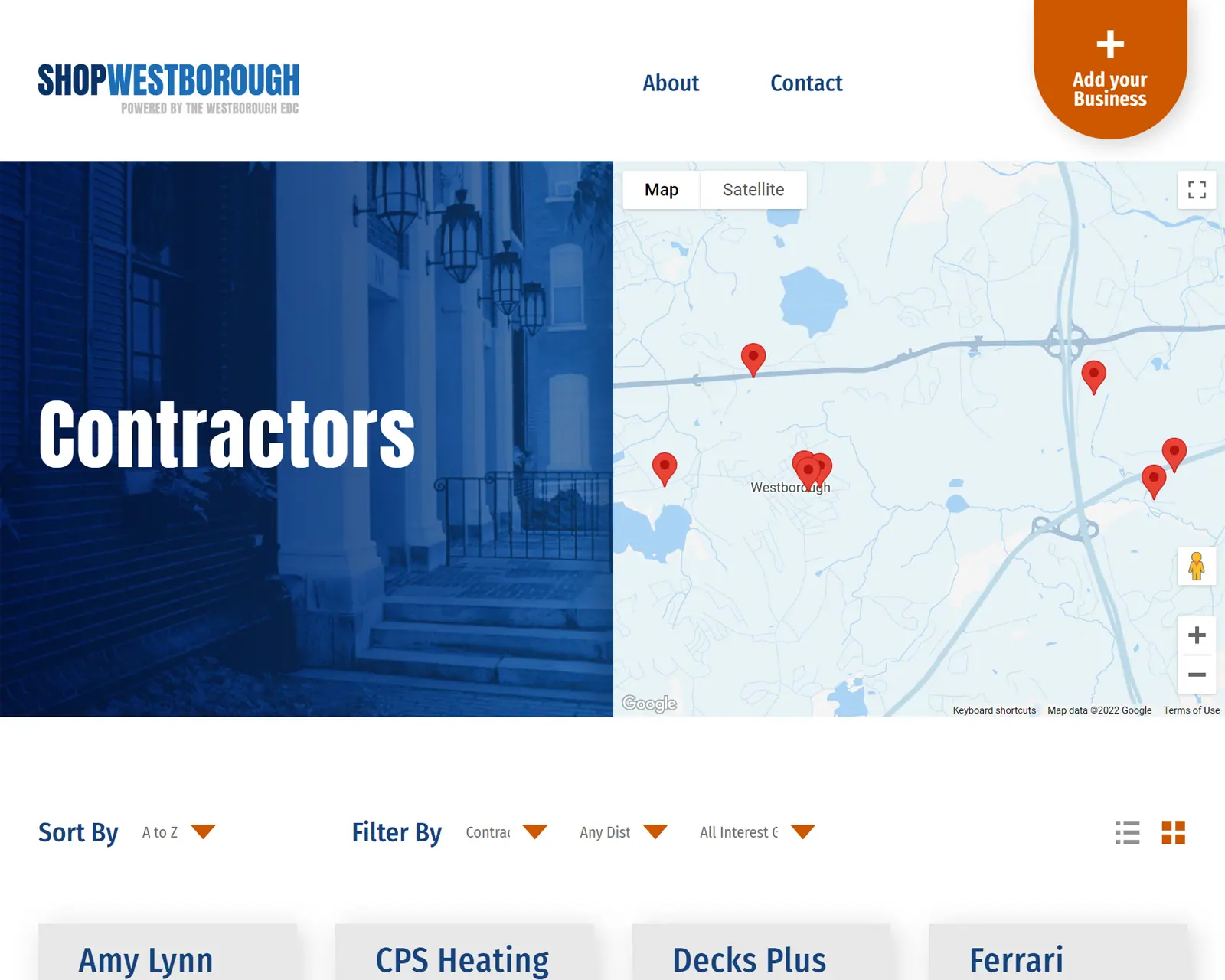 ShopWestborough Filtered Page
The Results
Westborough EDC has had over 170 businesses sign up for the directory, which attests to the community's excitement for this resource and the quality of the product. Westborough residents can easily search local businesses and see where they are on the map. The client can add directory listings for the town to help with their shop local campaigns and easily remove listings.
The simple logo complements the existing branding for the Westborough EDC, allowing them to brand marketing materials related to the new Shop Westborough site while keeping a cohesive look and feel with the parent organization.
"The design and the final product exceeded our expectations," states Zachary Boughner, Economic Development Coordinator, Town of Westborough. "They delivered on budget and met our expected launch date. … I was impressed with the finished product; 3 Media Web's work speaks for itself."
Join Our Email List
Sign up to receive our newsletter