3 Media Web Transformed Union Installations Outdated Website Design
Quick Summary:
In addition to improved user experience, a streamlined sitemap, and an updated look, we also took additional measures to improve the site's SEO.
Union Installations is a leader in the office furniture installation niche. Their services include installation of office furniture, demountable partitions, commercial shelving, fixed seating, and more, but their old website design didn't reflect it.
With over 30-years of industry experience and a roster of highly-skilled union carpenters, Union Installations is a trusted name to furniture dealers and manufacturers, as well as general contractors and their clients.
The Challenges: An Outdated Website & Lackluster SEO Performance
When Union Installations contacted 3 Media Web they had several issues with their old website they wanted us to address: 
Challenge 1: Modernize The Website Design
First, the site was a bit on the older side, making it difficult to update. This was a non-starter for our client, so it was a priority to make the back-end Content Management System (CMS) very easy to update for them.
Another priority for Union Installations was giving the site an on-trend, modern look. It was important to the client for their redesigned website to look visually impressive, complete with "eye-candy" photos to please their design-focused customers. 
Challenge 2: Allow Customers To Get Quick & Easy Quotes
After some market research and testing, Union Installations found potential customers will request quotes from several office furniture installers then choose the lowest one. 
As a result of their findings, Union Installations requested a quick quote feature to be added to their site. The quote tool needed to make it as simple as possible for customers to get quotes quickly.
Challenge 3: Improve SEO
Finally, Union Installations saw the website redesign as an opportunity to boost their website's SEO. Specifically, they desired a stronger web presence, to rank on top of the search results, and make it easier for targeted customers to find them.
On top of that, they wanted to begin exploring an untapped market of general contractors and wanted to include steps in their SEO strategy to start expanding that market. 
The Solution: A Modern Look, a Quick Quote Tool, & Better SEO
First, we had a discovery kickoff meeting with the client where we got to know more about them as a company, the issues they were facing, and their vision and goals for a redesigned website. During this meeting, we developed a creative strategy and established project milestones to guide the website design project forward.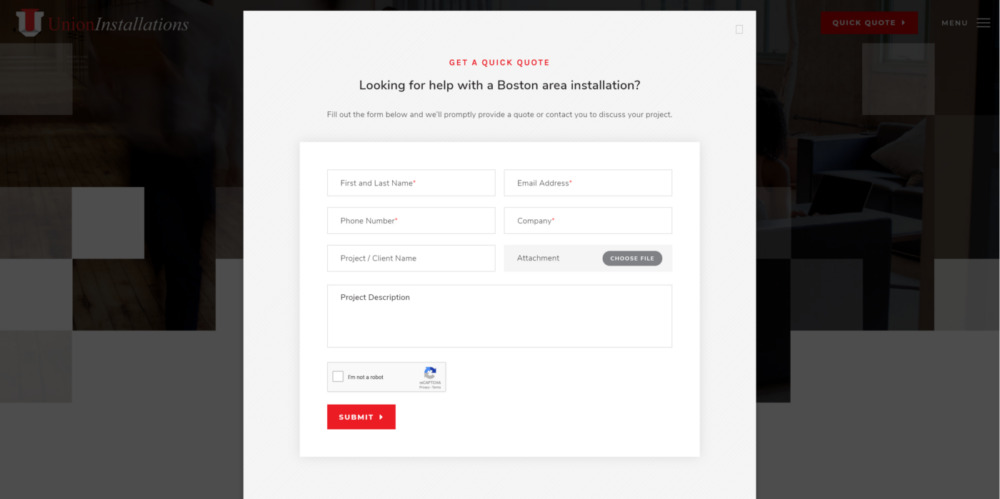 In the spirit of collaboration, we continued to have weekly meetings with the client throughout the entire design and planning process. In these meetings, the client was able to provide us with feedback on our work, ensuring they were happy with the results every step of the way.
Here's how met the client's expectations and delivered them the website they'd envisioned:
We spent significant time fine-tuning the design to make it perfect for the client. Multiple rounds of reiterations meant a slightly longer design phase than a typical website design project.
Our hard work paid off.
The resulting design created a more visually appealing web presence. This allowed Union Installations to showcase their work in a professional way that was up to par with their commitment to quality design.
We also created a more intuitive user experience by drafting and incorporating a more streamlined sitemap. 
The homepage became the site's most prominent feature with beautiful imagery and, most importantly, a contact form at the bottom of the page to make it easy for customers to get quick quotes. 
We also created a custom WordPress theme for the client to satisfy their requirement for an easy-to-update CMS. 
Now, thanks to the custom theme, making updates to their site is much easier for the client.
In addition to improved user experience, a streamlined sitemap, and an updated look, we also took additional measures to improve the site's SEO. These included adding properly formatted page titles, image titles, alt tags, and more.
The Results: A Professional Website Design That Earns More Leads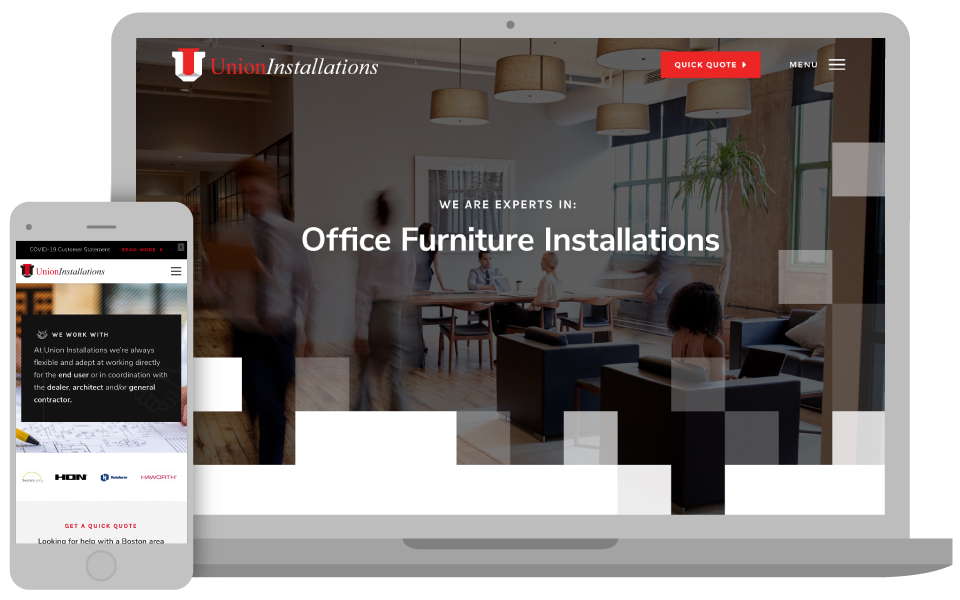 After just two weeks of quality assurance testing, the newly redesigned Union Installations website was ready to launch. Although we had to create a new Google Analytics account for this site and are still waiting a period to see more quantifiable results, Union Installations has a lot to look forward to.
Not only are we expecting them to see an increase in the number of quick quotes they receive, it's projected that their website redesign and SEO improvements will also earn them more clients over time.
If your company website could benefit a website design, don't hesitate to contact 3 Media Web to see how we can build a custom strategy to meet your needs. Our experts are here to help.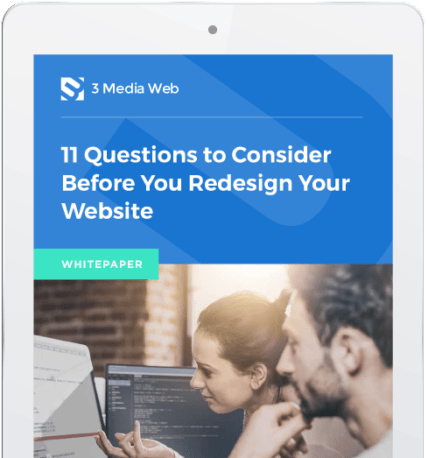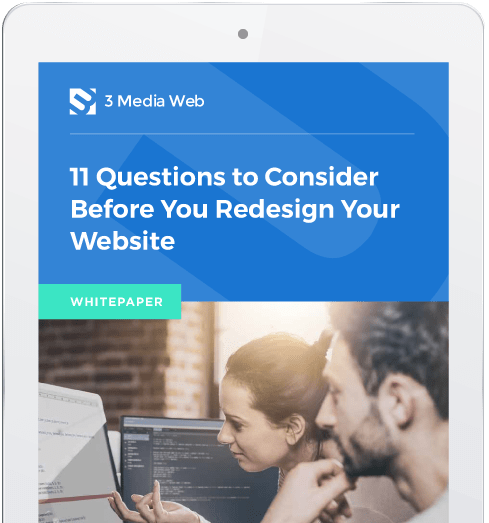 Join Our Email List
Sign up to receive our newsletter