We Won a 2019 Local Excellence Award from UpCity!
Quick Summary:
The Local Excellence Awards are presented to the top 20 businesses on UpCity, in their highest performing regions.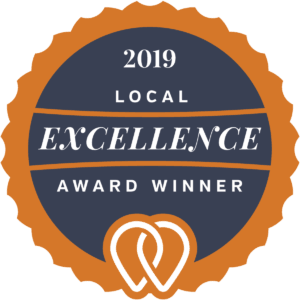 Guess what! — All of us at 3MW are super excited that we can FINALLY announce that we are one of the top service providers in Boston, according to UpCity: we won a 2019 Local Excellence Award!
The announcement went public over the weekend, and we've been dying to hit the publish button on it ever since.
And since Labor Day weekend is over, and INBOUND is starting up in Boston today, we thought now's the perfect time to spread the word about this awesome news.
Here goes!
---
How we won it
Well, technically only UpCity could answer that, but we have a pretty good idea. Shall we count the ways?
Our best guess looks like this:
Let's get into it.
First: reviews.
First, we have a 100% positive rating on UpCity. That's based on 10 reviews, collected over several years of being listed on UpCity.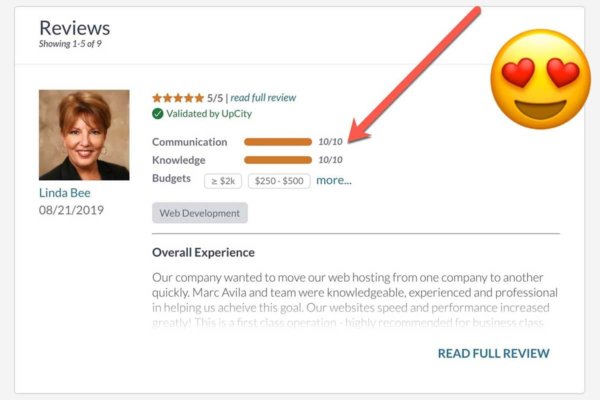 We collect reviews as often as possible, on UpCity, Clutch, Google/Facebook, and a number of other places.
The importance of reviews and testimonials can't be over-stated. They are crucial.
We even got a request last week from an SEO link building company offering us some pretty serious backlink equity in exchange for a 5-star rating.
Reviews matter.
Second: featured lists.
Second, we're featured on 49 different lists on UpCity's marketplace. Check out the spread—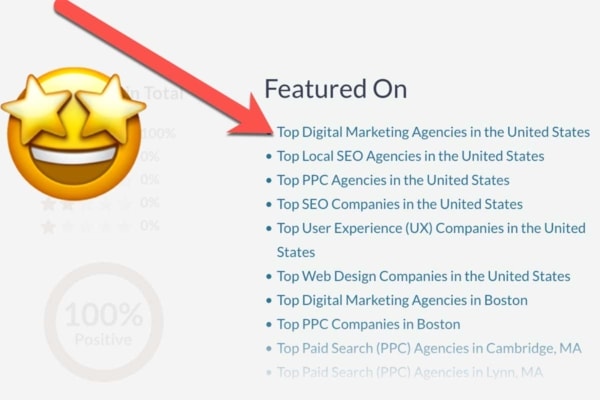 Some of our favorites include:
Top Digital Marketing Agencies in the United States
Top Local SEO Agencies in the United States
Top PPC Agencies in the United States
Top SEO Companies in the United States
Top User Experience (UX) Companies in the United States
Top Web Design Companies in the United States
And THEN there are all the Boston-area lists.
We can't actually take any credit for these lists—not directly, anyway. But the fact that UpCity chose to include us on 49 of them says a lot.
Third: guest posts.
Third, we've partnered with UpCity to publish some detailed how-to articles on their blog.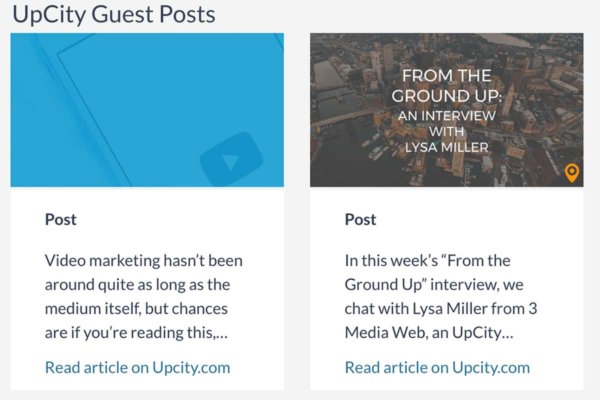 As of today, we've written 3 articles for UpCity—hopefully with more to come! Here's my personal favorite (wink!).
This is the secret sauce. Partnerships and collaborations like these are worth their weight in gold.
Fourth: awesomeness?
We can only assume that, on top of the reviews, the featured lists, and the guest posts, they chose us because we're generally all-around awesome?
I mean, what else do you need?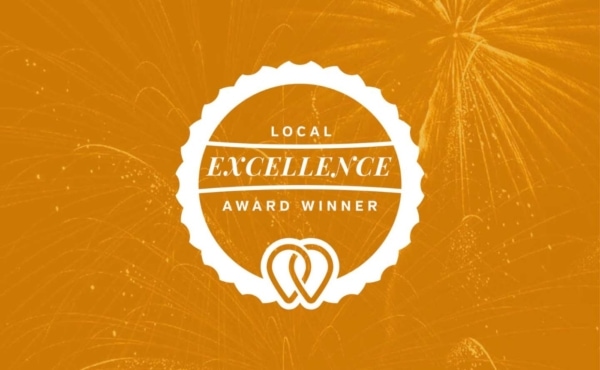 Ok, but what is a Local Excellence Award?
Great question. And we kinda wondered the same thing at first.
So we asked. And, according to UpCity, the Local Excellence Awards are presented to the top 20 businesses on UpCity, in their highest performing regions:
Atlanta
Austin
Boston
Chicago
Dallas
Denver
Houston
Los Angeles
Miami
New York
Philadelphia
San Diego
San Francisco
Seattle
Toronto
UpCity's Local Excellence Awards honor the top 20 service providers in Boston, based on their Recommendability Rating.
That's the name UpCity uses for their algorithm that measures a business' credibility, "recommendability," and reputation, based on digital signals.
The cool thing about 'Recommendability'
We've won other awards, a few times actually—and it's awesome, every single time.
But this time is especially cool because we get to geek out on the methodology.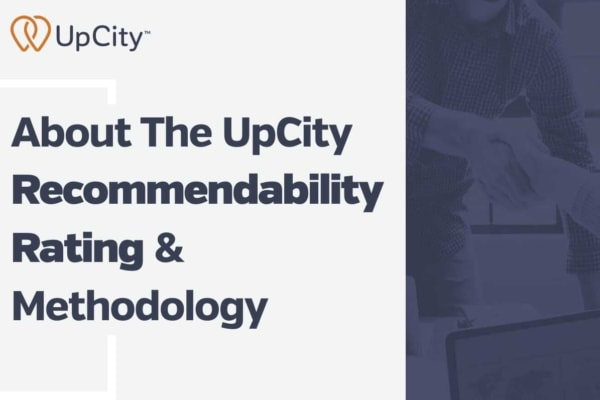 UpCity's Recommendability Ratings can't be purchased — just like Google's search results or the infamous Yelp ratings.
Instead, the ratings rely solely on elements of a service business' reputation that affect their clients.
Being a web and digital marketing company ourselves, these ones are our favorite examples:
Domain authority
Organic search presence
Website speed & experience
Engagement rate
But UpCity goes pretty deep in this Recommendability algorithm.
They use 8 factors to calculate it, including stats from both within the UpCity marketplace and external sources.
UpCity Profile Completion — UpCity lists over 33,000 provider profiles. Profiles highlight nearly 40 data points on each provider, including services offered, target markets, price points and more.
UpCity Engagement Rate — Engaging in our marketplace community increases a service provider's chances of getting recommended. UpCity has over 9,000 active service providers.
UpCity Reviews — The reviews on UpCity provide an in-depth view of how a service provider's customers feel about them and their services and are a key component to how likely UpCity is to recommend a provider to businesses in the marketplace. Both quantity and quality of reviews are considered in the algorithm. UpCity has collected 9,000+ in-depth reviews capturing specific feedback.
Third Party Reviews — The reviews on other review sites like Google My Business, Yelp!, and Facebook also give UpCity a good view of how customers feel about a service provider. Both quantity and quality of reviews are considered in the algorithm. We utilize over 70,000 third party reviews of our marketplace providers.
Presence in Search Engines — This signal measures how prominently a service provider ranks in search engines and is a good indicator of overall authority and domain expertise. To this end, UpCity is tracking over 56,000 industry keywords to determine which providers are doing a great job in their industry and geographic region
Business Location Data — We confirm that contact information in local listings sites like Yelp!, Google My Business, and Facebook is consistent with an agency's UpCity listing. We current track 10 data points for 33,000+ service providers to understand how well they are representing themselves at the local level.
Domain Authority — UpCity uses a trusted domain authority metric as a predictor of how much authority a provider's domain has in the eyes of Google and others. We then take this metric and statistically normalize across our marketplace.
Website Speed & Experience — The speed of a provider's website can have an impact on prospects' first impression of the business. Tools like Google's PageSpeed scoring can provide businesses with information on how to improve this score.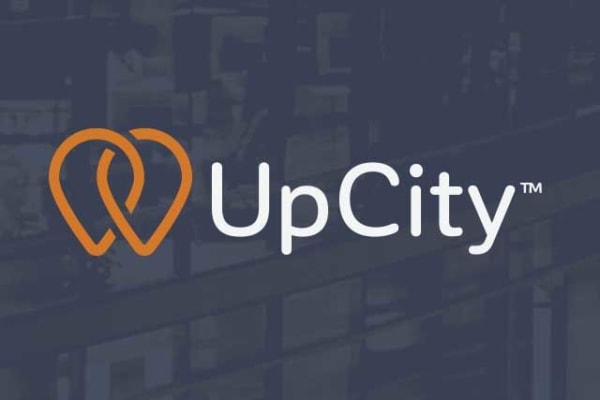 Thank you, UpCity!
If you've never heard of UpCity before, you've got to check them out.
Their 'marketplace' helps people find businesses they can trust, from marketers to accountants to HR professionals—and everything in between.
Thank you, UpCity team for this fabulous award!
Join Our Email List
Sign up to receive our newsletter