What Responsive Web Design Can Do For Your Business Website
Responsive web design — the work that goes into making a website display effectively on every device — is a great way to keep your brand consistent across platforms. At the same time, responsive design offers other benefits that you're probably aiming for anyway. If you haven't updated your website so it's responsive, your company is missing out on some big benefits. Here are some benefits responsive design brings to your website beyond simply looking good.
4 Reasons to Use Responsive Web Design on Your Website
1. It Improves SEO
"Bottom line, delivering a website optimized for mobile is no longer a 'nice to have,' it's a need to have. Since April 2015, Google algorithms now favor websites that look and perform better on mobile devices, making them appear higher on search results. The mobile revolution was nearly 10 years ago; a website that doesn't acknowledge that will not age well.
If you are now saying to yourself, 'I frequently update the content on my site, but do I have the time to manage two sites?' you may want to consider a responsive design for its ease of updating and administration efficiency. But, if you are thinking, 'All I need is a clean, user-friendly mobile website with limited content,' then a mobile-specific site might well be your best bet." — Read more at iMarc
2. It Leads to More Conversions
"Even website conversions on mobile browsers are inching where desktop browsing experiences are. According to Monetate, website visitors browsing on desktop computers convert at 3.11%, smartphones at 1.01%, and tablets at 2.59%. These conversions are nothing to sneeze at. According to an Econsultancy User Experience Survey Report, 62% of companies polled saw a 62% online sales increase once they made their website mobile-friendly with responsive web design. E-commerce giant Webundies.com (yes, they sell underwear) were pleasantly surprised by a 169.2% increase in online sales once they implemented a responsive web design." — Read more at Anabolic Technology
3. It Provides a Better UX
"In today's saturated market, user experience is more important than ever. Your website is often your first impression (and sometimes only experience with your brand), and if users can't navigate your site easily, they are likely to go elsewhere. With estimates of 50% of web traffic coming in through mobile devices, you mustn't be missing out on potential business opportunities. If something were causing half of your customers not to be able to access your business, you'd consider making a change. This should be no different." — Read more at Business2Community
3. It Adds Design Versatility
"Once style and content are tied together, so they are 'semantic,' layout can be much more flexible. Typography displays the 'relationships' of your content, and layout changes how it 'flows' without changing the order. Having strong typographic principles allows you to move your content around more freely without breaking what it means. Good typography combined with clear prioritization of mobile devices will allow you to be more flexible with the layout at different screen sizes." — Read more at Econsultancy
Bonus Reason: Google's Algorithm Says Responsive Design is Essential
Google has said it uses a site's mobile-friendliness as a search ranking factor. The dominant search engine will implement the change on April 21, and as the date approaches, companies are trying to figure out how best to optimize their mobile sites to ensure good rankings.
We've discussed the importance of responsive design — and Google's move makes it essential for most business websites. This week, I've rounded up some articles exploring Google's decision and offering advice on how best to optimize your website.
How to Meet Google's Mobile-Friendly Requirement
SEO: Google to Make 'Mobile-friendly a Ranking Signal. Practical Ecommerce: "'Real time' means that you can expect to see the mobile ranking benefit of making your site mobile-friendly right away. The next time Googlebot crawls your pages and determines that they are newly mobile-friendly, the mobile-friendly ranking algorithm will kick in for those pages. This is excellent news because some algorithm updates have been processed monthly or in unknown time cycles and applied to the algorithm in batches. Beware, though, because real-time also works both ways. If an update were made to your site that makes pages unfriendly, the mobile-friendly ranking algorithm would kick in for those pages the next time your site is crawled."
Is Your Website Ready for Mobilegeddon? Aleweb Social Marketing: "Ensure your website uses a mobile-responsive theme. This means that the theme instructs the device on configuring your content to be displayed to maximum effect based on the device in use. It's less maintenance long-term, but if your existing theme is not mobile-responsive, it could mean you're trying to get a site redesign done in the next five weeks. That most effort and more money to be spent now, but with a greater long-term benefit. Thankfully, if your existing theme is already mobile-responsive, then it's just a matter of working your way through the issues identified by Google to ensure that your design is working to maximum effect."
Go-Mash: "You don't need to be a rocket scientist to know that mobile phone screens are generally smaller than desktop computer screens, so make sure your text size is big enough to read on the smaller screen. Zooming in can be fiddly and annoying, so keep it readable. Fat fingers or even regular-sized fingers can have real trouble picking out a closely surrounded by clusters of other links. Keep the links on your page spaced out. If you have a detailed layout that goes wider than the average mobile screen and therefore requires the user to scroll left and right, you're not offering a good mobile website experience."
Websites Lacking Mobile Optimization and Responsive Design Will Lose Search Visibility – Google Confirms. Zog Digital: "These algorithm changes make the need for companies to have a responsive site design necessary, rather than a nice commodity. While Google isn't initializing a penalty on websites that fail to be mobile-friendly, ones that do will certainly receive a ranking boost. And businesses that fail to adapt to this change will rank far below those that do adapt. Although a responsive design site won't improve a website's ranking, it should prevent any major drops in ranking power."
Take a Page From MTV: Reevaluate Your Web Design. The American Genius: "The web designers at MTV recently restructured their video and news pages using responsive web design, with remarkable results. After redesigning its video page, the site saw a 92 percent increase in visits via mobile devices, a 55 percent increase in the number of pages each user views per visit, and a 297 percent increase in the amount of time spent during each visit."
Is your business website mobile-ready? Reach out to our expert team of website developers and web designers today to get your site up to par with your competitors.
How to Apply Responsive Design Correctly to Your Website
Google's announcement that it would use a site's mobile-friendliness as part of its search ranking algorithm has spurred many businesses to change their sites. If you're still looking into how best to apply responsive design principles to your web presence, check out these articles. They can help ensure that you get the most out of responsive design — and visitors get the most out of your website.
Applying Responsive Design Correctly to Your Website
Responsive Web Design Makes an Inefficient Design Too Darn Easy. Computerworld: "The problem with responsive design is that it is far too easy to sit back and let the algorithms make the decisions. To be fair, the resultant pages generally look fine. But what they rarely are is as efficient as possible since that requires human judgment. With responsive design, there is a similar blind spot. The site/Web page looks good. But there's no way for the e-commerce team to know how many customers left because of the slow response. They'll never know how many dollars would have otherwise been spent with them."
Is Adaptive Better Than Responsive Design? The Next Web: "While responsive design is often one design that has slight variances from device to device — for an overall universal look and feel — adaptive design is slightly different. With adaptive design, the 'magic' is that the device and device-specific features are detected, and a website is served to the user based on that information. The result is a custom-made website for the user's device, but it can sometimes result in a less consistent cross-device experience than responsive design."
Pros & Cons of Responsive Landing Pages For SEM. Search Engine Land: "A responsive page is much more effective at utilizing social/sharing SEM tactics. Because it is one page designed for all screen sizes, you don't have to worry about how it is being shared and viewed on phones, laptops, and other devices. If a user shares a mobile URL on Facebook, for example, friends on desktop devices may be directed to that mobile URL when they click, which makes for a poor user experience. Similarly, a visitor may be on the go and send themselves the URL to view at a later time (and potentially on a different device)."
5 Responsive Design Pitfalls and How to Avoid Them. SitePoint: "If you're testing your websites with a browser-based mobile emulator, sometimes the emulator itself can become confused. This is one of the trickiest errors because you'll see a problem even though nothing seems wrong with your code…In situations like these, it's important to ensure nothing is wrong with your code. I suggest isolating the problem area and seeing if the code works by itself. If the code works, then try it on a real mobile device. If it works there, then there's a chance your emulator might be the source of the problem."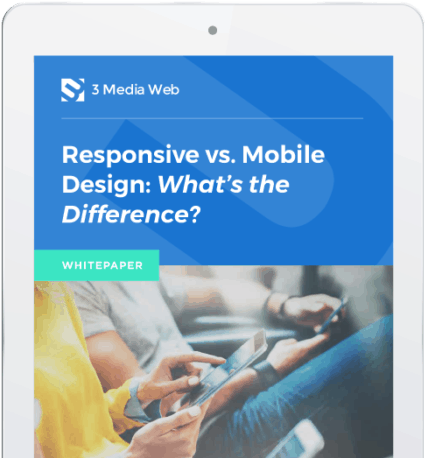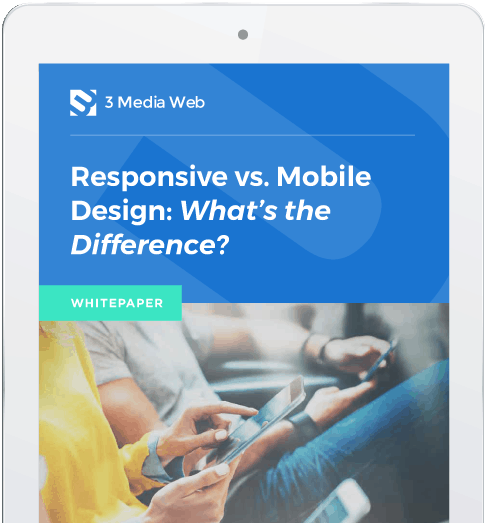 Start Using Responsive Design
Responsive design isn't just a good idea, now it's essential. Both search engines and users on your website expect it to be mobile-first. Reach out to 3 Media Web to get your business website mobile-ready.