Arcade Snacks Ups their Game with 3 Media Web
Quick Summary:
Combined PPC and SEO campaigns resulted in sharp increases in business. Arcade Snacks had to make adjustments to keep up with the demand.
The COVID-19 crisis was the motivation Arcade Snacks needed to update their digital approach. With a brand new web presence by 3 Media Web launched, focus turned to increasing brand awareness and attracting motivated buyers to the groovy new site.
The client had a limited budget for this pay-per-click (PPC) campaign. Other challenges emerged as the 3MW team was diving into work–namely that the data collected from the Google Merchant Center was inaccurate, and the correct ads were not always displaying.
What we did
We focused on creating two targeted campaigns:
Retail – We called on Google's AI to share some of the heavy lifting. Our team created audiences while observing the AI for our client to double down on in the future.
Wholesale – This was the most hands-on part of the PPC strategy. We tested keywords to find those with the best ROI. We then emphasized the highest converting keywords, resulting in campaign success.
How do we know we were successful? The combined PPC and SEO campaigns resulted in such a sharp increase in business that Arcade Snacks had to make adjustments on their end to keep up with the demand. And that's a good problem to have.
RELATED: How We Helped Arcade Snacks Improve Their Customer Retention and Increase Sales 
Our work hasn't stopped since the campaign strategy was implemented. We continue to partner with the client, helping educate them on the finer details of the PPC campaign strategy and working with them to create an improved workflow that marries their website sales into their standard store order process.
The results speak for themselves
Increased website traffic – Since its launch, the PPC campaign that 3MW created and implemented has contributed 35% of Arcade Snacks' overall site traffic.
Big results, small budget – The PPC strategy put in place by 3MW provides tangible proof of ROI for our client, paying for itself as it generates more revenue (9:1) than it costs in ad spend.
Valuable marketing insights – Long-term historical data from the entire PPC campaign will continue to provide fresh, valuable insights related to customer preferences, best-selling products, and website ROI.
Qualified leads and more conversions – The longer the Google Algorithm learns the account, the better it will become at finding the right customers interested in products from ArcadeSnacks.
Arcade Snacks is thrilled. The happy client states, "3 Media Web has been amazing to work with. We came to them at a critical time in our business–we needed to provide our customers an online shopping experience, and our timeline was short. 3 Media provided us with a detailed timeline and followed through on everything that was promised. As of today, sales are soaring, and they continue to supply us with the support and attention needed."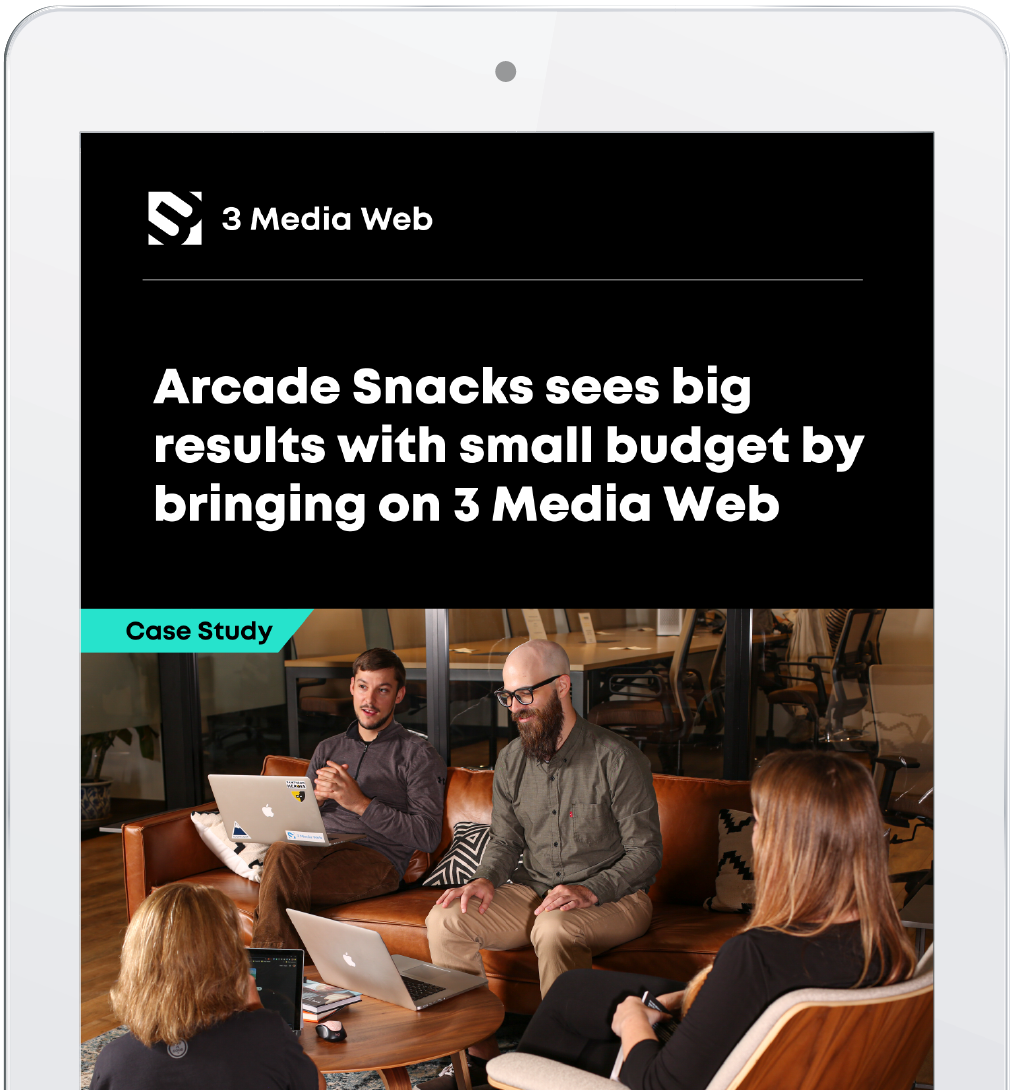 Join Our Email List
Sign up to receive our newsletter