Website Launch for Leader in Advanced Metal-cutting Machine Tools: Hardinge, Inc.
Quick Summary:
Working with Red Javelin, 3 Media Web created an efficient and easy-to-navigate website that unifies multiple brands.
Hardinge, Inc. brings innovation, precision, and accuracy to the most demanding metal-cutting applications. Said, they sell big machines and the parts that make them work. An international manufacturing provider of advanced metal-cutting solutions, Hardinge offers a full spectrum of highly reliable CNC turning, milling, and grinding machines, as well as technologically advanced work holding and machine tool accessories. Its global footprint spans 65 countries and 6 continents and works in the aerospace/defense, automotive, medical, and mold & die industries.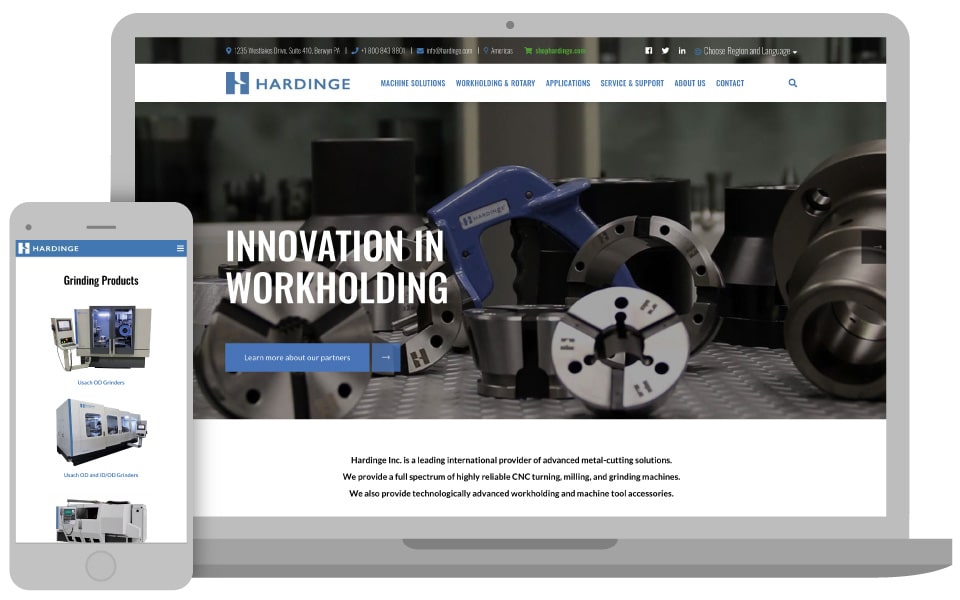 A Joint Project
Red Javelin Communications brought in 3 Media Web, a marketing & PR agency focused on emerging growth, B2B, and industrial companies, to handle the website redesign. Red Javelin was charged with helping to centralize the company's global marketing efforts, new messaging, website content and provide ongoing PR support.
"When we needed to choose a partner to work with us on this large website project, 3 Media Web was the obvious and easy choice for us," said Dana Harris, co-founder, and principal at Red Javelin. "Their process, creativity and 'do what it takes' attitude worked to meet the needs of a global manufacturing business with thousands of SKUs, multiple language requirements, and a tight deadline."
Red Javelin worked to identify key buyer personas and developed a messaging blueprint as a basis for the company's corporate communications. 3 Media Web inventoried all the Hardinge company websites to create a master template to ensure that the required functionalities for all brands were included in the new website. Red Javelin worked to refine the navigation to be more aligned with its personas, was involved in the project and client management and created new website content across the new site.
A Master Template
3 Media Web inventoried all the Hardinge company websites to create a master template to ensure that the required functionalities for all brands were included in the new website. The master template features "modules" with specifications for images, text, page bands, sliders, testimonials – everything needed to design a page. The Hardinge master website now has the flexibility to add pages for newly acquired companies that maintain the uniform design and provide the specific functions each requires. The tight design of the new website conveys the comprehensive story of Hardinge, Inc., whose expansion is worldwide and growing.
A Complex Story Made Clear
With rapid growth, a series of acquisitions, and various well-known brands under the company's umbrella, Hardinge was challenged with managing over 25 different websites, many operating as stand-alone entities across various regions globally. Hardinge wanted to create one global website that would unite all the Hardinge brands and provide one global brand identity. A key goal was to centralize its various sites, improve key customer touchpoints, and make it easier for customers and OEMs to do business with them. In addition, they wanted a site that could grow as Hardinge adds new brands while maintaining their individuality. Hardinge also wanted to create a consistent message and increase visibility for the company with a PR program.
The HOME Page
The HOME page features a "hero" image slider that immediately gives the web visitor a glimpse of the company's variety of solutions. Multiple links bring the web visitor where they need to go efficiently and quickly. Whether browsing the site or searching on application, industry, brand, or product, the reader receives comprehensive information and calls to action.
Clients Worldwide
Hardinge, Inc. works within the Aerospace/Defense, Automobile, Medical, and Mold & Die, industries worldwide. The website features each industry and the brands and products specific to them. A key goal was to add foreign language translations for the company's international audience and accommodate their customers worldwide.  The Hardinge, Inc. website opens with a prompt for the visitor to select a region and one of 10 languages, including four Asian languages for those in countries where Hardinge, Inc. has had the most growth in the last decade. Foreign language translations were achieved with an integration to a cloud-based translation service that localizes all their content.
Comprehensive, Yet Easy-to-Navigate Information
The Home page main navigation bar links the company's key product lines to a page that shows a specific machine operation (for example: grinding) and then drills down to information with specific types of grinding applications … to brands and a product slideshow … to a brand page with a Call-to-Action, technical data, features, and controls … and finally, to a brand catalog that can be downloaded.
A History Since the 1890s
The About Us section leads with an image-only video that shows, without narrative, the company today and its beginning more than a century ago. A sub-page features a  graphic Timeline in Who We Are that illustrates the company's history since it began as Hardinge Brothers in the 1890s. Biographies of key management are included here, an invitation to job seekers to join the Hardinge family and a link to the listing of all the company locations.
Contact Us Made Simple
With so many locations, the Contact Us page was designed with efficiency in mind. A sales representative searches by zip/postal code and an Information Request Form that collects significant data. In addition, there are links to headquarters and Hardinge locations in the Americas, Asia, and Europe. There is also a link to an email form for convenience in contacting the company.
Individual Yet Unified
A band above the Hardinge, Inc. website footer lists the Hardinge brands, and each is a link to that company's page with information on the products, specifications, features, and controls. There is a call-to-action for those with questions and links to request a quote, visit the online store, or telephone the company. The footer also includes customer support and a button link to "Shop Hardinge."
Working with Red Javelin, 3 Media Web created an efficient and easy-to-navigate website that unifies multiple brands, conveying the comprehensive story of Hardinge, Inc. and achieved the goal to build a website that will grow as Hardinge adds new brands.
Allan Snider, Global Marketing Director of Hardinge, Inc., said, "3 Media Web is a very talented and responsive web company. (They) helped create a very complex website for us and they continue to help in improving the site."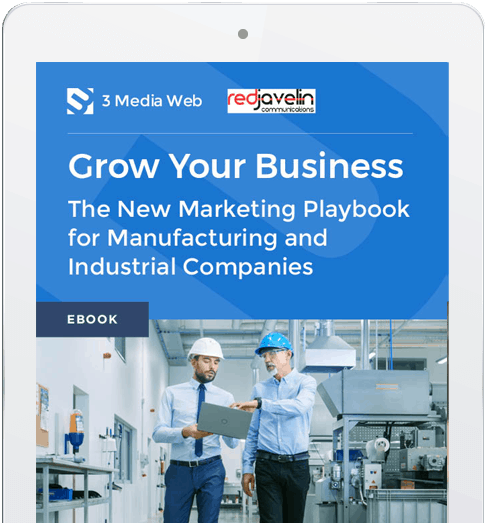 Join Our Email List
Sign up to receive our newsletter