Why is Moving to Google Analytics 4 (GA4) So Critical?
Many marketers and business owners are starting to hear more and more about Google Analytics 4, and that's for good reason.
The new version of Universal Analytics is here to stay and digital marketers should start adapting their reporting today or be left with gaps in their data.
Find out why now is the time to make the switch to GA4, how it's different from the Analytics you're used to, and even how to set up GA4 on your own website.
Interested in getting started with Google Analytics 4 today? We're here to help! Contact us today to get started.
Because We Don't Have A Choice to Continue with UA
Google has stated the end of life for Universal Analytics is slated for July of 2023, which means you won't have the option of sticking with the current tool for tracking website traffic. We assume the tool will continue to exist, only data will stop collecting on July 1st, meaning you'll only have historical data to look at, nothing new.
Start Tracking Historical Data for Your Future Self
You could wait until July of next year to create your GA4 property and use the UA tool all the way up until that point. However, you'd miss out on one of the most useful tools in Analytics: historical data.
Think of your future self one year from now. Setting up GA4 now will allow you to look back year over year and see how your website is behaving over time. This is crucial for determining what to change on your website. Without this historical data, you could be flying blind and make the wrong decision because you have a gap in your data.
What's Different About Google Analytics 4 from UA?
One glance down the left side of GA4 will provide some insight into how the new tool is set up. Mapped to the life cycle of a customer, GA4 is designed to help you map the behavior of your target audience to the content on your website throughout the entire relationship.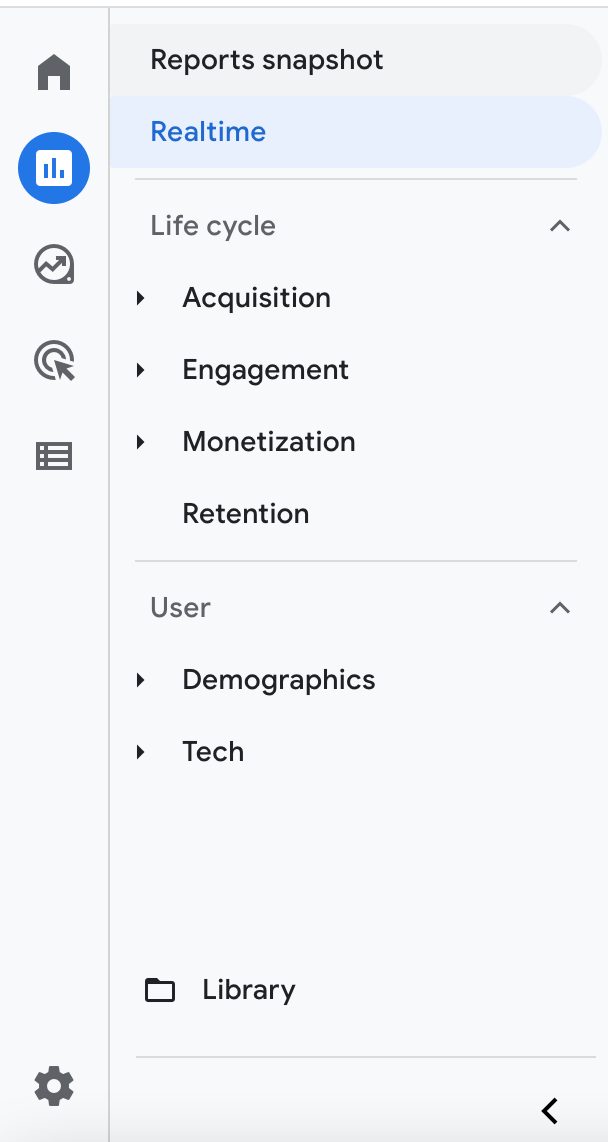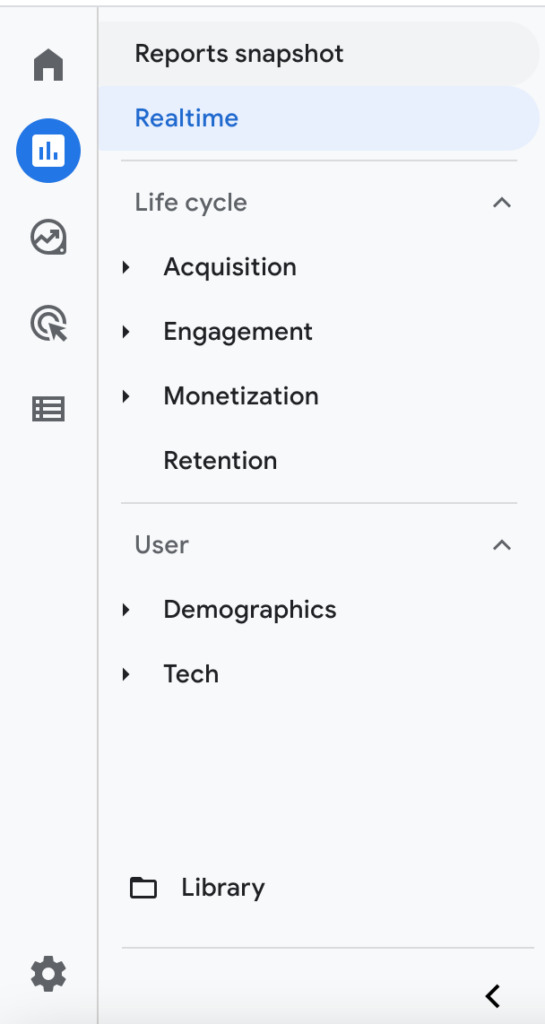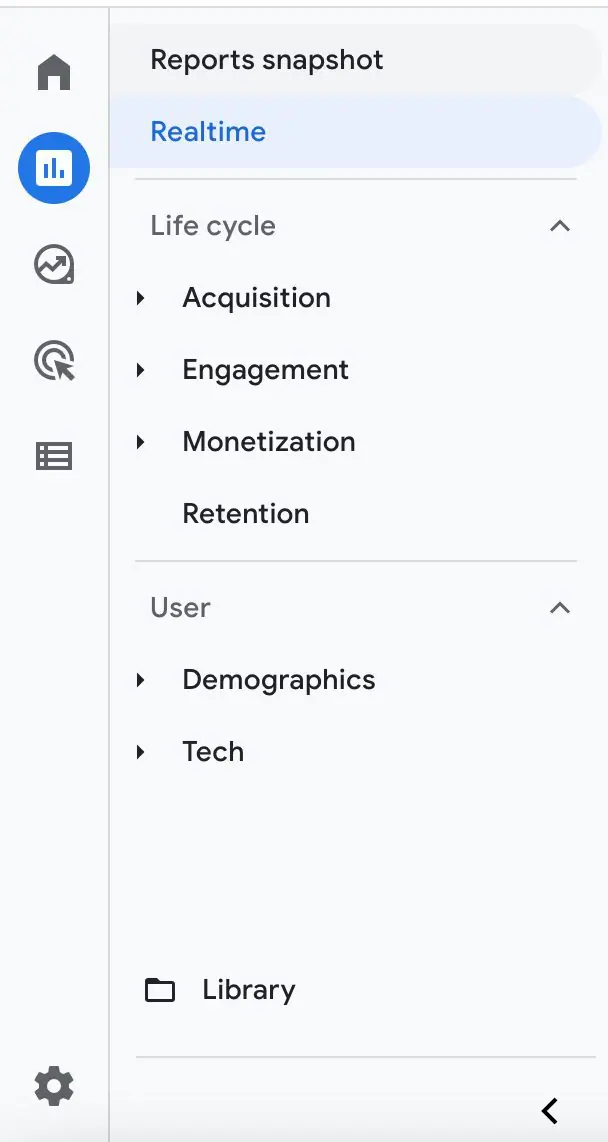 GA4 is also designed to track user behavior on the internet without cookies, a future for which we all must be prepared. GA4 is designed to increase user privacy, as it no longer tracks the IP and other specific details of a single user, instead tracking behaviors across multiple user groups.
Check out this documentation from Google that explains all of the different ways Google Analytics 4 is different from Universal Analytics.
How to Make the Switch to GA4 Using Google Tag Manager
Luckily, switching to Google Analytics 4 isn't some giant leap. Marketers can set up GA4 and start collecting data in just a few minutes.
Here's how to get started using Google Tag Manager, our recommendation for adding any code or tracking triggers to your website.
1. Set Up a New Google Analytics 4 Property
Within your current Google Analytics account, navigate to the Admin settings page. Under property settings, click "Create Property".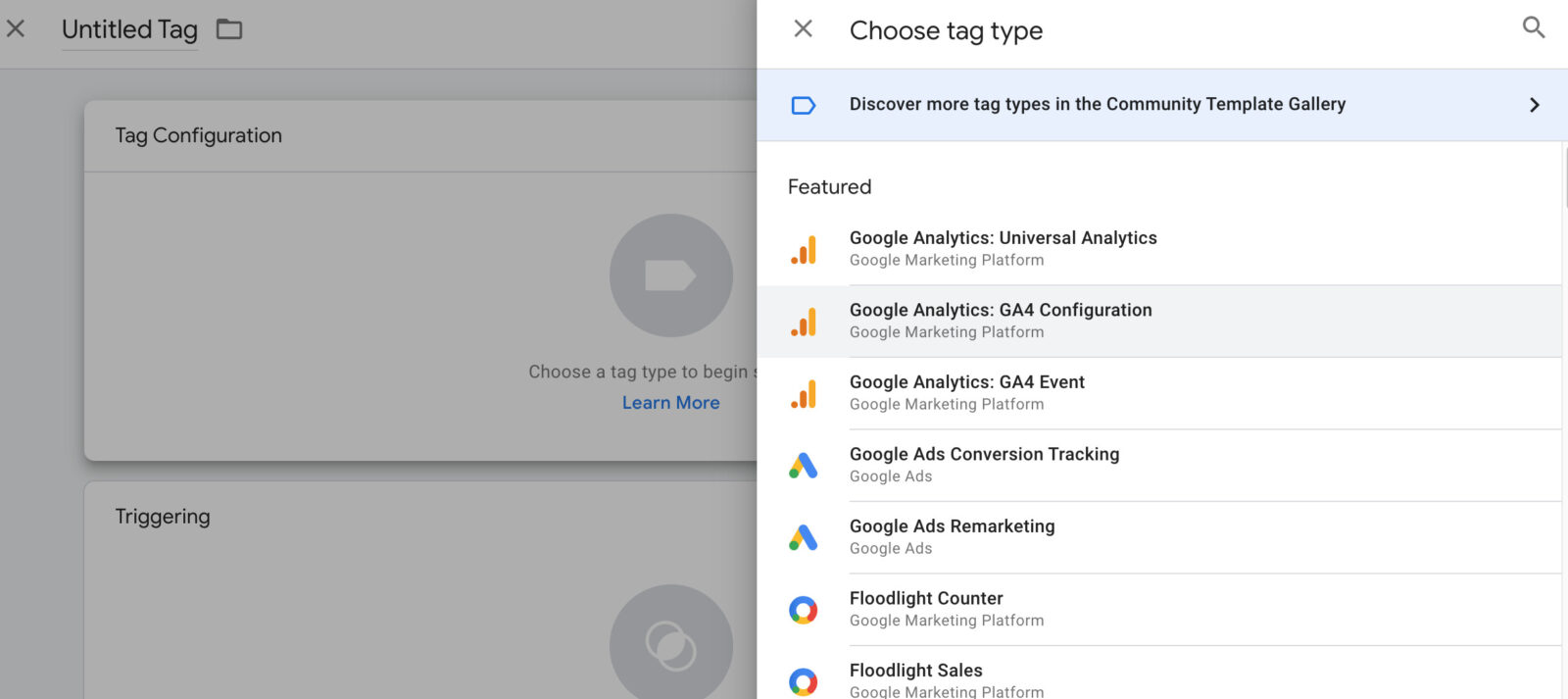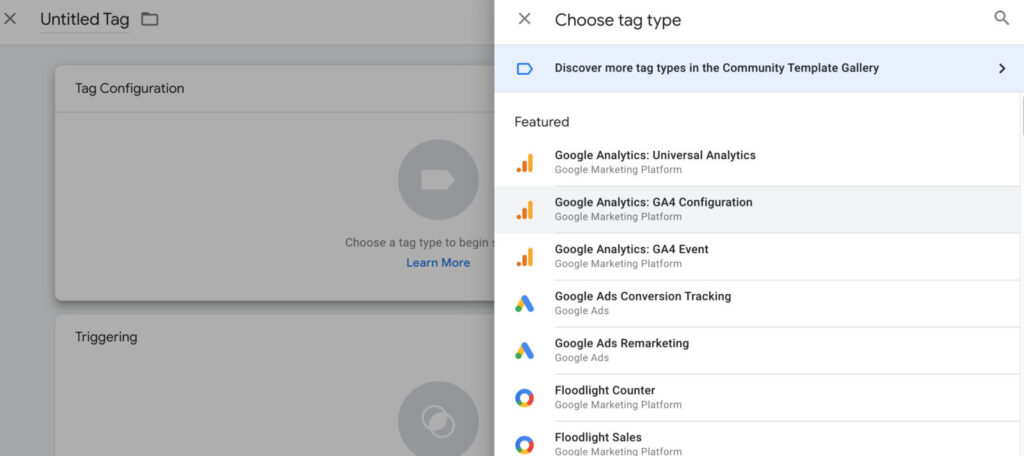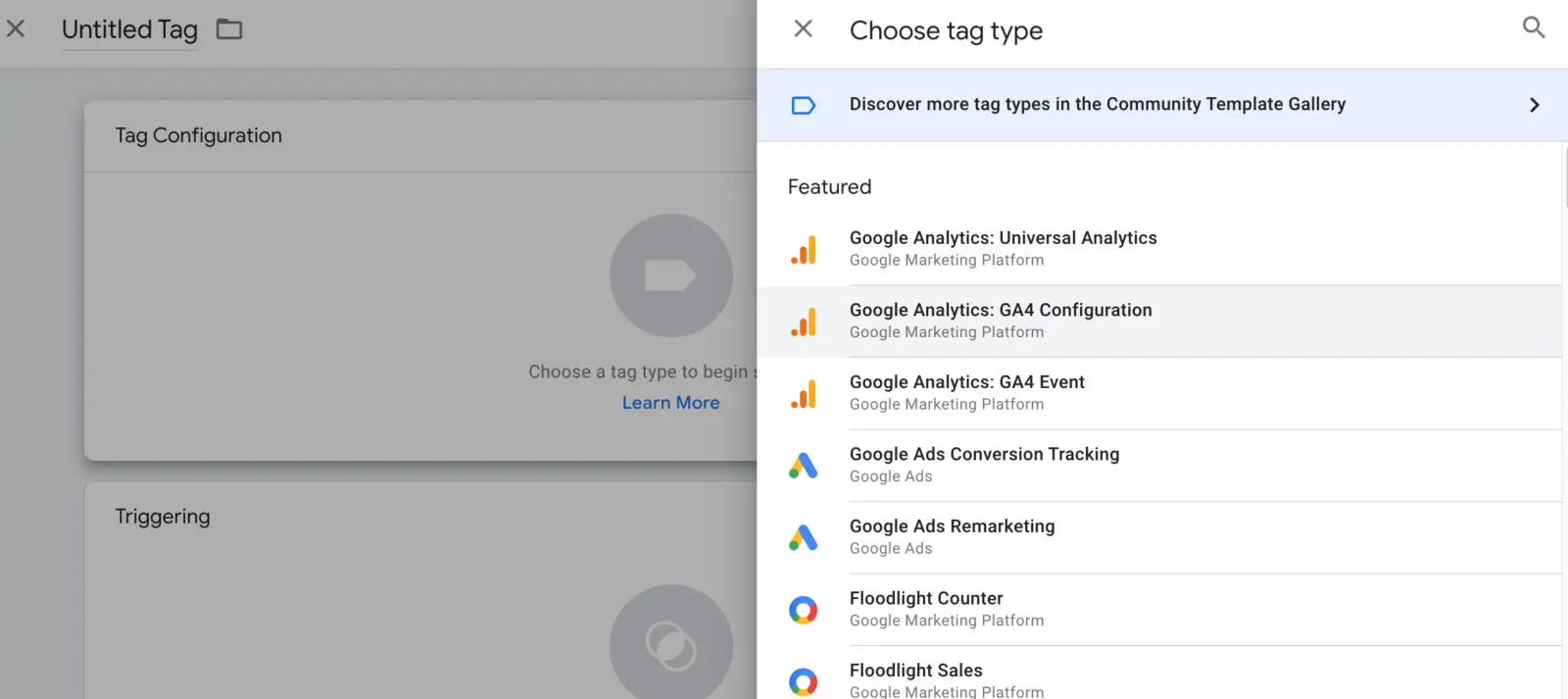 Name your property, tell Google more details about your business, and click Next. Enter the domain name URL for your website and give the new data stream a name.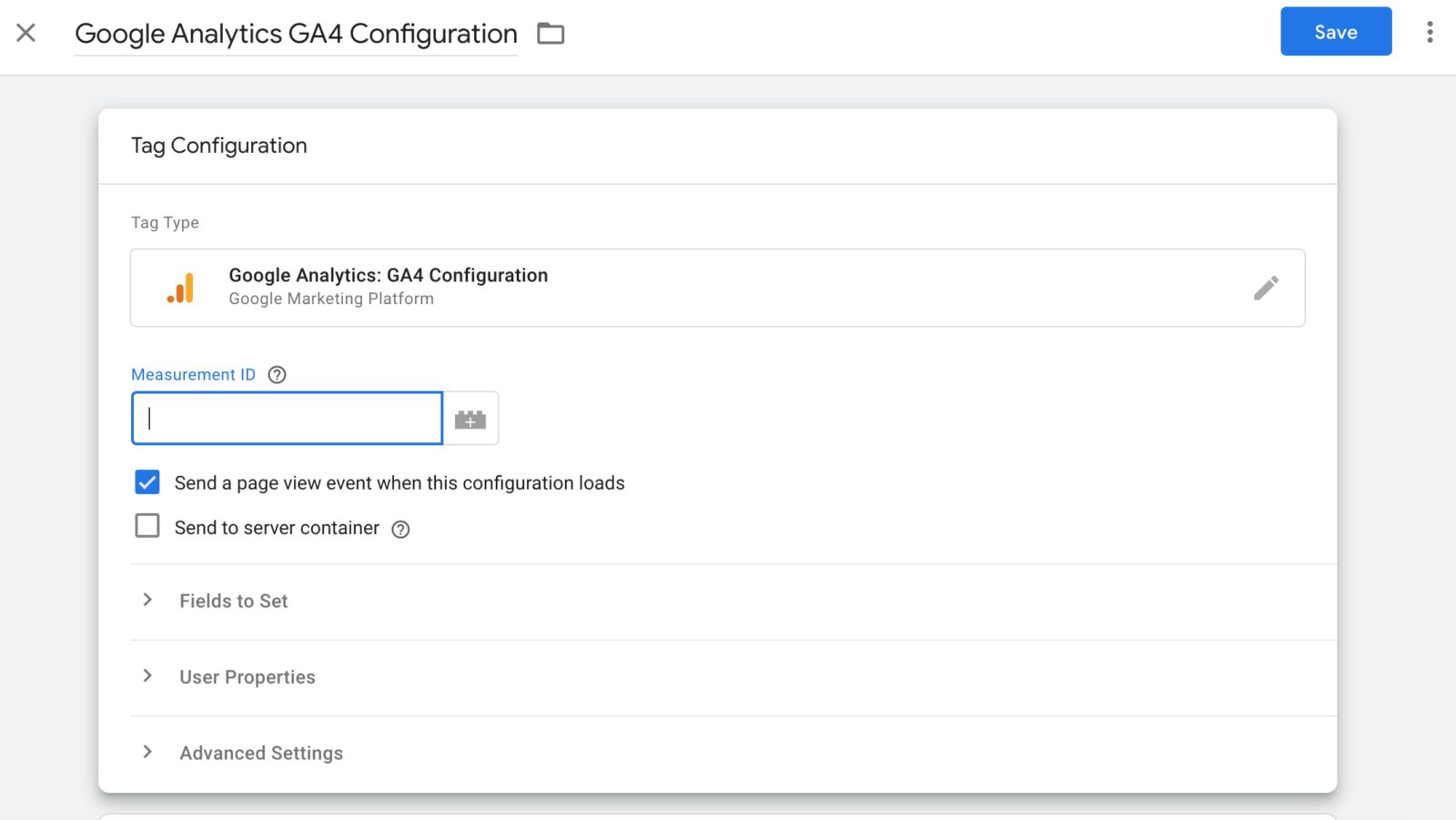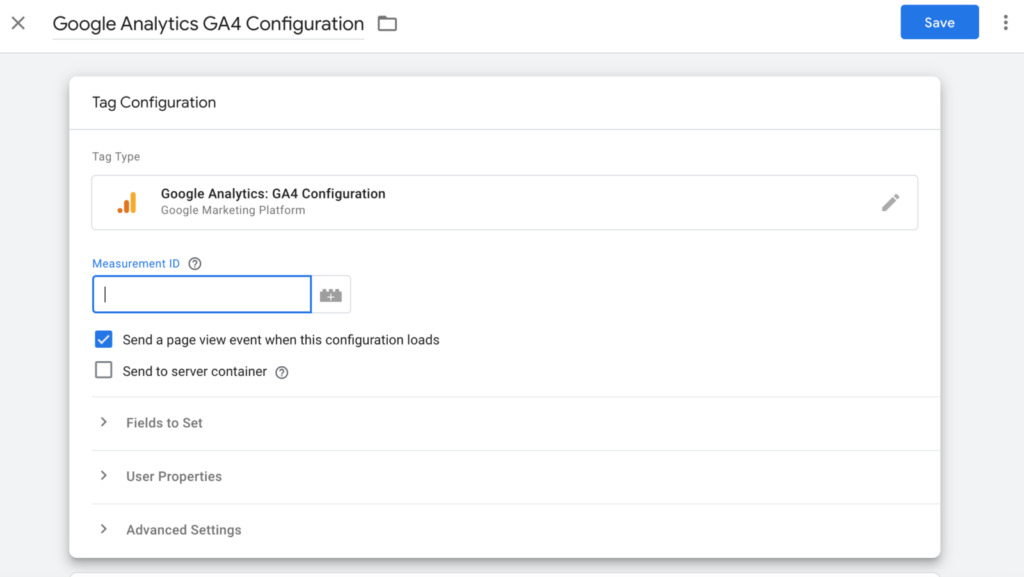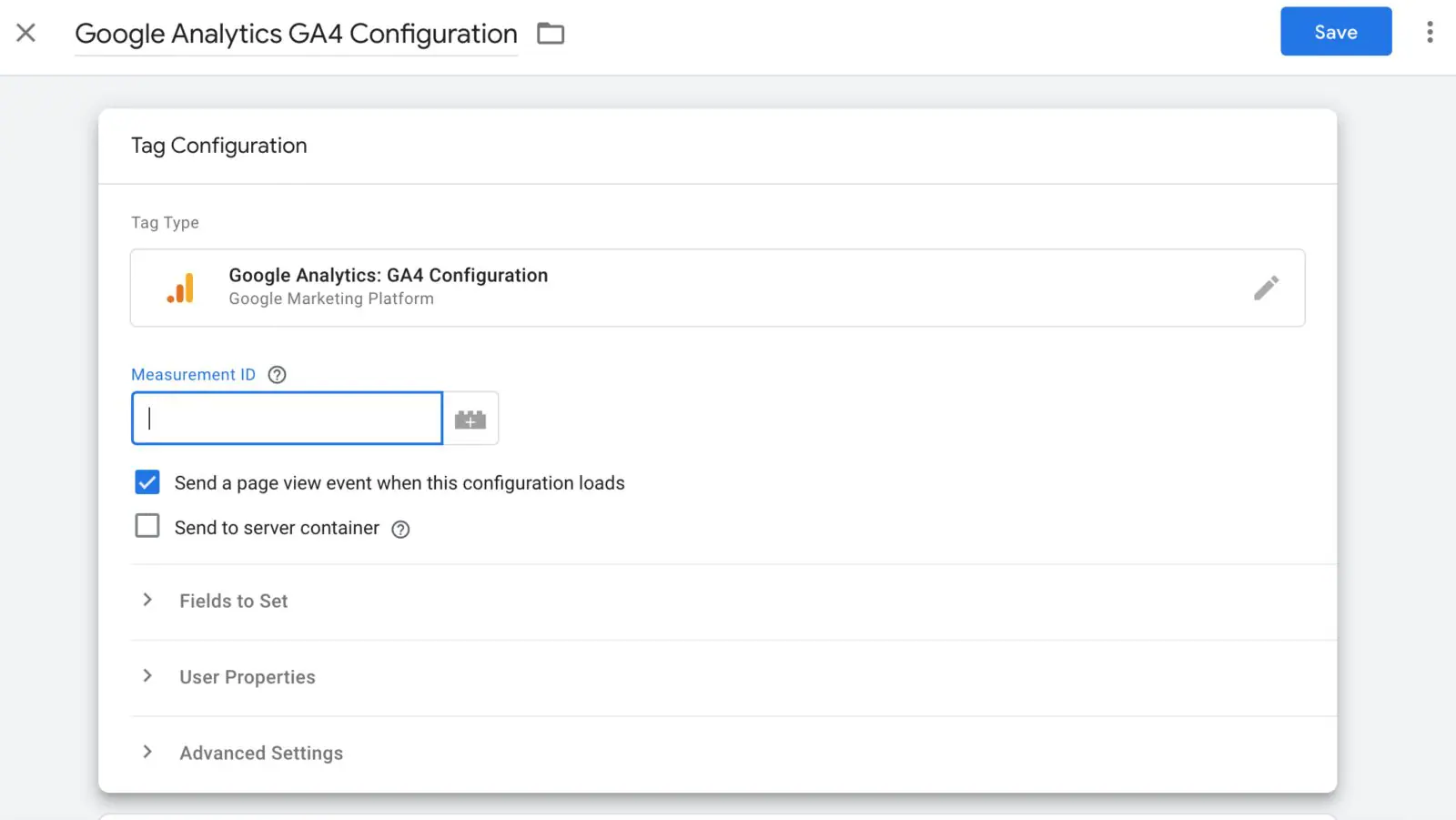 Copy the Measurement ID for your new Google Analytics property and head over to Google Tag Manager (GTM).
2. Add a Configuration Tag to the Site from GTM
Create a new tag in GTM and select Google Analytics GA4 Configuration as the tag type.
Enter your GA4 Measurement ID that you copied from the Data Stream settings in Google Analytics 4.
Add a pageview trigger set to fire on All Pages. Name your new GA4 configuration tag and click save.
Submit the new workspace changes to the live set and you're all done!
3. Test Your New GA4 Property in Realtime
Navigate to the Realtime Report in your new Google Analytics 4 property and pull up your website in a separate, incognito browser to double check that you're tracking website data.
Additionally, you should also recreate the same goal conversions that you have set up in Universal Analytics within your new Google Analytics 4 property. If you used Google Tag Manager to set up your UA conversions, creating GA4 events follows much of the same process.
The 3 Media Web team is here to help make the switch to Google Analytics 4 even easier. Contact us today to get started.
Make the Switch to Google Analytics 4 Today to Continue Measuring Your Website's Effectiveness
To measure the impact of your website on your business' bottom line, make sure to use the latest tools and technologies. It may be inconvenient that Google is shutting down Universal Analytics, but they've made the switch for a reason.
The new version of Analytics is designed to deal with the cookie-less future of the internet, gives website users more privacy, and is built around the life cycle of a customer. Start making the switch to GA4 now so you can have historical data and also the skill set to collect the most accurate data––ahead of the competition.
Join Our Email List
Sign up to receive our newsletter