3 Media Web Ranked #5 in Agency Spotter's 2020 Top 50 Web Design Agencies Report
Quick Summary:
"We interviewed many firms to help us develop our new site, but the decision to go with 3 Media Web was not difficult."
Agency Spotter is the world's top independent choice for agency search, selection, and agency management. For its 2020 Top 50 Web Design Agencies Report, 3 Media Web was designated  Number 5 among more than 1,400 worldwide web design agencies reviewed.
Selected as one of only four agencies in New England, 3 Media Web was recognized among web design agencies across the USA, Canada, Europe, and Asia. Agency Spotter bases its rankings on credentials, focus areas, related expertise, verified client reviews, and project work.
Core Capability in Web Design
The report takes a broad look at web design and development agencies with design as a core capability and as leaders in in-house web development as well. Agency Spotter's team ranks candidates on three key areas: Competitive Portfolio, Project Completeness, and Client Reviews.
Agencies are encouraged to have a portfolio that clearly differentiates them from their peers. The rating team looks at main images, industry expertise, clients, and text. The more project work an agency shows, including how complete each project case study is, serves to demonstrate their competency in these service areas. Lastly, client reviews are key and those that include information about the client/agency relationship are valued highly. 
Client Reviews
Agency Spotter noted in its report that client reviewers gave 3 Media Web the highest rank in each of four categories: Creativity, Quality, Value, and Communication to garner an overall standing of 5 Stars.
Marc Avila, Founder and CEO of 3 Media Web remarked, "We are excited to be named to Agency Spotter's Top 50 Web Design Agencies. To be ranked as Number 5 from among agencies worldwide is an honor we share with our entire creative and innovative team at 3 Media Web."
Agency Spotter connects marketing decision-makers with top web design agencies and other professionals in the industry, including digital marketing agencies, advertising, innovation, content marketing, and 40 marketing services. Their website makes it easy to access and use the information to build a shortlist of agency candidates and to select the right agency partner. 
3 Media Web Clients Say
Chen Sun, Digital Marketing Manager at LuminUltra Technologies Ltd, a biotechnology company headquartered in New Brunswick, Canada, said of 3 Media Web, "They're professional, creative, and responsive. Marc and his team perfectly captured the essence of Inbound Marketing and met our aesthetic design requirements — which is no small feat. They took the identity that our business has created and helped us to create a responsive, attractive, and productive site. The process of site development with 3 Media Web has truly been an enjoyable and collaborative effort at every stage. If an issue arises, they are responsive and come up with a solution quickly. We look forward to a continued relationship with 3 Media Web to meet the changing needs of our company. Also, I highly recommend them for any business who is planning to have a technologically current website."
John Agre, Owner of Coin Rarities Online, a Mass-based coin collectors eCommerce business, asserted, "They exceeded our expectations (and our expectations were pretty high). We interviewed many firms to help us develop our new site, but the decision to go with 3 Media Web was not difficult. They were smart, very easy to work with, answered every question we had, anticipated other questions we should have asked, and inspired confidence from day 1. We're very happy with the new site, but more importantly, our customers are happy."
Hardinge Inc. says. "Great web partner, responsive and talented. We had 3 Media Web create a new global website with a regional localization capability. When we asked them to develop features that they hadn't before, they found a way. They are very responsive and continue to help in improving the site."
Other Awards Received
3 Media Web has claimed numerous awards including Communicator Awards, Davey Awards, IWA Awards, Interactive Media Awards (IMA Awards), and W3 Awards. 3 Media Web has also been ranked in Best Web Design Agencies' top 100 in the US, scoring #14 on the list, and one of Boston's Top Ten Agencies by Clutch.com. These awards are some of the most sought after in the industry.  
Other awards received have included:
Small Business Expo – Best Website Developer (2020)
UpCity Marketplace Excellence Awards (2 in 2020)
UpCity Marketplace Platinum Partner (5-star Review in 2020)
W3 Awards Academy of Interactive and Visual Arts (AIVA) – honored in 2019, 2018, 2017
Entrepreneur Magazine's Best Entrepreneur 360 Award (2019)
Find Best Web Developers Annual Award (2019)
Horizon Interactive Awards (6 in 2019)
Boston Business Journal Top 10 Largest Web Design Companies in MA (2019)
Clutch Top 1000 Companies Global – Leadership Award (2019)
Davey Awards for Web Design and Corporate Identity (7 in 2019; 2 in 2018 and 2017)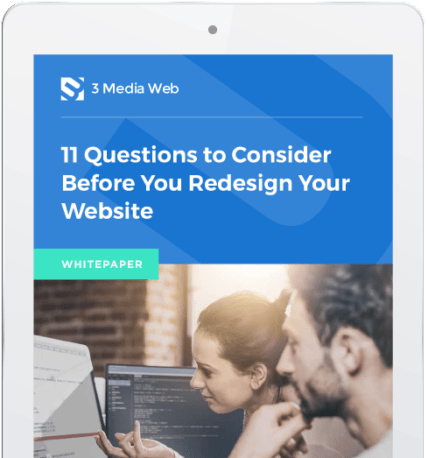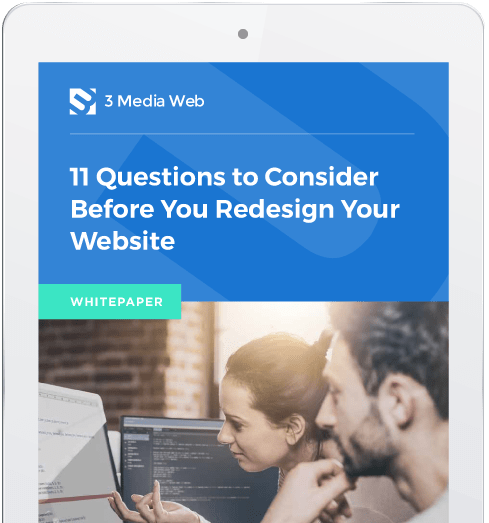 Join Our Email List
Sign up to receive our newsletter