The Only Ecommerce Marketing Strategy You Need for 2023
Quick Summary:
Stale website designs stall growth and lead to weaker customer engagement. Constantly rethinking your website keeps your website fresh.
Online marketing has changed so much over the past few decades, but the main tenet of focusing on your users hasn't changed a bit.
Use your website to solve customer problems online, and you'll see growth.
Eventually.
The only ecommerce marketing strategy you need for 2023 is to embrace the constant change and keep optimizing your digital experience.
Digital experience optimization is the new form of online marketing, blended with a solid foundation in web development and e-commerce web design. That way, every pixel on your website is an experiment, working to drive engagement and turn site visitors into leads or customers.
To get started, make sure your latest website design is up to date, direct traffic to key website pages through paid channels, and leverage the latest web development trends when you can.
Make Your E-commerce Website Redesign Strategy Iterative
When was the last time your team performed a website redesign? Stale website designs stall growth and lead to weaker customer engagement levels. A redesign every year, or even smaller shifts every quarter, keeps your website fresh.
3 Media Web just launched the eighth design of our company website after 20 years of constant redesigns. Once we finish one design iteration, we're usually starting on the next soon after. The constant evolution of our website is what keeps it performing at its best.
Redesign your website in sections, such as main site pages and blog pages.
Record user feedback after launching new designs or new messaging.
Release new web designs or features at lower traffic hours to reduce risk.
Use Paid Traffic as an Audience Learning Tool
Nowadays, the classic "if you build it, they will come" adage is no longer true. While you can build organic traffic with a search engine optimization strategy, paid ads can generate traffic with a few button clicks. Driving a healthy flow of traffic with a paid media management strategy not only increases your chances of getting leads but offers a learning opportunity as well.
The keywords and phrases that cause customers to click can be added as organic keywords to your website pages and blog content. You can use those learnings to influence the messaging on your website or create new landing pages to speak to those audiences more directly. You don't need a large budget to get started––even small online marketing budgets can generate significant data.
Test Out Web Development Fads and Trends
Some web developers look down on the latest trend with violent fervor. Others mop up each one, adding them to their digital toolbelt as fast as possible. Whichever side of the fence you land on, the latest trends in web development should be tested. They may be gimmicks, or they could lead to success, driving your website visitors to become leads.
Current trends, such as adding motion to web pages to drive engagement, can lead to other discoveries. You may find that motion distracts your users from becoming leads but increases time on site, causing a rise in organic traffic. Whatever trends you're testing, use a small section of pages for the test, or a small subset of traffic, with tools like Google Optimize.
Set a start and end date when testing new trends, so they don't get out of control.
Talk with your team to decide which trends to test and which to leave alone.
Set clear goals for each test to be able to declare it winning or losing experiment.
Is it Time to Rethink Your Current Website?
Online marketing is constantly changing, but digital experience optimization is here to stay, at least for now. A fresh web design, a steady flow of paid traffic, and the occasional experiment with the latest trends in web development can make your website a living and breathing tool for your business.
When you're ready to give your business website a design refresh, we're here to help. Our award-winning team of digital marketers, web designers, developers, and website support experts are ready to grow your business online. Reach out today to get started.
Continue Optimizing Your Customer Experience After The Conversion
You have a conversion. Great! That means you're all done and can focus on other projects, right? Not so much. Digital experience optimization doesn't end when a website visitor converts into a qualified lead. Realistically, that's only the beginning.
Once you start generating conversions at a regular cadence, the real optimization work can begin. From there, you can start to optimize not only your website but even your audience targeting. You can also use those conversions to learn how your business and services or products resonate with that audience.
Digital experience optimization takes a long way round, improving your website and marketing over time, not for the quick win. You can still experience short-term benefits along the way, but the real growth happens after repeated testing.
Learn how to continue optimizing your website after the conversion––it's only the start!
Start Testing Against Your Conversion Baseline
The real work begins after you start tracking conversions, which can be a win if your website is not built on a trusted platform. Conversion rate optimization is the practice of making tweaks to the user experience on your website and measuring their impact on your conversions. If changes improve your conversion rate, that's a win.
Often it's a matter of simplifying the user path on your site to make it easier for conversions to happen. For online sales, shortening the length of your checkout funnel could increase the number of completed checkouts. Reducing the number of required fields on a contact form could also increase the number of conversions on your site.
Optimize Your Audience Along With Your Website
Once you've generated conversions with your ad campaign or conversion rate optimization strategy, you can build your audience based on those conversions. Retargeting campaigns or lookalike audiences can mimic those customers that have already converted to find more similar customers.
Facebook and LinkedIn retargeting campaigns can offer another marketing channel to build your awareness funnel. Once you've optimized your PPC ad campaigns, these social remarketing channels can build larger audiences and find people where they spend the most time. Now is also the time to cut out segments of your audience that haven't shown any interest in converting, saving your budget for those that might convert instead.
Learn More About Customers After the Conversion
Conversion data can be a goldmine of information for your business. You can use those customers to create marketing personas to understand your target audience better. You can also reach out to those customers that converted for a survey or series of questions to learn more.
Ask those customers what drove them to convert, why they chose your business over a competitor, and what would make them convert to your website again. From simple surveys to longer customer interviews, the more information you can learn from one converting customer can help you find others likely to convert.
Use the Conversion as Your Starting Point
Many businesses regard conversion as the finish line, but really, it's only the starting point along the journey of digital experience optimization. Digital experience optimization doesn't end when a website visitor converts into a qualified lead.
Start to optimize your website and your audience targeting to learn more about how your business and services or products resonate. Working these tests over a long period generates more learning than short-term strategies.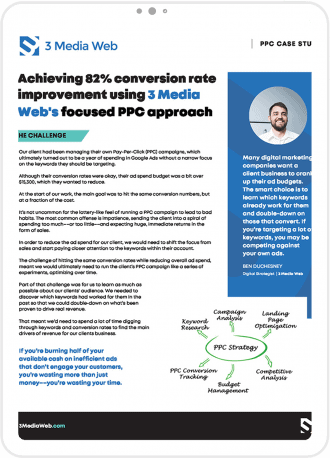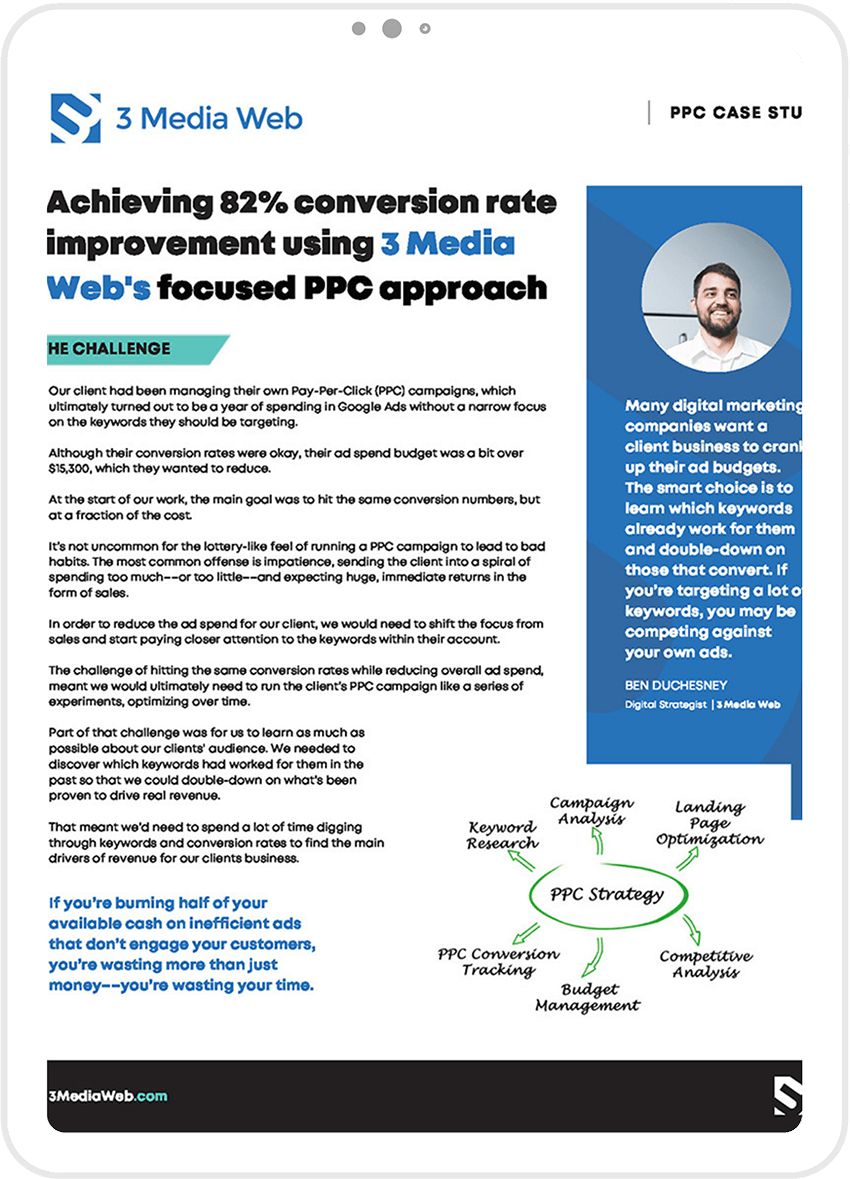 Grow Your Business Through Ecommerce
Ecommerce can be a powerful way to grow your business. Learn how to do it the right way with expert help from the award-winning team at 3 Media Web.