Your End-to-End Digital Experience Optimization Strategy for 2023
Quick Summary:
Make sure that your digital experience platform is well-supported so your marketing plan can be executed flawlessly.
Combining a complicated network of pages, blog posts, lead generation campaigns, and advertising strategies into one unified strategy, also called digital experience optimization (DXO), takes a lot.  One person can't do it all.  Instead, it takes a big team and many moving parts to make sense of all those moving pieces. All that collaboration comes together to create a website strategy that outperforms the rest.
Whether you're looking to expand your in-house team or hire a team like 3 Media Web to bring your goals across the finish line, this breakdown of what it takes to create a unified digital experience can help you get started.
Looking to start a project today? Reach out to 3 Media Web and get started.
Digital Experience Optimization is Here to Stay
The constant evolution of the Google algorithm, both core updates and smaller, ever-present smaller tweaks, is happening faster than a single team can handle.
It also doesn't help that data is becoming less available, from Google Ads to cookie data, over changing legislation and increases in online privacy concerns.
That can only mean one thing –– algorithms are dead.
Algorithms don't only send robots to your website, but real people as well. Long live algorithms.
Search Engine Optimization for Real People
Google has been saying the same thing since the very start: focus on your users. Those "users" are just people. Your people. Of course, Google's algorithm isn't going anywhere.
Website owners can often get lost in the numbers of their own traffic, wondering how to squeeze out more traffic for the sake of traffic. Some don't even care if that traffic contains real people. They just want to see those numbers spike. Today.
SEO won't help you there. In fact, black hat SEO tactics, those sneaky strategies designed to trick or influence the algorithm or people, may do more harm than good.
Instead, focus on the people already coming to your website. If there's a page that resonates with your users, make another page, or change existing pages, to match. If there's a piece of content that your users can't get enough of, then give them more.
Make the Internet a Better Place
Instead of using shortcut tactics based on the latest algorithm or social media platform, using a digital experience optimization strategy for your b2b website can serve as the foundation for long-term growth online, both in audience size and revenue.
Google has had the same goal, bringing the most helpful, accurate result as soon as possible. Coincidentally, during the last 20 years of 3 Media Web, the development and digital strategist teams come together to create meaningful websites that make the internet a better place for local and family-run businesses.
Those partnerships continue to deepen as we learn more about the individual business, adapt our agency to their needs, and support their long term goals on the internet. As far as we can see, user-focused digital experiences are the future.
Build Connections for the Long Term
Digital experience optimization agencies, trained at leveraging the best technology to solve the most complex problems, know what their clients need.
Often times, short-term website problems or concerns are connected to a technical decision made a long time ago. The right tool is not always the right tool for the job. That's why it helps to build your business on open-source platforms that change dynamically with the times, like WordPress.
This allows a larger team to work as one to deliver the innovative solution that gets the job done right, the first time, and fixes those deep-seated issues for good. Then business owners can focus on what they need to focus on most: running their business.
Web Design & Development
You need to build your business a platform before an ad can be clicked or a whitepaper can be downloaded. The tools you use will change how your customers or clients interact with your business, so choose trusted platforms such as WordPress. Open-Source tools like WordPress makes it easier to find help if you end up needing support.
Digital Experience Web Design Trends
Nothing changes faster than the trends in website design. Interactive design elements that engage website visitors as they move around the page are drawing much attention right now. Dynamic features that change as customers shop or search your website make them stay on the page longer, which could help your organic traffic efforts after Google's Page Experience update. Here are some other trends in web design that we're staying on top of:
Accessibility: This is a big one, making sure that your teams are designed for everyone.
UX Storytelling: All of those new interactive, dynamic elements should serve a real purpose, not a gimmick.
UX Copywriting: Solid writing chops are playing a bigger role in UX design.
Brand Voice: Your brand voice should stay consistent and strong through all of your page content.
Information Architecture: How you structure your website dictates how your users interact with your business.
Digital Experience Web Development Trends
As designers create more accessible, interactive web features, your backend server and content management systems, plus your web development teams, need to pull more weight to support them. "AI and machine learning are woven into digital experiences to help people find more relevant content, find it quickly, and find it on their terms," said our new Technical Director, Step Schwarz. "For example, add natural language processing to a standard search box to greatly improve results." Some other trends that are captivating the imaginations of our web development teams are:
Motion Drives Engagement: Developers have more tools than ever to craft immersive digital experiences, everything from interactive charts to full-motion videos.
Dynamic Content: Do you have your computer set to dark mode? We can detect that and adjust your website to match and ensure a smooth flow to the website. Did you click through a particular ad? We can serve up content to match the ad and make the transition less jarring.
WordPress Project Management
These complicated systems and hard-working teams are nothing without a project manager to hold it all together, maintain budgets, and push projects out on time. Our project management teams work alongside our development and design teams to keep things on track and offer a helping hand when someone gets in a bind.
The project management process starts by onboarding new clients. "The client's needs, project timeline, and all of the associated tasks required to complete the project are carefully documented," said one of our project managers, Kelsey Whytock. They also help by keeping track of the technical details, such as integration needs or necessary plugins.
Project managers check in with design teams as they work their magic and get client approval.
Project managers (PMs) also help to QA HTML code for errors and bugs before development.
After development PMs help upload all of the new site content, name custom elements or content modules in the WordPress backend.
After all the checks are completed, project managers give the green light to launch the new website and oversee that the process goes smoothly.
Digital Experience Support & Marketing Optimization
Technology moves quickly, and by the time your tools feel comfortable, there's already a new tool around the corner or a new company sprouting up ready to offer more direct competition to your business. Make sure that your digital experience platform is well-supported so your marketing plan can be executed flawlessly.
Support & Hosting
What if you're halfway through planning––or worse, rolling out––a new marketing strategy on your website and something breaks? Who can you turn to for help? A dedicated support team can turn those problems into solutions with a quick email or phone call.  Your hosting partner also dictates a lot of the performance on your website and the experience presented to your potential customers or clients. We trust brands like WPEngine and Pantheon for client websites, as well as our own.
Support: Get problems solved quickly by submitting a support ticket or making a phone call.
Backend Training: Learn the backend of your website with one-on-one training resources.
Digital Experience Optimization
The world of digital marketing is upside down right now with all of the changes happening, from a series of Google Algorithm Updates to the removal of cookie data. Still, the tried and tested methods of attracting website visitors and generating leads work just like they used to. In many ways, it's time to go back to basics and use the most strategies you believe in.  One emerging trend that isn't going anywhere soon is digital experience optimization (DEO).
Rather than keeping your digital marketing teams and web development teams in separate silos, DEO aims everyone's efforts towards a single goal: helping the customer solve their problem in the most enjoyable way possible. New marketing trends are constantly changing, but there are a few other standouts, such as:
Dynamic Content: Content marketers are now experimenting with dynamic content and interactive elements to attract customer engagement.
Integrated CRMs: Customer relationship management tools like HubSpot help to integrate all of your marketing campaign efforts onto one dashboard.
Video Marketing: Video ads and sales videos are helping to engage more website visitors and keep their attention longer than ever.
Success Takes a Team, Time, and Talent
This may seem like a whole lot to take in and execute daily, especially if you're creating an online presence for your business for the first time. The past year has shown us, however, that every business can use a web presence. Without one, you may get lost in the dust.  3 Media Web has been delivering client success for the past twenty years, and some of our team members have been with us since near the beginning.
What makes this team so effective is the passion our team brings to their desks every day. We also spend a lot of time learning, sharpening our skills, and staying on top of the latest industry trends.
If you're ready to combine your web design, web development, and digital marketing efforts into a unified strategy that inspires action in your customers, start your next project with 3 Media Web today! 
DXO Requires More Thoughtful Information Architecture
How your website visitors move through your website can be influenced by your information architecture. A properly laid out website is not one that pushes customers along a specific path but rather helps alleviate friction to let customers go where they want to go the easiest way possible. Forced pathing is only going to lead to frustration. More on that later.
Review your current navigation menu. Are the most important pages included? Is there anything that could be removed, pages that aren't a high priority for customers? Use heatmap and screen recording tools, such as HotJar, to review the current behavior of your website visitors. Is there anything that could be pulled out from your navigation and turned into a static button above your navigation, such as free trial signups or demo requests?
Design Website Functionality That Solves Problems
If you're working to improve your website through design, you may need to go beyond brand colors and dig deeper into website functionality. Your website can be more than your business card online. It can be leveraged as an interactive tool that changes based on the needs of your audience.
Sometimes the best way to increase engagement on your website is to build features that solve customer problems. Does your sales team answer the same questions? Maybe you need to add an FAQ page. Or, would adding an automated chatbot to your homepage provide more relief to your teams? Is there a tool that your web developers can add to the site to draw in more website visitors?
Grow More Leads from Repeat Website Visitors
A digital experience platform engages visitors and solves their problems, and delivers business goals more consistently. When marketing and web design teams work together to create the website, all of your efforts work to achieve the same goal: grow your business.
How many touches does it take before a website visitor becomes a lead? Using a contact relationship management (CRM) tool like Hubspot helps build a customer experience journey into your website strategy. Instead of pushing visitors into a conversion funnel on the first visit, your CRM tool can tell you that it's the third touch, the third time they visit your site, which is most likely to lead to conversions.
Be Careful Not to Risk Customer Goodwill
Information architecture and web design can go wrong, of course. When we try to push site visitors into a path that solves our goals, not the customers' problems, it can lead to frustration or, worse, a bounce or lost leads.
Here's an example of a poor customer experience that ruins customer goodwill by using forced pathing, inspired by this fantastic post: The Glengarry Bob Ross Effect.
There's a lot of pressure to convert and upsell users. This pressure – on our clients and us – can result in pushing users into paths that destroy the customer goodwill we were just starting to earn.
Bait and Switch
Often we write CTAs with an implied promise which tricks the user into a buy flow instead of what they think they're getting for their click. (In the B2B world, that might be a white paper download, contact form, new user signup. In a consumer site, it might be pushing them to signup before they understand the service.).
Here's an example of a bait and switch from SoundCloud. Here's the bait:
aaaaand now the switch:
The perfectly reasonable user reaction is 'What is this?! I thought I'd learn about putting music on my SD card as you promised.' Instead, they're told to pay up. There isn't even a 'cancel' action available."
There's a way to write user paths that don't push customer behavior. Here are some rules to keep in mind:
Keep it contextual: What comes next? Explain how the offer will impact the user's immediate experience.
Don't force users into boxes with CTAs: Upsell CTAs should allow users to accept or decline the upsell, not pass self-judgment on their use case (remember that we like to label buttons with what they do).
Stay linear: If the user declines the upsell, move on to the next logical step. Don't follow up with a secondary screen where CTAs attempt to lure the user back into your upsell trap.
Present the upsell as an extension of user action: Rather than blasting users with upselling messaging as soon as they start exploring your product, consider inserting your upsell messages wherever users hit the limits of their current plan.
Bring Your Marketing and Web Design Teams Together 
When your marketing and web teams work together, amazing things happen. Your information architecture informs your web development, and your website functionality assists your marketing.
Then you've created a digital experience platform that stirs the right emotions in your website visitors. Rather than causing frustration, visitors can be impressed, even engaged to follow the customer experience journey that turns them into leads.
8 Ideas to Improve your Digital Experience in 2023
1. Unifying Experience Across All Devices
Website users are looking for consistency and familiarity in their experience across all devices. This is causing more and more websites to create app-like designs, simplifying the experience overall. When building your site, you may want to consider using a progressive web application (PWA) framework to take advantage of the fast page speeds and offline access to your web data.
A PWA creates an experience that is fast, reliable, seamless, and allows you to send push notifications to the user's phone to generate more engagement. A PWA isn't for every business, but it is worth the time to learn more about it.
2. The Simplicity of Design & Interaction
Similar to the above, users are craving simplicity. They want to be able to consume the content you are presenting quickly. Look to see if written content can be changed to an illustration or animation to get the point across. Are there too many choices for a user to make? Often, a business will try to create a website that makes it easy to manage, vs. thinking about what the user is trying to accomplish.
3. Goodbye "Traditional" Hero Banners
Hero banners are coming to the end of their effectiveness, but it has yet to be determined if they will disappear. For years, the design community has been eliminating the rotating banner. However, marketers keep breathing life into it. Regardless, you are likely to see the traditional here banner with a full-width inspirational image and CTA on it changes over the coming year.
Large, simple text & messaging are likely to replace the large, grand images. Users want to get the information they want and leave.
4. Accessibility isn't Optional
With more people working remotely and spending more time on the internet, the lack of website accessibility is being noticed across all industries. In previous years, some businesses would ignore the legal requirements for accessibility on their website and take a chance not to get sued.
Those days are over. Aside from it being the right thing to do, businesses must make this a priority going forward. There is minimal sympathy in legal cases as this is not a new issue.
5. Keywords are (Mostly) Dead
SEO is no longer a function of who has the best keywords. With search engines being further driven by artificial intelligence & machine learning, your SEO strategy needs to factor in user experience and search intent more than ever.
Measures like bounce rate will determine if your page is providing the user value. Make sure your content is written to help users solve the problem they are searching for. Focus on what the user wants to hear vs. what you want to say.
6. Focus Advertising Only on the Platforms That Work
Many companies advertise on fewer platforms with a good ROI rather than spreading their budget across multiple platforms with mediocre returns. One platform gaining a lot of traction in the B2B space is LinkedIn. The targeting options are fantastic, and the tracking options keep getting better. Try new ad types like video ads to set yourself apart from other posts.
7. Content Presentation is King
Historically, content has been very dense and information-rich. However, easier to consume content is finding its stride. It is essential to expand your content description to just the written word, though.
Expand your content to include video (with transcript/subtitles), illustration, and animation in the way you deliver your message. Look to multimodal learning models in education as an example. Everyone learns differently, so provide them that ability.
8. The Social Media Monster
Social media will continue to be a valuable channel. Take the time to make sure your measurements are in place. Focus on one or two platforms that highly target your audience, where that audience goes for information about businesses like you and gives you the best results. If your audience doesn't go to Twitter to buy a $200k consulting contract, why advertise there? Make sure you understand how social media impacts your user's decision-making and cater to that.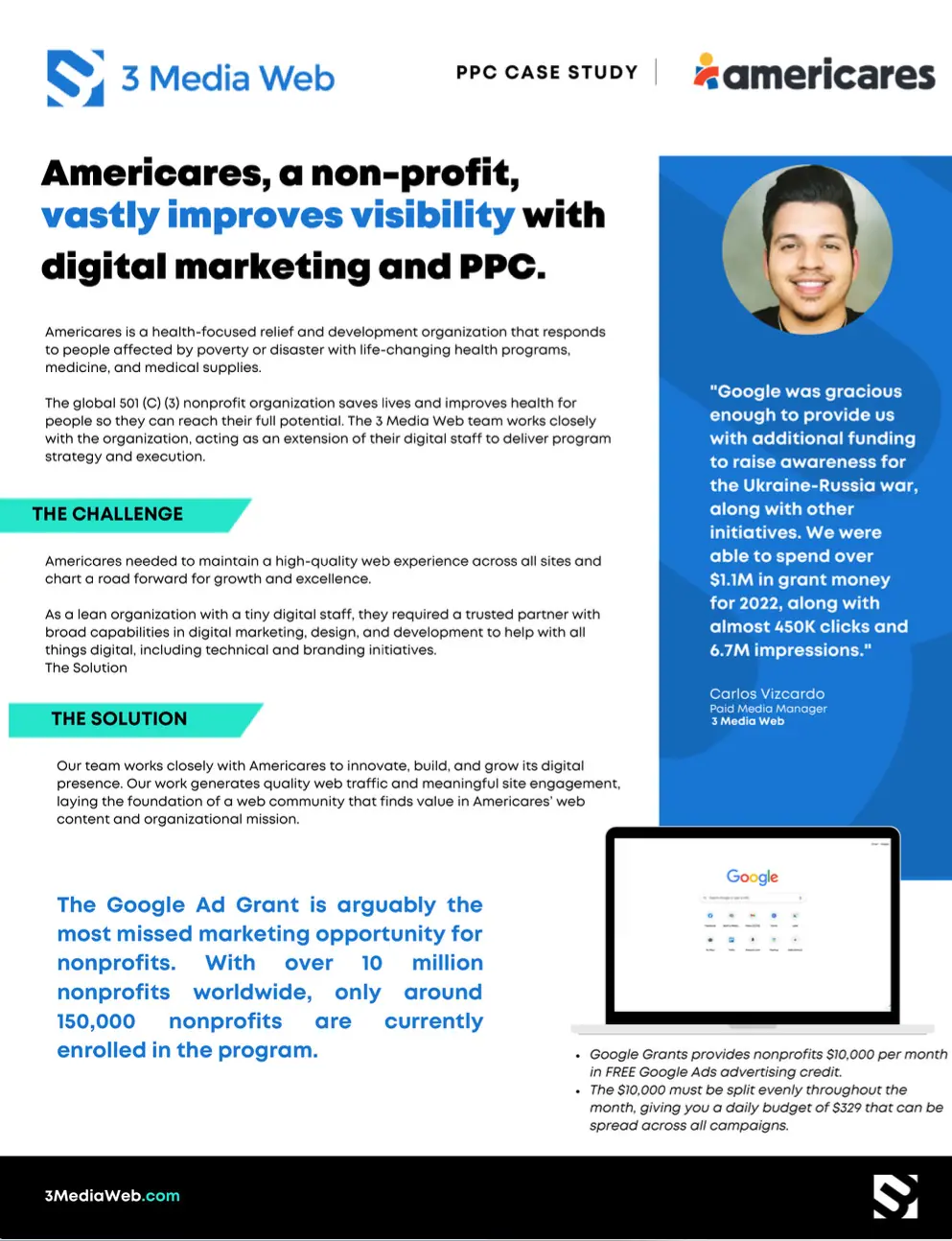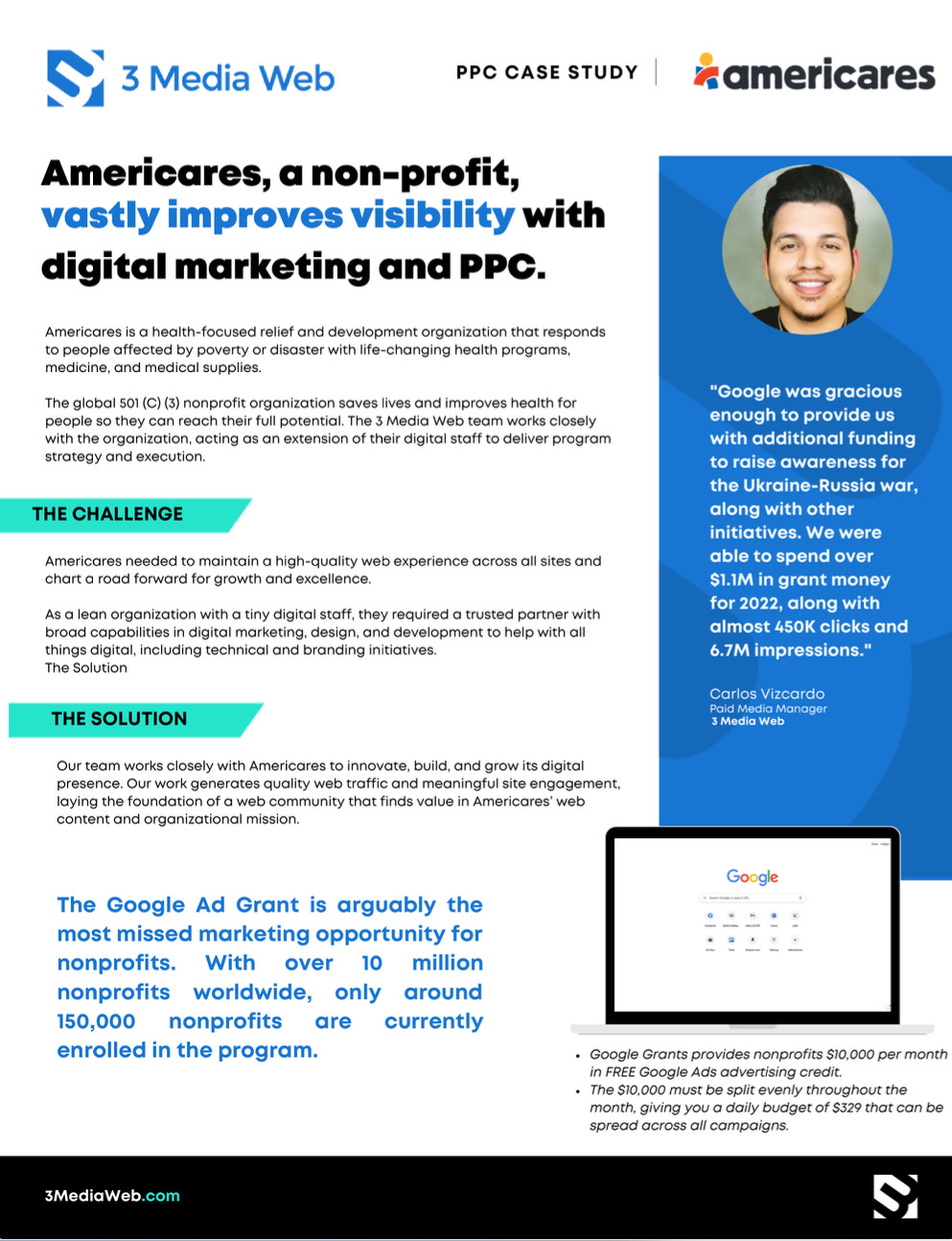 Start Optimizing Your Digital Experience
Know that your website needs some work but not sure where to get started? 3 Media Web has a team of digital marketing and designers ready to help.